The Old Lady silences the crowds - this is Calcio's perfect moment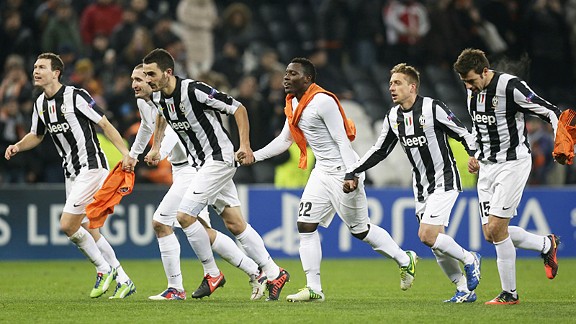 GettyImagesJuve celebrate after their win in Donetsk left them top of the group
It was a great night for Juventus and a glorious one for Calcio. After years of being told of their inferiority and the fact Serie A is no match for the English, Germans and Spaniards, Juventus put on a brave display to win the group and knock out the Champions League winners.

- Juve scrape through against Shakhtar

An emphatic display full of heart, Juve may not have been as cool, calm and collected as they were against Torino over the weekend, but they were not playing for a draw. Having dwelled in a state of European anonymity, this Old Lady powdered her nose and allowed Antonio Conte to guide her back to winning ways. Make no mistake, this was a match she wanted to win to top the table and send out a clear message of intent.

As whispers of a possible fix, a biscotto as we call it in Italian, raised the hopes of conspiracy theorists everywhere; it appears Juve didn't get the message. In a first half full of opportunity, they controlled the game, created an abundance of chances and allowed their midfield to dominate. Having taken seven shots on goal, Shakhtar only mustered one. Yet despite their inability to produce shots, Mircea Lucescu's side still looked terrifying when going forward, provoking desperate defending from the Italians at times.

Essentially the two sides collapsed in front of goal due to silly errors. Poor control from both sets of players saw an end-to-end game with little end product. Juve looked worried when forced to deal with Willian and Fernandinho especially as the former passed across to the latter with such ease to exhibit their wonderful chemistry. Their timings perfect, Juve needed to work on their lateral movements in order to plug the space between them.

However, Juventus continuously pushed forward looking for a goal. Fear or nervousness forced them into losing possession needlessly at times and poor decisions let them down. However, as time went by they grew in character.

Whilst the Italians ought to have been given a penalty due to a Fernandinho handball, little Sebastian Giovinco wasted a wonderful chance to make it 1-0 after he was delivered the perfect ball to strike into the back of the net. Many wasted opportunities indeed but they served to strengthen the belief within the side. This impressive Shakhtar squad could be defeated.

The goal did finally come but not without controversy. Was Stefan Lichtsteiner offside? Possibly yes but unfortunately for the home side, the goal was awarded and it went down as an own goal. The Swiss defender incidentally, was monstrous on the night. Few possess the type of ambition he is celebrated for but as he screamed at Andrea Pirlo due to a misplaced pass, it became abundantly clear that this man would simply not allow an equaliser, let alone a defeat.

In the second half, Shakhtar stepped up their efforts in their quest for goal but as they flooded Gigi Buffon's area, that final pass was never there. Meanwhile, they left gaping holes in the back for the Bianconeri to exploit. Long balls and wing-back marauds made life difficult for the home side and with Arturo Vidal and Giorgio Chiellini offering defensive solidity, Juve were more than happy to sit back and defend to then counter.

Lucescu called Juve predictable in his pre-match conference but it seemed like his side were even more predictable on the night. A little off the pace and one finisher away from being a more competent team on the night, they disappointed the Chelsea fans who prayed for a Ukrainian win. The coach confessed that perhaps his players were already thinking about their holidays on the night but in truth Juve closed them down perfectly. As Angelo Alessio put it: "Once you block their creative centres, they are not very organised, so we were able to neutralise them."

However, the night belongs to the courage of Vidal, Chiellini and Lichtsteiner, the creativity of Mirko Vucinic and Andrea Pirlo and the tackling of the back-line. The group in total displayed their willingness to battle, to adhere to the tactics and to impose their history and quality on Europe's best teams. The Old Lady may no longer be undefeated in the league but she's yet to lose in Europe under Conte. Could this be the start of another invincible run for the tough Old Hag?