One point away from qualification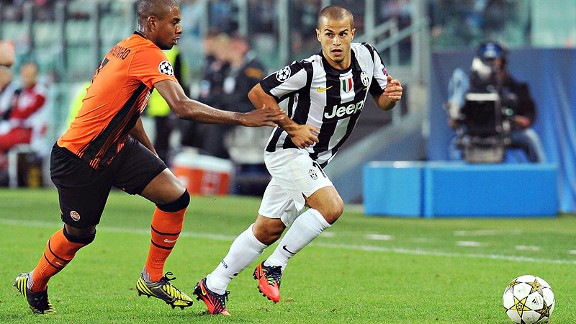 Valerio Pennicino/Getty ImagesSebastian Giovinco and Juventus played to a 1-1 draw against Shakhtar in Turin back in October. A similar result on Wednesday would advance the Italians to the next round of the Champions League and send holders Chelsea to the Europa League.
After years of assembling and dissembling sides in hopes of attaining a place in the Champions League, Juventus are finally in the tournament and just one point away from securing qualification to the next round. It may not seem like it is too much to ask for, but that one point must be achieved in Ukraine's Donbass Arena -- the home of passionate and hostile support.

Having displayed the strength of their tactics and that of Calcio's when they demolished Chelsea convincingly in their last match, Juventus will note that Shakhtar Donetsk will prove to be tougher opponents. For one, they boast the kind of physicality and pace that tends to threaten Juventus while their determination will be difficult to contain.

The Ukrainians are already assured of a place in the next round and as such, many assume they will not go all out for the game. That's naive thinking as this is a squad that is desperate to vanquish the demons of last year and prove their strength in Europe's elite competition. Having played their last league game for the winter with the next one not due until early March, there will be no need to rest any of their players.

The likes of Fernandinho and Willian will be there to terrorise Juve's midfield but one man who won't is Luiz Adriano who is suspended following his unsporting-like behaviour against Nordsjaelland. How much will the player's absence really affect the Ukrainian Champions? In short, not much as one would expect. Finishing is not exactly his strong suit on a squad reliant on their wingers to grab the goals. In fact, the only goals he has managed in the tournament all came against the Danes. However, Adriano is good at bringing others into the game and drawing defenders away to uncover space and for that, his teammates will miss him.

Like Juventus, Shakhtar are without that world-class striker who is capable of converting the many opportunities they do create. Against Chelsea they were the much better team and yet they failed to capitalise on defensive errors, losing the game purely due to the fact they squandered most of their opportunities. While they have averaged 2.8 goals a game in the Ukrainian league, it's also worth noting that they are 13 points ahead of second place in a league that provides them with little competition.

Dribbling is their strong suit and statistics prove they are better at doing it than any other team in the Champions League. The worst at it? Juventus. However, while the Italians have conceded the fewest amount of goals within this group, they have also produced more shots on goal than any other side in the competition. In fact, they have produced more shots on target than any other team in the Champions League, beating the likes of Barcelona and Real Madrid.

The Italians who have proved invincible in the league under Antonio Conte may have suffered two defeats at the hands of the Milanese sides but their intensity has returned as witnessed against Chelsea. Attacking through all channels available to them, they are as strong through the middle as they are on the flanks. By contrast, Shakhtar are not quite so balanced with nearly half the attacks coming through their right hand flank. Even so, alongside PSG, they have scored more goals than any other squad at the group stage of the competition.

Defensively both these teams are strong and while the Ukrainians have conceded an average 0.5 goals a game in their league games, they have also been susceptible to conceding silly goals in the Champions League, some of which could have been avoided. One great goalkeeper away from being a fantastic Shakhtar unit, Juventus must push them as deep as possible to provoke individual errors and threaten the error prone goalkeeper.

The Old Lady is not facing a Chelsea side in disarray but an opponent that boasts cohesion and fluidity, the kind that can only be achieved after years of working together. In Mircea Lucescu they have an intellectual as a coach who favours intelligence above all else. Each one of his players is encouraged to read a book, appreciate the arts and to study as much as is possible. His belief is that a broad mind combined with physical talent creates world-class players and so far, he has developed several.

With both a Ukrainian and an Italian team playing in a game that requires a draw, most are worried they will indulge in what the Italians call a 'Biscotto'. This is a deal by which both sides agree to play out a draw (fix a result) in order to dump Chelsea out of the competition. Both have of course promised to play for the win. With other nations watching and images to improve, both will most definitely go for the win but can Juve rediscover the hungry passion that won them their last two Champions League matches? Conte will hope so as he watches his Juventus from afar for the very last time.