A tale of one city... and two coaches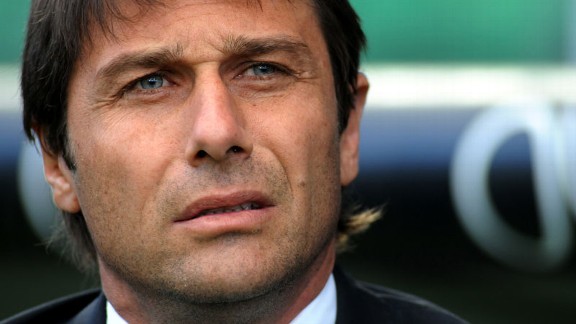 PA PhotosAntonio Conte faces his mentor Giampiero Ventura this weekend
At long last the Derby della Mole returns to revive the concept of bitter rivalry between the industrial city's two glorious teams. As much as this is a story of a great city rivalry between two historically successful sides, this particular Derby della Mole is also a tale of two coaches.

- Chiellini dreaming of derby goal

Let us go back to 2005 when a man called Antonio Toma took over as coach of Pisa. This particular man had the idea of resurrecting the 4-2-4 formation as he was enthralled by the directness of the shape. He desired great movements and quick solutions and he thought that particular shape would allow for fast-paced football and a lot of goals.

His ideas did not last and after a few good men came and went, Giampiero Ventura arrived at Pisa with the same idea, but with a much clearer method of implementing the direct formation. Obsessed with the idea of total footballers and complete athletes capable of giving every ounce of energy in a game, Ventura found success with the 4-2-4 formation and Pisa were quickly accruing positive results. They even managed, against all odds, to reach the promotion playoffs in which they were eventually defeated.

It is here that we introduce Antonio Conte, the man who found inspiration in Ventura's tactics. Astounded by the synchronicity of Ventura's side, he would regularly go up to visit the Pisa team to carefully study the motions, the passes and the manner in which the ball was carried to the top. Mesmerised by its efficiency, Conte used that exact formation in his rise to the upper echelons of football management.

Interestingly, the man who Conte chose to be his assistant at Bari was none other than Antonio Toma - as if to complete the circle of tactics.

Intrigued by Ventura, Conte has never stopped speaking of the man who inspired him tactically. Jean-Francois Gillet, who played for both coaches, often recounted tales of Conte's mini obsession with the coach who went on to replace him at Bari and the two tacticians share a unique friendship.

On Saturday night, Juventus and Torino will face one another for the first time in three years in Serie A whilst two intelligent tacticians will be pitted against one another. Whilst Conte has shed his 4-2-4 past to indulge in other formations at Juventus, Ventura has opted to remain faithful to his preferred tactics.

Described as lacking in quality, Torino may not posess the highest calibre of players but they still do pose a serious threat. The manner in which they move, their cohesive nature and pure physicality make this side a typical Ventura team. The squad boast an innate understanding of one another's movements and each passage of play looks as if it has been rehearsed millions of times before.

Compact during the defensive phase of the game, il Granata blossom like a flower in full bloom when attacking. Using the full width of the pitch, Ventura's side is fond of the long ball and in exploiting their exemplary levels of fitness to inflict pain on the opposition, especially when ripping through the middle of the pitch. The full-backs are asked to prioritise the defence but they are also encouraged to charge up the field quickly, providing the width necessary to create holes for their fast and physical forwards to exploit.

The likes of Alessandro Gazzi as well as Rolando Bianchi have proved pivotal for Ventura's game plan. Whilst the former partakes in most of his side's good actions as he plugs holes in midfield and intercepts to perfection, the latter imposes his strength to score. However, it's Alessio Cerci who proves the most threatening as he always picks the right pass or makes the right decision to slice open the defence.

In a battle for Turin bragging rights between the city rivals, this is a chance for the Old Lady to flex her muscles and for Conte to impress his mentor. Whilst this particular derby has always been dramatic, it has rarely provided the spectacle of delicious football. There has been the night of four red cards in April 2003 when Torino saw three of their players sent off, but it's been too long since we last saw a game of great strategies.

With Conte facing Ventura, good football should be expected. A high tempo game, a lot of pressure and a tense atmosphere of fierce rivalry, one can hardly wait.