Halted by a united Milan, Juventus suffer another defeat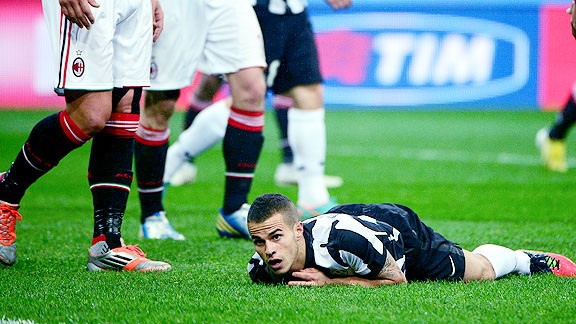 Olivier Morin/AFP/Getty ImagesSebastian Giovinco and Juventus were all out of sorts against Milan on Sunday at the San Siro.
Defeated by the one thing that defines them, Juventus fell to a Milan side that worked as a collective unit and played with heart to seal a victory.

The San Siro, once famous for the hostile environment that made you feel like you had just entered Satan's den, was somewhat diluted on the night. One can go so far as to say that since the loss of Brigate Rossonere and Fossa dei Leoni as ultra groups in Milan's corner, the stadium is perhaps somewhat friendlier to away teams than it once was. Ushered into our seats, the Milan song came bellowing out of the speakers as the fans chanted in unison. All delightful -- were it not for the overwhelming sound of boos coming from the high number of Juventini within the grounds.

- Marcotti: Juve 'swoon' a worry?

"Everywhere you go Italy, you will see Juve fans. Even here. They are everywhere except in Turin," said the Milan team bus driver who noted the overwhelming amount of Juve fans present.

With a balanced atmosphere as the Curva Sud banners stood firmly opposite those held by the Drughi in the opposite Curva, the match started. Evident immediately was the lack of Juve spirit, the mental fortitude that has come to epitomise them since the arrival of Antonio Conte.

Andrea Pirlo was well marked but while he still dictated the tempo, he lost the ball incessantly making life incredibly difficult for the Bianconeri defence that heavily missed Giorgio Chiellini's fighting spirit. Meanwhile Mirko Vucinic wandered around the final third observing play in a relaxed manner as if he was simply there to enjoy the show. Gazzetta dello Sport put it marvellously when they noted that it was a night in La Scala for him and not one in the San Siro.

Without the heavy pressing in all areas, the quick tempo, the swift passes and relentless running, the Old Lady merely looked like a haggard woman in need of a rest. The Rossoneri did well in limiting her options going forward leaving her capable of only producing two shots on goal.

With Pirlo well-marked, every good pass he did manage to produce found no runners from midfield. Arturo Vidal seemed more concerned with losing the ball and enhancing his imprecision while Claudio Marchisio only made his runs forwards sporadically, concentrating more on aiding the back-line which limited Juve's attacking impetus.

Meanwhile, the wing-backs that often produce another dimension to the attack were either woeful or heavily halted. Mauricio Isla was the target of strong abuse directed at him from assistant coach Angelo Alessio on the bench. Drifting in and out of position, any player who makes Kevin Constant look like a heroic left back, in the words of a Milanista, "is either stupid or woefully poor." He proved to be the latter managing little more than four inaccurate crosses, spending much of his time watching as Constant got there first or benefitted from Isla's poor control of the ball.

In addition, Kwadwo Asamoah on the left wing was not permitted to offer his usual influence, suffering at the hands of the excellent Mattia De Sciglio. The full-back stifled and blocked to precision while also venturing forward accurately to offer Milan timely passes and crosses. His performance was above what one would expect of such a youngster leaving Italy Under-21 coach Devis Mangia in awe as he sat beside me superfluously complimenting the defender's performance. With Riccardo Montolivo marking him too, this was not a match where Asamoah was able to offer Juventus the alternative attacking option they so heavily needed on the night.

However, despite how well organised the Rossoneri may have been or how terribly determined they were to achieve a positive result, they hardly looked invincible. Had Juve played to their potential and showed the intensity needed to win the match, a defeat would have been unlikely. Unfortunately for Conte, their style of play and their footballing philosophy expends too much energy, and after most of the Champions League games they've played, they have failed to make the desired impact in their subsequent Serie A match -- with the exception of those games against struggling opponents.

In contrast to Juve's lazy approach, Milan were remarkably hard-working evidenced by the manner in which Stephen El Shaarawy -- Serie A's top striker -- would regularly come back to aid Constant in blocking any passes from Juve's right wing. Montolivo acted like a man possessed bitten by the passion attached to the Captain's armband he was handed on the night. Directing play, spreading the ball, recovering possession and providing so very much more. The player proved immense on the night -- much like a few others including Philippe Mexes.

The frustration mounted for the Juve forwards and finally, due to his side's inability to penetrate, Sebastian Giovinco lashed out, swearing and screaming at Milan's Mario Yepes, to which the Colombian simply replied: "Don't worry little man, I don't beat up children".

On Sunday evening in Milan's historical stadium, the Rossoneri played like Juve and with that determination achieved the 'great win' they hope will kickstart their season. As for the Old Lady, she's still searching for that balance that will allow her to strongly challenge on all fronts.