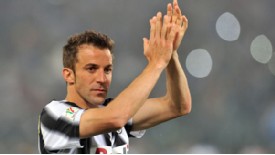 GettyImagesAlessandro Del Piero departed Juventus as their all-time leading scorer with 289 goals
"It is much easier to paint another Mona Lisa then it is to create another Del Piero," mused Iker Casillas. For there is only player, a unique man, who will forever be etched into the heart and soul of every Juventus fan in this world, Alessandro Del Piero.

Standing elegantly in front of the waiting journalists in his grey pinstriped suit, Del Piero spoke emotionally and with the kind of sincerity that has long eluded modern day footballers. Eloquent with his words, the Juventus legend had decided that his journey as a footballer had not ended. Sydney FC is the chosen destination.

"I'll leave a team where I have been for 19 years, but I'll continue to support Juventus for a thousand and more reasons," announced the player to the backdrop of millions of broken Juve hearts. Forced to accept that the player's contract would not be renewed past last season, Juventini around the world bid an emotional goodbye to the player who broke every record worth breaking at their club.

For Juventus, they are seemingly forever waving goodbye to legends of the game - legends, who not only mastered the art of football but inspired generations with the purity of their soul. It was 23 years ago when the club mourned the death of the player who symbolised 'lo Stile Juve', Gaetano Scirea. Renowned for his humanity and humble demeanour, he was an example to so many children and the idol of many more adults.

An infamous story told was that of a young boy with sweat beads hanging from his forehead running to catch up with his idol, Scirea, in hopes of getting an autograph. The player obliged and the boy, elated from having met his hero, ran off to parade his treasure. That young sweaty boy grew up to be Alessandro Del Piero and the man who would go on to surpass Scirea's appearance record. "Unfortunately I could not know Scirea as a person, but only as a fan. I saw him lift the World Cup and for this he was my hero. In recent years I have often tried to imitate him." In a few more years, one hopes another boy will try to imitate Del Piero.

Since scoring his first goal for Juventus on the 19th of September in 1993, Del Piero represented Juventus. Not only because he celebrated that goal with such emotion and intensity but also because it was struck on the day his parents celebrated their wedding anniversary. That goal perfectly symbolised what the legend brought to the Old Lady: skill and humanity.

The child of an electrician and a housewife, Del Piero only knew football. Whilst age deprived him of the physical act of playing with world-class talent, imagination allowed him to kick a ball alongside the idols he dreamt of each night. "I often played alone: it used up much of my imagination. I was a champion of Juve, I passed the ball to Cabrini, to Tardelli, to Scirea and I played alongside Platini." As fate would have it, he would go on to eclipse the many names that made history in the black and white shirt.

Born in Conegliano, Del Piero played for his local club San Vendemiano before joining Padova's youth team. "San Vendemiano is only 77 kilometres far from Padova, but for me it seemed to be a long long journey. Now when I think back, I realize that those 77 kilometres were the exact distance between the child I no longer was and the man I was becoming," wrote the player on his website in January 2010.

Signing for Juventus in 1993, Del Piero was in awe. His inability to correctly answer questions posed by his interviewer, Mariella Scirea, shortly after scoring his debut goal spoke volumes of the emotions he felt when playing in the shirt he worshipped as a child. His talent only grew and his star continued to rise and in his full debut for the team, he grabbed a hat-trick against Parma. By the ripe old age of 22, he had won everything at club level.

A phenomenon on the pitch and a gentleman off it, his goals regularly attracted a symphony of compliments from football stars and journalists alike. It will be difficult to forget his back heel against Borussia Dortmund, that goal against River Plate or the one against Atalanta, which would be his last in a Juve shirt. Then there was the Del Piero goal, the one where he'd cut inside from the left before curling a wonder shot into the far top corner.

Italy may have lost their most beloved sportsman but Australia has gained a champion, one who hopes his arrival will raise the profile of the sport in the country. For a league where negativity dwells and positivity flees, Sydney FC wish to not only boost their own reputation but that of the A-League in the eyes of the world. "I will arrive with the desire to offer what I have always done in football, which is my all." One would expect nothing less.

Farewell Ale, in the translated words of the millions of Juventini who chant your song at every opportunity, "I never get tired of you, I'll always be by your side, you're the most beautiful thing there is ... Alessandro Del Piero ole"