Can Juve keep it going against Milan?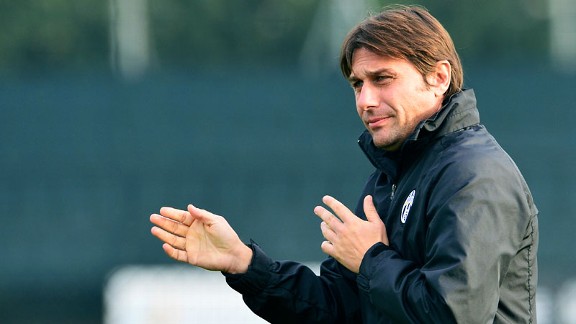 Giuseppe Cacace/AFP/Getty ImagesJuventus manager Antonio Conte looks on during his team's training session the day before their emphatic Champions League win over Chelsea.
As the real Juventus emerged from the shackles of complacency to defeat Chelsea midweek, the fans and media immediately realised just how much Antonio Conte has brought to the side. Reminding the world of exactly what the Old Lady has to offer, the current team boasted the intensity and fight once associated to Marcello Lippi's Juve side that dominated Europe in the 90's. As a former player in that team, Conte has ensured that the Bianconeri have recaptured the essence that reinforced their reputation as European giants.


This Sunday evening, they will meet another Italian representative in the Champions League and a rival that has somewhat suffered this season. Milan may have started their campaign badly, seemingly only possessing the right attitude to play once they have conceded a couple of goals, but they appeared to have settled into a rhythm now that will ensure a competitive game this weekend.


Boasting Serie A's top striker in Stephan El Shaarawy, Milan may not be serious title challengers this year, but they still possess more individual quality than most teams in the league. Serie A's most accurate passers, Milan keep possession better than any other team in Italy. Their football, as seen against Napoli last week, can at times be beautiful as they keep the ball firmly on the ground, spreading play in a calm manner before delivering the final pass for their strikers to score. Despite their ability to control their matches usually due to Riccardo Montolivo's talent in midfield, they are also adept at scoring from counterattacks and set pieces. However, they are somewhat reliant on their top scorer and his horizontal runs down the edge of the box before striking at the most opportune time. Should Juventus manage to close El Shaarawy down, Milan will struggle to convert their chances.

Despite tinkering with their formation as well as implementing a three-man backline at one stage, the Rossoneri have played the 4-3-3 formation in their last two games and are likely to go with that shape against Juventus. Preferring control over a direct approach, Milan know how to create, however the problem is that they don't seem to know how to defend. Regularly conceding goals early on, they concede few shots. But whatever shots they do let slip, usually end up as a goal for the opponent to celebrate.

However, unlike previous opposition, the Old Lady will be faced with an opponent who will look to attack her and as seen against Napoli, Milan are not shy of bringing on the attackers to get the goals towards the latter stage of the game. Those who create for the Old Lady such as Andrea Pirlo, as well as those who carry the ball out, such as Leonardo Bonucci, will be targeted and closed down to limit their creativity, while the Rossoneri will look to apply pressure high up the pitch in hopes of benefitting from individual errors and poor control on behalf of the Juve players.


Juventus, if not physically, will be emotionally spent after having concentrated for so long in defeating Chelsea. That was the most important match of the season and it's fair to say they may not have fully recovered yet. Bonucci as well as Giorgio Chiellini may miss out on the match. Bonucci has a fever while the latter received a slight knock that makes him a doubtful starter. Nonetheless, they are likely to deploy the same formation and much of the same men to win this grudge match, if only for pride.

The two sides were at odds with one another last season after Sulley Muntari's phantom goal was not spotted allowing Juve to get back into the game and remain undefeated. Milan were outraged and their subsequent behaviour that included many references to Calciopoli, in addition to a clip on the Milan channel titled 'They're back!' in reference to the scandalous Juve side that 'paid' for their titles, deeply angered Juventus. However, with Andrea Agnelli sending a note to congratulate the Milan side for their triumph in the Champions League, a gesture greatly welcomed and appreciated by the Milan management, amicable relations between the two sides have returned.

It is an anticipated match between two of Italy's greatest sides, where all eyes will be on whether or not Juve can manage to keep playing their intense game every three days. Possessing the ball less than Chelsea midweek, the Bianconeri expended a lot of energy on pressing in all areas of the pitch and maintaining their attacking impetus. Unless they run at 200km an hour, then, in the words of their coach, they are merely average. The question is, when faced against another side that will look to control the tempo of the game, do Juve have the energy to run and win against this stuttering Milan?