Analysing Stephan Lichtsteiner's form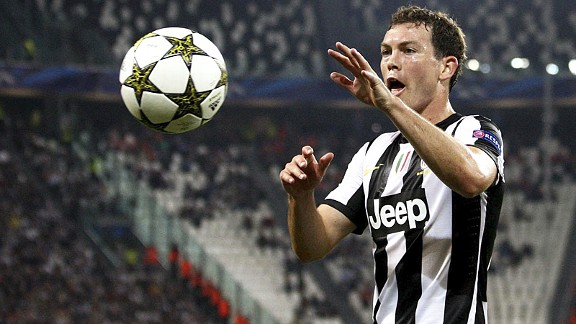 GettyImagesStephan Lichtsteiner has lost his place in the Juve team
As Juventus prepare for their next match against Lazio, Antonio Conte and Antonio Cassano have decided to debate the notion of morality. A war that suits the world of Serie A, it all seems rather impolite, misunderstood and wholly dramatic. However, the real topic of conversation centres on Stephan Lichtsteiner and his possible departure from Juve.

Before his arrival, Juventus had suffered in finding the right full-back who was defensively solid and as well as tactically intelligent. In Lichtsteiner, Conte found a soldier capable of interpreting his role accurately and who possessed the heart of a lion. His work ethic combined with his skill ensured he became a key player for the team and a firm favourite with the fans.

This season, the Bianconeri as a whole have been accused of being more complacent. Despite their terrific start to the campaign, many have pointed out their lack of intensity compared to last season. They don't press all over the pitch, they don't fight for every ball and they can seem a little reactive in their approach. Certain players were not performing as well as they used to and whilst most have recovered their form, Lichtsteiner hasn't.

Ever since the defeat to Inter, there has been reported tension between the player and his coach. Passionate in his nature, Lichtsteiner on that occasion allowed his emotions to interfere with his game, performing reckless tackles that ought to have seen him sent off. In Juve's next match against Nordsjaelland, Conte opted to keep him out of the squad as punishment. It thus comes as no surprise that reports have emerged to suggest the Old Lady may be willing to sell her star full-back to invest in Manchester City's Aleksandar Kolarov. The question is, why is the Swiss underperforming?

It's been suggested that Lichtsteiner is yet to fully adapt to the 3-5-2 formation that Conte is so fond of playing. As a full-back, his defensive work is unparalleled whilst he enjoys nothing more than overlapping with the player ahead of him to challenge his opponents. He is best when surging forward from deep positions whilst he's adept at holding on to the ball to then provide the key pass. Deployed behind Simone Pepe, the duo excelled in providing an attacking threat on the right wing.

Played as a wing-back, the player may be just as ferocious except that he is being asked to perform duties he is yet to master. As such, his weaknesses are being highlighted in a way that is discrediting his game. He is not the finest crosser and forced to play in a higher position, we no longer see the exciting runs forward that start from deep positions robbing him of his edge.

Perhaps one of Lichtsteiner's greatest games last season came against Inter when Juventus played in a sort of 4-1-4-1 formation in October 2011. His defensive work was sublime and he used his athletic ability to run incessantly and make the vital tackles and clearances necessary. Meanwhile his forays forward brought the best out of Alessandro Matri. Gazzetta dello Sport raved about how he carried the ball from deep positions to find the striker who intelligently drifted to the right to latch on to the Swiss player's passes. Juventus won and Inter looked worn out.

Against Fiorentina the week before, Lichtsteiner proved immense in a 4-3-3 shape. With Pepe dragging defenders away, the full-back had more time to pick out the right cross and the right pass to threaten the opponent. His running in addition to his defensive work proved vital in securing the win as he was once again one of Juve's best performers of the day.

Interestingly, Lichtsteiner suffered the most against Napoli last season. He was rated as one of the worst performers in both those Serie A matches as Conte fielded a 3-5-2 formation to mirror that of the Partenopei. A man regarded highly for his defensive qualities, against Napoli he was forced to play on the halfway line or just above it and his crosses were inaccurate, his passing wayward and his impact hardly noted. His defensive contributions decreased massively whilst the statistics proved worrying - Lichtsteiner had been dispossessed or lost control of the ball more times than one would have ever expected of him.

However, Conte rotated formations and tactics often and whilst Lichtsteiner excelled in others more than most, he was always a vital cog in the system. One cannot truly blame the formation alone. With a heavy schedule, the player's athletic approach to the game is suffering and that perhaps explains the loss of form. Others have noted that the player no longer enjoys the delectable Andrea Pirlo passes aimed at him as much as he once did resulting in muted offensive performances.

Whatever the possible reasons for his current mediocrity, his agent has since come out to say he's happy in Turin and wants to stay. For the sake of Juve, one hopes he can overcome these early troubles.