At last, a Euro win -- but is it too late?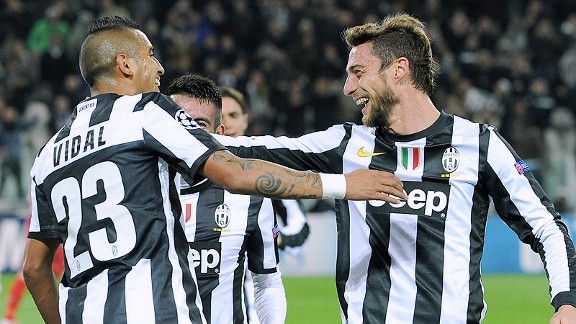 Valerio Pennicino/Getty ImagesIt was heartening to see Juventus erupt with goals in the Champions League on Wednesday, but is it too little too late?
Their first league defeat of the season made way for their first win in the Champions League. At long last we witnessed the real Juventus side that astonished viewers with intense and exciting football last season. Having enjoyed a multitude of wins this term -- some of which were undeserved -- it took a defeat from Inter to reawaken the competitive spirit within and restore Juve's playing philosophy.

Described as a wounded beast by Gazzetta dello Sport, Juventus were in the mood on Wednesday night as they pressed in all areas of the pitch, fought for every ball and rediscovered their lethal edge in front of goal. Fallen and defeated, FC Nordsjaelland, who had hoped for something in their visit to Italy, were left bewildered at the sight of these hungry wolves who prevented them from managing even a single shot in the first half.

Once again, Juve's midfield stole the show and demonstrated that in Europe, few teams could boast a better central trio blessed with complementary skills and adept both offensively and defensively. Andrea Pirlo ran the show in the only way Pirlo knows how as he spread play. His crosses were accurate, his long balls over the top were defence-splitting and he provided a number of passes that led to Juves many shots on goal.

Remarkably, Wednesday's Bianconeri produced less shots than the reverse fixture two weeks ago. The difference was that on this occasion, the Italians were not taking no for an answer.

Claudio Marchisio was the star of the show, bullying his way into the box, making the well-timed runs we've grown accustomed to yet also having the arrogance and will to finish off the moves. As for Arturo Vidal, the omnipresent midfielder, he did not allow the Danish side's defenders a moment to think as they attempted to clear their lines, constantly attacking the ball at their feet and forcing a second goal.

A special mention must go to Mauricio Isla who finally looked like the player that so many teams coveted whilst he was at Udinese. It was his wonderful delivery that helped set up the first goal whilst his marauding forward runs caused consistent problems for Nordsjaelland. Isla's advanced position on the field reminded the fans how much more effective Juventus are when their right flank produces the offensive threat it used to provide via Stephan Lichtsteiner last season.

The midfielders' desire to put Juventus ahead allowed their teammates the confidence to push forth with Sebastian Giovinco and Fabio Quagliarella scoring one each. Does that mean that the Old Lady's strikers can score? Giovinco deserves praise not only for his goal but his overall work rate for Juventus so far this season. He creates space, zips past defenders and boasts excellent control. However, as a forward, it's difficult to not doubt his ability at the highest level. The Danes offered him all the space in the world to produce a moment of magic but with tougher opposition that will intercept, tackle and physically outmuscle the player at every opportunity, can he hope to have the same impact in the next two games? It remains to be seen.

Meanwhile, the Danes failed to deliver the type of football we had previously seen from them in this competition. They produced a string of fine chances against Chelsea and also started brightly against Shakhtar Donetsk before ceding control. Last night, Gigi Buffon had no option but to take a nap until just after the 60th minute when the Danes finally mustered a shot. Producing one shot on target all night, neither their change of formation nor the substitutes brought on affected the outcome. As such, they bowed out to an Italian wolf that had been starved of a truly intense European matchday.

The 4-0 result was wonderful but the ending was bittersweet -- Chelsea scored in the final moment of stoppage time to defeat Shakhtar and complicate qualification for the Old Lady. Whilst destiny remains firmly in their hands, Juventus must achieve at least four points should they hope to qualify out of the group stage and with a final game due to be played in the fiery cauldron of passion that is Donetsk's Donbass Arena, it will be anything but easy.

Was this a win too late? Nordsjaelland proved the ease with which this superior Juventus side could demolish them. Yet that draw in Denmark may well come back to haunt them as a wasted opportunity should Juve fail to defeat at least one, if not both, of their next opponents.