Bologna allow Pogba to star as Juve waste chances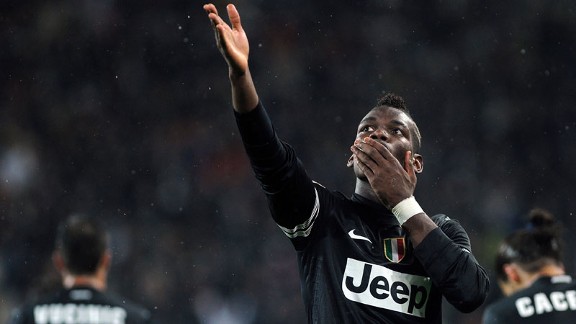 GettyImagesPaul Pogba celebrates his winning goal against Bologna
Masters at squandering opportunities, this Juventus side thrilled from the starting whistle and looked keen to earn maximum points from the get go. Bologna, who have not suffered a defeat at the hands of the Old Lady since February 2010, were without their key players and a certain Alessandro Diamanti, rendering them a workmanlike team that lacked any artistry.

Juventus were exceptional in the first 20 minutes. Boasting confidence and motivation, they unleashed their ferocity to pin back Bologna who looked overwhelmed and vulnerable at the back. Unable to control possession when they had the ball, this was a far cry from a Stefano Pioli side that is usually both defensively sound and aggressive in manner. Sitting deeper and deeper with every ball played, the detail-obsessed coach had to sit back and watch as his squad allowed the strength of Juve to dominate in the areas they ought to have been held back.

- Juventus 2-1 Bologna
- Pogba saves Juve, Inter up to second

Afforded free licence to dribble through the middle Paul Pogba had an exceptional game. With Bologna failing to mark him appropriately or close down the space ahead of him, the Frenchman's determination to be everywhere and anywhere caused huge problems for the opponents. He controlled, produced key passes, imposed his physicality and pushed up to act as the third forward, adopting a higher position than even Nicklas Bendtner.

Despite his attacking impetus, it was his all round approach that proved vital. The moment Juventus lost possession, he ran back to act as the deepest placed central midfielder to provide defensive cover. When Bologna got hold of possession, he provided the necessary tackles that won possession back to reaffirm Juve's intensity and hunger to win. Usually the man to cede possession quite quickly, he remained firm and clung on even if poor control let him down at times.

However, whilst the player boasts impeccable talent and developed skills despite his young age, Bologna made it vastly easy for him to control the midfield. He adopted any position he liked, he exploited free space in the middle in front of goal whenever he pushed up and Bologna seemed more concerned with tracking everyone else except the youngster.

A muted performance from Pioli's side in the first half allowed for an attacking Juventus. The Bianconeri usually manages an average of 11 dribbles a game but they reached that figure in the first 40 minutes of the match to give some idea of how much free space and time they were afforded. Had they possessed a world-class striker then the result would have been sewn up in the first half to avoid a nail biting end.

Unfortunately for them, they were forced to rely on other attacking options as Bendtner was more concerned with working hard in all areas of the pitch as opposed to bullying his way through in the penalty box like a centre-forward. However, his performance albeit hardly magical was rather good but perhaps not what Juventus need. Dropping a little too deep at times, he did well to involve his teammates in the attacking phase of the game and showed off good movement to busy the opposition. He was even on hand to make vital tackles and clearances during the defensive phase of the game to rescue Juventus from a few nervy moments. Ideally though, the Bianconeri need the Dane to excel in the box, imposing his physicality to be a nuisance in the box.

Failing to convert their many chances with a lethargic Fabio Quagliarella at the top, the Italian did manage to score to finally break the deadlock. However, Paolo De Ceglie's terrible clearance led to the equaliser and twitter was awash with negative comments about a player who many feel is not good enough to play for this squad. His crossing is dubious, his running a tad manic and he can be a defensive liability. However, his marauding runs down the left flank attracted Bologna defenders towards him to create more space in the middle for the likes of Pogba to exploit.

Bologna were much more compact in the second half of the game. Their substitutions proved intelligent and there was more willingness to follow Pioli's rules as they closed down space, pressed Juventus and created their own chances. However, they never proved good enough to grab the points and only Juve's masterful performance at squandering chances allowed Bologna in with a chance of a draw. Thankfully for the Old Lady, Pogba scored in the final moment to guarantee the points and his place in the hearts of Juve fans.

Assisted by Sebastian Giovinco who did an excellent job of creating space when he came on, credit goes to Angelo Alessio for producing a side that seems more adept at controlling the game. Now if only he can make them more potent in attack.