Tactical change required to end Juve's Euro draws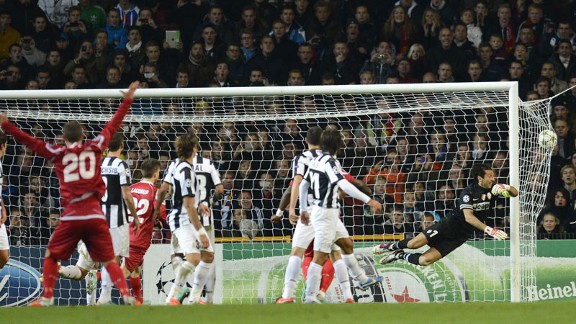 GettyImagesNordsjaelland's Mikkel Beckmann curled home a free-kick versus Juventus
Tuttosport called it a waste whilst Corriere dello Sport believed Juventus suffer from an identity crisis when it comes to the Champions League. "In Europe they are not Juve," roared the front-page headline. One would argue that they haven't been Juve since the start of the season despite a string of positive results in the league.

The beauty of the Bianconeri last season lied in their intensity. Fixated on winning every ball, running relentlessly and applying the intense pressure needed to overwhelm the opponent, they resembled a machine with supernatural petrol filling their tank. Applying pressure high up the pitch, they had Arturo Vidal tasked with remaining up top when out of possession with the sole purpose of winning the ball back quickly and allow Juventus to launch an attack without troubling their defence.

This season, they have displayed their humanity that nonetheless has rendered them effective but no longer out of the ordinary. La Stampa reminded us of a great Antonio Conte quote from last season that has proved so thoroughly accurate today. "If we don't go at 200mph then we're just an ordinary team."

One irksome quality about this Juve is their obsession with the 3-5-2 shape regardless of the opponent they are facing. Against Nordsjaelland who are tactically inferior, inexperienced and known for producing few shots on goal, asking three centre-backs to mark their one striker is inexplicable.

Depriving the midfield or even the attack of another source of creativity that would have pushed up through the middle to punish the Danes' vulnerability is nothing more than a tactical misjudgement.

Whilst Juventus toyed with a few formations last season, their greatest asset were the tactics and shapes they deployed to counter their opponents. This season it appears that the Old Lady is more concerned with playing her own game than studying the opponent to neutralise their efforts to strengthen her position. Against Shakhtar Donetsk and indeed Nordsjaelland last night, Juventus were poorly prepared displaying a hint of complacency in their approach to the game.

The Danes are strong on the flanks, attack mainly down the right and struggle to defend against central threats. They are not a counter-attacking team, they play possession based football and rely heavily on the creative skills of the three midfielders that play in a 4-2-3-1 shape. By playing the 3-5-2, a formation that affords the Italians a more direct approach to goal, it also robs the team of control, the ability to apply the asphyxiating pressure high up the pitch that proved to be key last season and it increases the workload of the three central midfielders.

It takes only one of Andrea Pirlo, Claudio Marchisio or Vidal to perform below their capability to throw the collective into disarray. It is a shape that requires players to be at the top of their game and it is also one that works better with a fast forward line. With Sebastian Giovinco who is all bark and no bite wrapped up in a pint-sized package there is little physicality on offer alongside Alessandro Matri who takes an age to react and exploit a goal-scoring opportunity, it's perhaps time to recognise the need to explore other tactical options.

Disappointingly, Angelo Alessio made his changes far too late in the game. In fact everything about Juventus came too late. This blog already warned the Bianconeri of the need to take off quickly to avoid relinquishing control and once again, Juventus took their time to settle. They only began to play their game in the second half of the match in which they had already conceded within the first five minutes. Even when they eventually did get going, they lacked the intensity required to differentiate them from all others and show them to be a Conte-led team.

Despite producing 33 shots on goal, nine of which were on target, Juventus only managed the one goal. Embarrassing really. Whilst Beppe Marotta continues to defend the club's failure to bring in the striker the team so desperately needs, one can agree that in Serie A, the team unit is their greatest asset. By sharing the workload and working in unison, the Bianconeri collective continues to exert its strength domestically. However, in Europe, this precise asset becomes a drawback as statistics show that whilst chances are always created, they lack true quality up top to convert those chances needed to obtain positive results at this high level.

This was a must-win game that was approached in a lax way. Whilst the Old Lady needed her best men to ensure a result, she was instead subjected to substitutes who failed to impress. However, history dictates that the team still have a chance as whilst Juve drew their first five games at the group stage in 1998/99 they still managed to qualify and reached the semi-finals. Meanwhile Inter won the trophy despite drawing their first three games of the group in 2009/10.

If Juventus hope to fly the flag of Italy and continue this European journey then only wins will suffice from now on.