Taking a closer look at Trabzonspor
While we have enjoyed watching Juventus success on the domestic front, it's time for them to prove their worth in Europe and their first Europa League match pits the Italians against the Black Sea giants of Trabzonspor.

The Bianconeri directors were really hoping to avoid a Turkish team simply because they did not want to make another unlucky journey to the country. It's difficult to forget that fateful night in Istanbul when Galatasaray knocked Juventus out of the Champions League. However, Trabzonspor are delighted with the prospect of facing the Italian side, who seem to struggle to play they way they know how against Turkish opposition.

Yet Trabzonspor, it must be noted, should not be feeling too confident considering the current problems they are suffering. Yet to manage a win in 2014, they have struggled to collect points and sit ninth in the league, 17 points behind first-place Fenerbahce. Their coach Mustafa Akçay -- a man renowned for his work with developing young players -- stepped down after the 4-2 loss to Akhisar Belediyespor, leaving the club in the hands of Hami Mandirali, a former club legend.

Usually deployed in their 4-2-3-1 formation, their defence is the reason behind their initial success this season and their powerful displays in the Europa League, although on average they still concede 1.3 goals a game. Attack-wise, they have managed only 30 goals this season; efficient and fluid they are not reliant on any particular striker but, like Juventus, their goals are shared and very much based on team effort. That said, a lack of quality in the final third has proved problematic.

In the Europa League this season Trabzonspor boasts an astonishingly great record on the road, securing five wins out of six away from home and going undefeated in all 12 matches. Possessing strength of character and ability to do the basics well, they like to absorb the pressure before using their predatory nature to hurt the opponent on the counter-attack. They are efficient and pragmatic, but it seems they have lost the ability to intimidate the opponents in their usual way.

Great at exposing gaps on the field and making the most of mistakes committed by the opponent, they boast an excellent player in Olcan Adin. Versatile and technical, the right-sided player is the team's top goalscorer both in Europe and in the Super Lig, and was the side's only bright spark in Akçay's last game in charge against Akhisar Belediyespor.

Of course one cannot forget Florent Malouda; the Frenchman has put in some impressive displays for the side but, thankfully for the Old Lady, will be sidelined for Thursday night's match in Turin.

With the Coach gone and Mandirali at the helm, it remains to be seen how much the tactics and style of play will change. In his first match in charge, Mandirali did not change much but it makes preparing for that match that bit harder for Antonio Conte, who is uncertain as to how the Turks will play.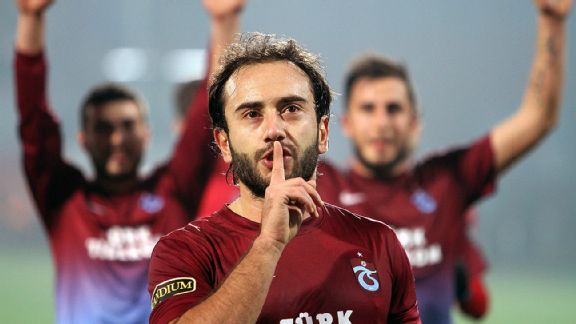 Ibrahim Sahin/Anadolu Agency/Getty ImagesOlcan Adin is Trabzonspor's attacking spark. Can he upset the defending Serie A champions in the Europa League?

Sadly for the Italian Champions, neither Giorgio Chiellini nor Andrea Barzagli will be fit to take part in the match and there's a worry that Conte will opt against playing his usual starting line-up, preserving them instead for the upcoming Turin derby.

As a result, it seems that Martin Caceres and Angelo Ogbonna will join Leonardo Bonucci at the back whilst Mauricio Isla and Federico Peluso will take charge in the wide areas. Claudio Marchisio will line up from the outset alongside Paul Pogba but Fernando Llorente will be rested, giving Pablo Osvaldo the opportunity to play alongside Carlos Tevez.

Whilst Juventus are tough to beat even when the squad players are playing, there is a worry they may underestimate the ambition of a Turkish side desperate to achieve something and climb out of their current dark moment. For the sake of Italy, Juventus cannot treat this competition with disdain especially, as they can afford to perform well in all the competitions in which they partake.

A victory on Thursday will help dispel rumours that the Bianconeri are only fit to win domestic challenges.