Juventus respond to Capello's criticism
It's strange to think this Juve side would even understand the word fear. Yet when Martin Caceres scored that own goal just as the second half began, a few worried that a collapse would ensue.

Hellas Verona had managed to score twice in the second half last week to draw 2-2 while the loss against Fiorentina last October will never be forgotten. Yet, thankfully and for the sake of Antonio Conte's implanted hair, Juventus stayed on course for the win and managed a third goal to ease the pressure.

If it was entertainment one was looking for then perhaps this was the wrong match to win. Juventus played for the points, doing what was needed to seal a win while Chievo's tactics were made abundantly clear. Their aim was to play a cautious game, restricting the involvement of Juve's runners from midfield and defending in numbers in a desperate attempt to restrict the Bianconeri's penetrative style of play.

Report: Juventus 3-1 Chievo

Sitting deep in their own half, their hard work was in vain when they allowed Kwadwo Asamoah the room to dribble and finish a perfect chance to award his side the opening goal of the game on the 17th minute.

The Old Lady spent much of the first half looking for ways to pierce through the defence. Cynical and possessing dogged determination, Juventus took advantage of their superior technical skill and predatory nature to punish any mistake made by the opponent. It took an alert Claudio Marchisio to jump on the error committed by goalkeeper Michael Agazzi to make it 2-0 but in essence, it was an unfair contest.

Chievo deployed in a defensive 5-3-1-1 formation simply had too little quality in their squad to halt the opponent let alone attempt a worthwhile attack.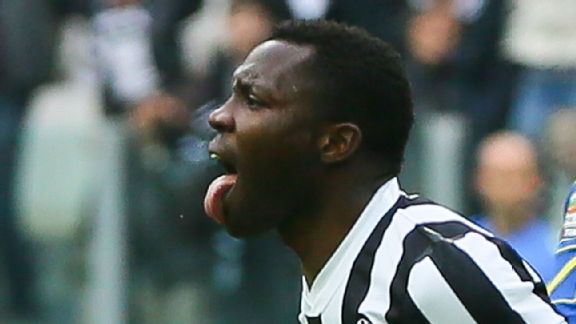 Evren Atalay/Anadolu Agency/Getty ImagesKwadwo Asamoah celebrates after scoring for Juventus.
In the second half, the Flying Donkeys needed to bolster the side and Eugenio Corini brought on Sergio Pellissier who caused the Juve back line a headache. Ambitious and intelligent, his movements gifted his side the opportunity to hope for a comeback whilst Juve's inability to cope with the loss of their starting centre-backs resulted in the usual defensive catastrophes (pardon the exaggeration). Caceres scored the own goal and fear set in. Was a collapse inevitable for this side that drop their concentration levels in the second half?

Fernando Llorente guaranteed the win when he scored Juve's third to seal the three points, allowing the home fans to feel relief.

It wasn't the greatest of wins but it was an important one to keep up the pace especially considering the possible fatigue the team may suffer in the next month on account of their schedule that includes Europe League matches.

In his post match interviews, Conte took the chance to vent against Fabio Capello's statements made earlier this week. Never one to boast about the beauty of Serie A in this current state, the Italian league may be suffering but it's not an easy competition by any stretch of the imagination. For Capello to blame Juve's poor performance in the Champions League on the lack of competition faced in Serie A is simply wrong.

Let us make this perfectly clear, a team's performance in Europe's prestigious competition does not indicate the strength of the league they play in. Why? Simply because Bayern Munich's Champions League win does not make the Bundesliga the best league in Europe much in the same way Bayer Leverkusen's humiliating loss to a weak Manchester United make it a poor one this term.

A team's performance reflects only on the club and not the league. This Juventus more than showed it's capabilities when pitted against the likes of Real Madrid this year and Chelsea last season. Problems occur, mistakes are made or as we saw this season, the squad started the new term with a less than determined attitude. The failure was all theirs and not of Italy's league.

Much has been said about the lack of competition Bayern Munich are facing this season in their domestic league while we are yet to forget the supposed 'lack of competition' in La Liga. However, both leagues produced Champions League winners in the last three years.

Conte is learning when it comes to European competition and the squad, as he rightly points out, is growing each day. Presently, Juventus are a team few can defeat in this current state. They are well oiled, fluid and capable of offering alternatives in attack. Last year, they were limited to a set style of play, perhaps too dependent on certain individuals but Conte has focused on the unity of his side to forge ahead since his early days in charge. It is now made clear, more than ever before, that the dynamic of this team unit matters when it comes to the results and how far it has grown.

It is only a matter of time before the Old Lady makes her mark on Europe. In much the same way Borussia Dortmund managed to improve after dropping out in the first round two years ago.