Osvaldo and the tactical shift at Juve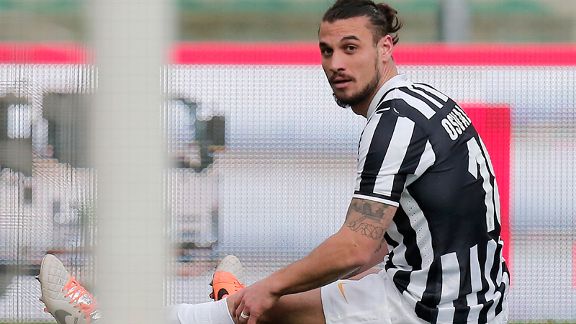 GettyImagesPablo Osvaldo provides Juventus with a different option.
Pablo Osvaldo has always been the ultimate enigma. A man so talented yet so broken emotionally that his physicality crumbles in the face of mental obstacles. Yet his transfer to Juventus has proved even more puzzling. Is he good enough? Was he needed?

The thought of Osvaldo has crossed the minds of Juve directors Beppe Marotta and Fabio Paratici a number of times yet the conclusion was always the same: not quite the stuff of a Bianconero. Indulging in yet another dressing room scuffle, this time at Southampton, one assumed the latest controversy would only further ensure his non transfer to the Italian giants, the club of champions, the wonder of Serie A.

- Conte 'shouldn't have scrapped day off'

Instead, rather than be punished for his bad temperament, he was rewarded with a magnificent transfer, one that saw him leave a club aiming for a place in Europe to join a club seeking European perfection.

Why? Ask most journalists and they will tell you it has to do with one man -- the genius behind Juve's "perfect" strategy -- Antonio Conte. Bringing in this player was not a question of bolstering the options upfront but of testing out the coach's tactical ambitions, the opportunity to work with a player who can operate in another position and who could allow a change in form, in tactics, in the Old Lady's style of play.

Conte has forever worked on ironing out the kinks, on eliminating the obstacles his side have faced. A quick learner, he sees the problem and then works to solve it, like Juventus is this great study that must be perfected before he starts anew with another.

When the Old Lady struggled to score, to inject pace down the wings and overwhelm the opponent, he turned them into a side that could score via any member of the team, through timely runs forward created by the forwards, who perhaps lacked unrivalled skill but could be taught to work for the team.

When this plan was figured out and opponents pressed them, restricting Juve's ability to play the ball out from the attack, he nurtured Fernando Llorente, allowing him to be their Plan B, another weapon in their attacking arsenal.

Now the problem is the 3-5-2. It is, undoubtedly, a wonderful formation that has served the club well, but alternatives must be sought to counteract the intelligence of European defences. Italian back lines can be overcome via pace, mobility or simply because of the Bianconeri's superior technical skill. However, in Europe, defences are faster, more intelligent and capable of duality. Should they close down spaces, Juve struggle to pierce through, the clever runs not being made to offer alternatives.

Speaking to Tuttosport, Dunga intelligently assessed: "I think a trio Tevez-Llorente-Osvaldo is workable, especially against teams that close in defence trying to eliminate all the spaces. In those cases, or in the running game, attacking defences with three players of this calibre can become effective." Indeed they can.

Not reliant on the option of continuously buying the right player to fix things, Conte has to provide alternatives and Osvaldo is an excellent choice. A man capable of playing wide to create the 4-3-3 formation that has long been talked of, or talented enough to go through the middle and allow Carlos Tevez to operate behind in a 4-3-1-2 formation -- the Azzurri isn't an added bonus but a strategic move. More importantly, he provides the ability to test out a number of theories and ideas. After all, there is no Champions League but only a Europa League to have fun with. Secondly, the player is on loan -- nothing permanent to contend with here.

This is the motive behind the transfer according to the Italian media and one that should wholeheartedly be believed in. Chievo await in Serie A, but what the world wants to see the most is how Juve will fare and deploy their artillery in Europe's less prestigious competition, which will kick back into action next week.