Verona force Juventus to drop points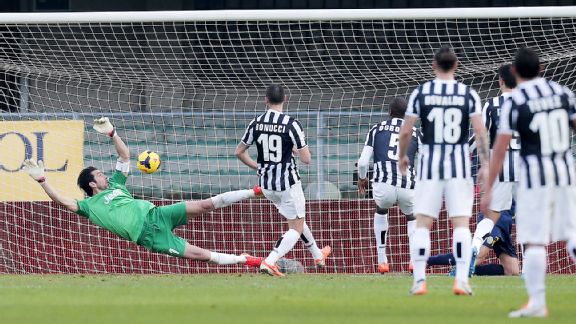 Marco Bertorello/AFP/Getty ImagesJuventus goalkeeper Gianluigi Buffon was powerless to stop Juanito Gomez's last-gasp equaliser for Hellas Verona.
A first half defined by Juve's dominance; the second a story of suffering.

Hellas Verona, the newly promoted side with a penchant for the risky and the confidence of a giant picked themselves up after going 2-0 down to score two in the second half and grab a point off the champions of Italy.

Managing only a 2-2 result, Juventus have dropped points again on account of a second half collapse, but thankfully, so did Roma.

- Report: Hellas Verona 2-2 Juventus

The Bianconeri deserved a symphony of compliments in the first half as they played a beautiful game in the first 45 minutes. Asserting their confidence, superior technical skill and fluidity, they overwhelmed their opponents as they pushed forward and played the ball out with ease. Verona were visibly rattled and a little intimidated and it took only four minutes for Juventus to grab the opening goal.

Despite attempting to close down the space and defending with nine men, Verona struggled to contain the vertical passes going down the middle. While at times Juve frustrate with their inaccuracy, they impressed with their precision on this occasion, managing 90% accuracy and 71% ball possession in the first half. They simply controlled proceedings, making the right runs forward and converting two of their three shots on goal.

It has to be said that Carlos Tevez, who scored both of Juve's goals was a few inches offside for his second and yet despite that, Verona needed to address their poor defending. Although they started out with a clear plan on how to halt their opponents, they soon fell apart, confusing themselves and each other and seemed unaware of how to contain Juve's overwhelming pressure. Once again it seemed another Italian side had succumbed to the power of the Turin giants, unable to provide a real challenge.

The only negative point of the Bianconeri performance in the first half was Arturo Vidal's display. Disinterested and almost absent, the Chilean was regularly found nodding off in crucial times to gift the opposition possession and place his team under pressure. Antonio Conte was furious and brought Claudio Marchisio on to warm up on the touch line in hopes of provoking a reaction from his energetic midfielder.

And then everything changed in the second half. Andrea Mandorlini, who was seen clutching his face with his hands on the touchline, utterly frustrated with the performance of his men, must have thrown a few boots around during the halftime break. His players returned to the pitch determined, eager and not even slightly intimidated for the second half.

Pressing harder and pushing forward with greater confidence, they began to put Juventus under pressure. Verona, who had already managed eight goals from set pieces prior to this match, managed one in the 52nd minute. Luca Toni, who had already managed to trouble the Juve defence on a few occasions in the first half, headed in Verona's first to rattle the away side who suddenly seem incapable of dealing with set pieces.

Was it offside? Perhaps, but now the roles were reversed and the Gialloblu were in the driver's seat, inspired by the rallying calls of the home crowd. Juventus, perhaps resting on their laurels, allowed the home side too much room to operate. Lacking in concentration and not concerned with expending too much energy, Verona proved that when Conte's team is not 100% committed to the job, they can be forced to suffer and they can even be defeated.

While Pablo Osvaldo came on and immediately had his say, nearly making it 3-1 for the Old Lady, Conte has to thank Gianluigi Buffon for an excellent save to deny Verona a second goal at the time. Stephan Lichtsteiner was also lucky to escape without punishment for his handball. More care must be taken by Juve when the time comes to deal with a set piece, and it was made abundantly clear how much a certain Andrea Barzagli was missed. Without the centre-back, the Juventus back-line lack composure and a true leader capable of organising the defence and minimising the chaos that ensues in his absence.

Yet what happened in the Stadio Marc'Antonio Bentegodi is similar to what happened in that defeat against Fiorentina. Juventus simply took their foot of their gas and when they do so, it only takes one goal from the opponent -- in this case a last-second Gomez equalizer -- to make them panic as Conte pointed out in his post-match comments.

If they hope to secure yet another title, they must learn that they can never relax.