50-50 Challenge: Juventus vs. Internazionale
Our 50-50 challenge series continues as club experts Mina Rzouki and David Wilson face off ahead of Sunday's Derby D'Italia, when Juventus host Internazionale in Serie A.

Mina is ESPN FC's expert on all things Juventus. She is a football writer, presenter and pundit for the Mirror, BBC 5live, BBC Sportsworld, BT Sports and CNN, focused on Italian football.

David is ESPN FC's resident Inter Milan expert. He has also been writing and editing interfanclub.com since 2009.

Both writers will address the same topics, so here we go: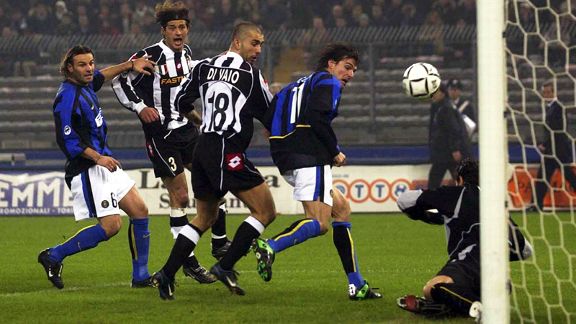 GettyImagesInter's Andres Guglielminpietro scores an own goal against Juve in 2003.
Derby D'Italia Memories
Mina Rzouki: In Feb. 2003, when Ryan Giggs picked up a stray pass from Antonio Conte to score Manchester United's second in their 3-0 win over Juventus in the Champions League it left the fans feeling deflated. But the Bianconeri couldn't afford to sulk as the Derby d'Italia awaited. Two important matches separated by a few days. An excellent victory was secured by a magnificent performance from Juventus, who dominated the midfield, utterly confused Inter Coach Hector Cuper, who was forever attempting to shake things up, whilst the 3-0 win further highlighted Pavel Nedved's invincibility.

The worst memory? Later that year Juventus fell to defeat against Inter, due to their over confidence. However, the fact that Inter were the team to halt the Bianconeri's invincible run under Conte in 2012 also stings.

David Wilson: My favourite Derby d'Italia has to be the one in April 2010 at the Stadio Giuseppe Meazza when Inter won 2-0 to wrap up the title; Maicon and Samuel Eto'o with the goals as Inter took their first step towards becoming the ONLY Italian side to win the treble. Although ending Juventus' 49-game unbeaten run at home last season was pretty sweet also.

Worst memories? All the defeats! Inter and Juventus have battled for trophies for decades now and a defeat usually means that Juventus have the advantage over Inter in the league or cup.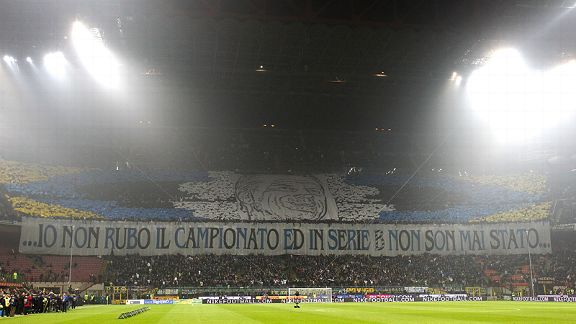 GettyImagesInter fans ridicule Juve for being stripped of two titles and demoted.
The Rivalry
MR: It's difficult to summarise why this rivalry means so much to the fans. For so many years, Inter felt they had been shafted, constantly pipped to the title by Juventus in what they perceived to be controversial circumstances. In 1998, they might've had a point. Despite their hatred for city rivals Milan, who went so far as to publish books on the fact Inter would never win anything, Nerazzurri fans despise Juventus more.

For one thing, these used to be the only two sides to have never played anything but top flight football and who, once upon a time, were considered Italy's two powerhouses -- hence the title Derby d'Italia. Of course this all changed after the Calciopoli scandal in 2006 in which Juve were demoted to Serie B.

Many fans can't see past the conspiracy theories of Inter's involvement in the scandal and the fact the Nerazzurri benefitted the most from Juventus' demise. For one thing, the wiretaps used to accuse Juventus were conducted by Telecom Italia -- a company whose CEO was and had been on Inter's board of directors for a number of years.

When Inter complained of referring errors in 2012, likening it to what they felt occurred at the time of the scandal, Juventus went on to publish two words, "No comment", with an attached downloadable statement. In it, FIGC prosecutor Stefano Palazzi's had noted that Inter were involved in the Calciopoli scandal, but could not be punished because the statute of limitations had expired. It's a rivalry felt deeply on every day of the week.

DW: To me, the rivalry between Inter and Juventus went to a new level following the Calciopoli scandal in 2006, which saw Juventus stripped of two Scudetto titles -- won under Fabio Capello -- and relegated. Inter were awarded the two titles, two championships that Juventus fail to recognize even day. The fact that the Juventus shirt has with three stars on it, signifying that they have won the Scudetto 31 times (and not 29) annoys and irritates me every time I see it.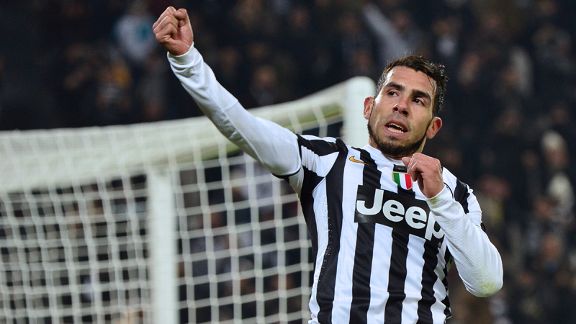 GettyImagesCarlos Tevez celebrates a goal for Juventus against Sassuolo.
Fear Factor
MR: Despite suffering a mini goal drought, the man who has carried Inter's attack and who knows how to make a difference on the big occasions is none other than Rodrigo Palacio. We saw how hard he worked in the reverse fixture, whilst the beautiful back-heel against Milan in the derby proves he will be the one to watch. Mobile and intelligent, he is difficult to control. Of course, it's difficult to discount a player like Diego Milito, should he start, as he always knows how to impact a game, whilst Hugo Campagnaro is another who is well versed in the art of frustrating the Bianconeri attack.

DW: The obvious answer here is Paul Pogba, who has developed into arguably the best young midfielder in Europe under the tutelage of Antonio Conte. But big games like this are usually low scoring affairs, with clear cut chances at a premium, which is why Carlos Tevez is the Juventus player I fear the most. Inter's back three have struggled at times this season and Tevez is a world class striker who does not need many chances to put the ball in the back of the net.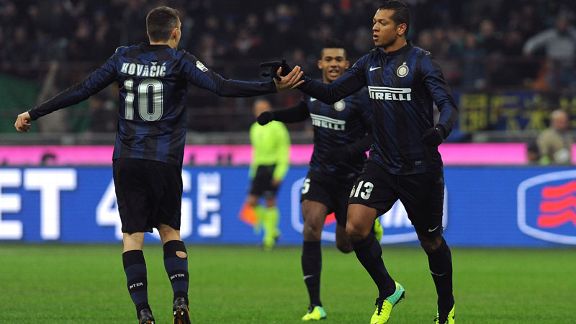 GettyImagesWith no major new arrivals, Inter will rely on the same set of players.
X Factor
MR: When these two clubs clashed in September, two players made the difference for Juventus: Carlos Tevez and Arturo Vidal. The latter scored the equaliser, whilst his consistent running, positioning and tackling made all the difference. In Milan, against Inter, Tevez lined up alongside Mirko Vucinic and whilst his individual quality and ball control made the difference, playing alongside Fernando Llorente helped the player develop further. With the Spaniard holding the ball up well, Tevez is able to use his mobility and dribbling skill to devastating effect. Together they form one of, if not the best strike force in Italy.

DW: It has been a really difficult week for Inter players and fans as the first transfer window under Erik Thohir has brought nothing but uncertainty and frustration. The closing of the window and the realization that this is the squad for the second half of the season will be a big relief to the players. With the end to all the speculation about who is going and who is arriving, I expect a more relaxed and focused Inter side on Sunday than we have seen in the previous two or three games.

Predicted Outcome
MR: Inter have not managed to win since they beat Milan in the derby in December and have only collected three away wins all season. With Walter Mazzarri admitting his players are struggling to cope with the pressure, others point to the defences and the predictable style of play.

The Nerazzurri have managed admirable results against Antonio Conte's Juve, including the win that broke the invincible run last year. However, the Old Lady is in tantalising form having secured 12 consecutive league wins in a row and still managing to draw when down to ten men in their last match against Lazio. This is a side to be feared with mental strength proving to be the difference. Juventus are favourites to win.

DW: Unfortunately, this is not a vintage Inter side. It is a side in transition, a side that is missing some of the world class players of teams of the past. Juventus on the other hand have done a really good job at strengthening and upgrading their squad over the last couple of years. But playing away from home will help Inter, as the animosity between the Curva Nord and Thohir certainly affected the team last week. I expect a courageous, battling Inter performance but ultimately Juve's class will come through and they take all three points - Juventus 2-1 Inter.