Remembering L'Avvocato as Juventus prepare for Lazio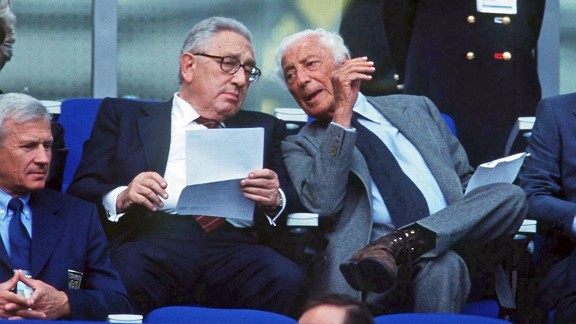 AllsportJuventus fans will fondly remember the ever-charismatic Gianni Agnelli, right.
It's been a busy week for Juventus both on and off the pitch. A loss to Roma in the Coppa Italia is all but forgotten as the team prepare to play Lazio, but off the pitch, drama reigned supreme.

When news broke that the Bianconeri were about to close a deal with Inter to bring in Fredy Guarin and send Mirko Vucinic the other way, the fans marvelled. If completed, this would have been a spectacular accomplishment for so many reasons, both for the business and on a sporting level.

Vucinic might have been the man to have inspired the squad going forward for two years now but with increased competition up top and players capable of providing consistently, he is less of an important figure, yet remains one who can still command a respectable fee.

After disastrous performances by the Nerazzurri in recent games -- especially in light of their problems going forward -- they approached Juve with the idea of swapping players. The Bianconeri identified Guarin as the man they wanted, not only because he's the player making the difference for Walter Mazzarri's side but also because he's young and represents ideal business sense.

Unfortunately, the deal that would have highlighted the business acumen of Juve's management was stopped by Erick Thohir, Inter's new owner, after realising the disappointment of his club's fans -- the people who clearly understood what a bad deal this would represent for them.

Leaving the Bianconeri management dismayed by their unprofessional manner, it's safe to say the relationship between Inter and the Old Lady has taken a hit. Vucinic remains a wanted asset with several clubs in England, Russia and France tracking the player, and he might well be sold to another suitor. It's also said Inter have not given up on getting the forward, even if they cannot offer Guarin in return. Considering all that has transpired in recent days, the Montenegrin will not take part in the upcoming match against Lazio and will remain in Turin.

The next game represents a new challenge for Juventus. Lazio might still have their problems -- especially when it comes to defending -- but they are more of a cohesive unit under new coach Edy Reja and look to be a more dangerous side.

Likely to be deployed in a 3-4-2-1 formation, Reja will have to work around the many absences the team is suffering. For one youngster, a certain Luca Crecco, who made his Serie A debut in April of last season against Juventus, might even be given the chance to start. Described as a tactically intelligent pair of lungs, he plays as a full-back or further forward on the wing. Only 18 years old, Crecco is believed heavily as part of the Lazio youth talent and is eager to develop his skills further, and Juventus represent a good challenge for the boy who appears to show no fear.

Interestingly, it seems Reja will opt to play two directors in the middle, perhaps because he will be forced into it due to the absences. We already saw how poorly Lucas Biglia and Cristian Ledesma performed in the Supercoppa match against Juventus in the summer -- will this be the game to prove the duo can work well together?

The Biancocelesti have been training intensely for the challenge, with their coach consistently yelling at his players demanding they show their claws and improve their concentration. This will not be an easy match for the home side, which are missing key players at the back and will be coming up against a team that has managed 19 goals in their past five Serie A matches.

For Juventus, the newspapers insist we will see a hungrier side than ever, one that is still reeling after the loss to Roma in the Coppa Italia and determined to manage their 13th consecutive Serie A win. Antonio Conte has refused to speak to the press because, he feels, he's always misinterpreted. Therefore, he'll make sure his players do the talking on the pitch.

With Giorgio Chiellini out, it's likely Angelo Ogbonna will take his place whilst it appears Claudio Marchisio is favoured over Andrea Pirlo in the deep-lying role.

It's difficult to expect anything but a win for Conte's men, but the final note should be reserved for L'Avvocato. Gianni Agnelli passed away 11 years ago, and it remains a sad day for all supporters who will never forget what the man did for both Juventus and Italy.

The patriarch of a dynasty, a symbol of good will and generosity, this man not only brought prestige to Turin's giants but helped drive Italy's post-war miracle, turning the country into an economic powerhouse. Today, we humbly remember L'Avvocato and the lasting impression he left on Europe and beyond -- a legacy that continues to inspire the men of Juve every day.