Complacent Juve taken down in Coppa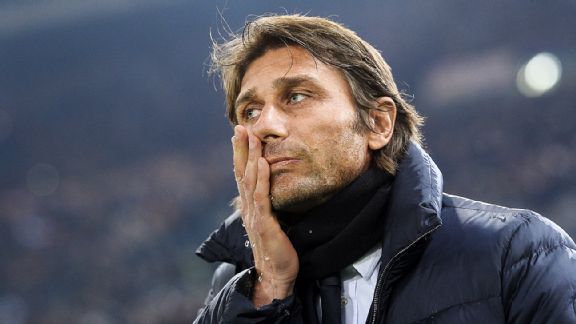 Andreas Solaro/AFP/Getty ImagesAntonio Conte's Juventus saw their Coppa Italia run end in the quarterfinals.
This was a game that mattered to Roma and they made that clear for everyone to see. While they played the likes of Lukasz Skorupski in goal against Sampdoria in the previous round, they played Morgan De Sanctis in Tuesday night's quarterfinal. This match was important, this match mattered and this match was won 1-0 against a Juventus side that was desperate to show it cared little for the challenge.

So little, in fact, that Antonio Conte made six changes to his usual starting XI. It was almost arrogant. Juventus, having managed 12 consecutive Serie A victories are well aware of the danger they pose. Their starting XI can beat anyone, thus, this was about proving that even their second string side is up to the challenge, and they very nearly were.

- Report: Roma 1-0 Juventus

While they controlled the pressure and even managed a few moments of excellence, one thing everyone learnt is that Juve cannot live without their strikers. Sebastian Giovinco and Fabio Quagliarella were brought in but failed to make the necessary impact with neither able to truly make any sort of dominance count. Giovinco attempted to press and position himself well, but the ease in which Roma players tackled him and robbed him off possession proved too frustrating to watch. Juventus needed physicality, an individual moment of genius, or simply a player capable of keeping the ball in the final third.

Imprecision was allowed to dominate the game and the Old Lady simply struggled to keep possession. For the first 20 minutes, they attempted a high line, imposed their style but struggled to make their moment count simply because they didn't seem to have many options going forward.

The midfield failed to provide the attack with much help and penetrative runs were desperately required. Juve's squad players simply failed in attacking the space and creating numerical superiority.

Roma began to push with greater strength. Playing with intensity and determination, they took care of Andrea Pirlo's threat and attempted to break down Claudio Marchisio, who struggled to contribute in attack and appeared dominated by his markers.

The Giallorossi's aim was to break up Juve's movements, win the ball back in midfield and inflict their pace to counter quickly and efficiently. Yet anything Rudi Garcia's men created resulted in little. For one thing, the Bianconeri defended well by shutting down the spaces and limiting Roma's movements in the box. However, Roma's biggest problem came down to the fact there was simply no one making the right vertical runs forward to tap in from those delicious crosses made across the face of goal.

The second half saw a more determined Bianconeri side. Playing with intensity and greater determination, it didn't take long before Federico Peluso managed a goal, or at least we all thought so until it was ruled out. According to the linesman, Mauricio Isla's cross went out of play before it reached Peluso's head. Was that the wrong decision? It seemed so even if one must concede it's a difficult situation to accurately judge.

According to Conte, that might be a good thing. "Maybe it's better that it happened against us, otherwise imagine the chaos that would've emerged with people talking about 'help.'"

Conspiracy theories aside, Garcia did what he always does best -- unleash a secret weapon in the last quarter of the game. On the 75th minute, Miralem Pjanic was brought on to inject the side with creativity and intelligence and it took him only four minutes before he created the winning goal.

Conte had simply waited too long to bring in the necessary substitutions to impact the game and by the time Fernando Llorente and Carlos Tevez arrived, the home side were doing all they could to delay the game and hold on to the win.

Their victory was indeed merited and it's surprising how disinterested Conte seemed in winning the match. Both the Giallorossi and the Bianconeri have managed nine Coppa Italia trophies and whoever wins their tenth cup will receive a silver star. It was by no means the priority for the season, but a win is still a win.