Juve overcome Sampdoria to make it 12 wins in a row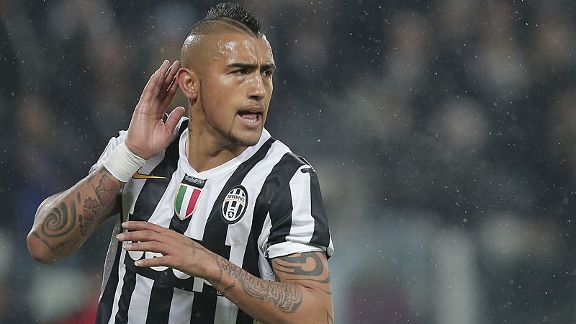 GettyImagesArturo Vidal celebrates the first of his two goals in the win over Sampdoria.
There's something really special about this Juve side and it's not only because they have now managed 12 consecutive victories in a row; it's more than that. Even teams like Sampdoria who truly attempt to challenge the Bianconeri are being overcome. The team spirit combined with the psychological strength of the side is making the difference. A 4-2 victory against Sampdoria wasn't easy, but it was certainly merited.

Unlike other opponents, Sinisa Mihajlovic's side came to Turin and attacked. They were not willing to just try to halt Juve's game but also impose their own style of football, making for a thoroughly entertaining match in the Juventus Stadium.

Deployed in a 4-2-3-1 formation, as was expected, Mihajlovic had asked his men to apply heavy pressure to stop the Bianconeri from playing out from the back with ease. The forward players had to step up their game and work harder off the ball and they impressed as they pressured the centre-backs, praying for an error.

- Vidal at the double

However, Juventus worked with ease as they bypassed the danger and relied on their superior technical strength. Their transitional game thrilled as they pushed the Blucerchiati back, creating excellent goal-scoring opportunities. Perhaps nothing was more beautiful to watch than the creation of their first goal.

After only 18 minutes, Paul Pogba ran with the ball at his feet, cut in, as he likes to do, and delivered a deft pass to the onrushing Arturo Vidal for a perfect finish. Whilst the pass was immense, the true ambition of the side was revealed when we saw three players running forward in hopes of converting before the Chilean managed to do so.

Fernando Llorente made it 2-0 for the home side with a perfect striker's header. However, what was most impressive was how Sampdoria reacted. Rather than losing confidence and accepting their fate as the beaten side, they raised their intensity and fought back with wonderful movements of their own.

Manolo Gabbiadini was especially good in creating danger, testing the goalkeeper and making the right runs to not only draw out fouls in dangerous areas but also to provoke individual errors. He took advantage of any mistake made and pushed his side forward, almost forcefully at times.

Always capable of snatching something from a set piece, Sampdoria made the most of a corner with Gabbiadini pushing the ball into a dangerous area, forcing an own goal from Andrea Barzagli.

For a moment there, it looked dangerous, but it didn't take long before the Blucerchiati committed their own defensive error and allowed Juventus the chance to score their third from the penalty spot, with Vidal again the man tasked with converting.

In the second half, Sampdoria showed ambition whilst the Old Lady looked less interested. Whilst Juventus were full of energy and determination in the first half, they committed their usual frustrating errors after halftime, allowing imprecision to dominate their game.

Antonio Conte, in his post-match comments, was especially critical of Pogba, the man who delivered that perfect assist and scored a goal of his own. Whilst individual quality allows him to make the difference even when he's not even trying, Conte needs the youngster to always look and be determined. At times, the Frenchman's passes were inaccurate, too rushed whilst his decisions were not the best when it came to the good of the team.

Nonetheless, we are talking about an exceptional talent when even a less than determined performance produces a positive result. Could Juve ever let him go? Better him than Vidal, who continues to demonstrate just how perfect he is for Conte's tactics and how much he embodies the spirit of the club. Fighting, pushing, pressing and scoring, there really is hardly anything that the Chilean cannot do, even if his casual approach in the second half, which included losing possession easily, proved frustrating to watch on this occasion.

Mihajlovic attempted to benefit from the dip in the early part of the second half by changing to a 4-3-3 formation and then overloading the side with attacking players. Gabbiadini continued to make the difference for the away side, looking for gaps in defence, hitting the crossbar and managing the second Sampdoria goal through his predatory nature.

His goal was the second time the Bianconeri failed to deal with a corner properly.

For once, the win didn't look all that easy. There were nerves as Sampdoria showed no fear and gave all they had to punish Juve. Thankfully for Conte, Pogba appeared to score the fourth goal to secure all three points and make for a more relaxed ending to the spectacle.

This isn't just Juve's 12th victory in a row, but the fifth in which this Bianconeri side has managed to score at least three goals in a match. The attack was once the weakness of this beautifully assembled side but now with great finishers in the squad, the many chances consistently created are being cleverly converted. Can anyone stop this side? Perhaps if Juve conceded another corner ...