January transfer market means little to Juventus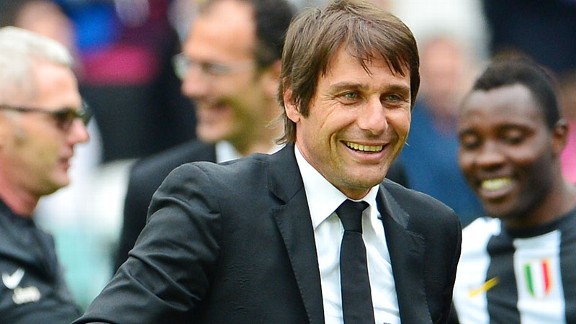 AllsportThere is expected to be little change in the January window for Antonio Conte's side.
Considering the January transfer market is now open, transfer talk has engulfed the front pages of most tabloids, with arrivals and departures rumoured to be taking place. Juventus, it was assumed, would attempt to bring in a winger to bolster their attack and offer Antonio Conte tactical flexibility.

However, according to Beppe Marotta, the Turin club is very happy with the squad at hand and no recruitments will be made. This perhaps has something to do with the fact Jeremy Menez, one of Juve's main targets, is determined to stay at Paris Saint-Germain and earn more minutes on the pitch, while Manchester United's Nani has suffered an injury that will keep him on the sidelines for some time.

Tottenham are not yet willing to give up their pricey summer arrival, Erik Lamela and Jonathan Biabany's agent insists the player will stay with Parma, while most other clubs are looking to do their business in summer, limiting the number of options available to the Old Lady.

However, there is one piece of good news emanating from reliable sources. According to the latest Sky Sports report, Andrea Pirlo has all but agreed a contract extension to keep him in Turin for another two years, with a salary of 4 million euros a season. The only thing missing is the actual official announcement by the club. Considering that Spanish counterpart Xabi Alonso has decided to stay with Real Madrid, it seems fitting that Pirlo would opt to stay in the country with the club that appreciates him the most.

Unfortunately, it seems the Italian champions are resigned to losing Paul Pogba, if not this summer then soon. The offer on the table seems too tempting to turn down, and PSG have already admitted their deep interest in the player. Figures such 55 and 60 million euros have been quoted, while others seem more exaggerated. One thing is for certain: If the French club take the youngster back to his country, one way to sweeten the deal for the Bianconeri would be if they could bring an Italian international back home -- Marco Verratti. Considering who Pogba's agent is, the midfielder was never going to last too long at one club, and if he must depart, then Juve should make sure they get the best possible deal, which would include a large sum and, one hopes, a player who would add value to the side.

While there's always the fear certain players will leave, perhaps the most worrying rumour concerns Conte and the possibility of his departure from the club. Marotta insists the relationship with the coach is perfect, and it very much is. They genuinely all enjoy each other's company both on and off the pitch and they have the same vision going forward. However, it's difficult to curb a coach's ambition, especially one who sees himself as somewhat of a revolutionary. Conte wants to create something special, experience difficult cultures, work with different players and above all, have the necessary funds to properly construct his developing ideas.

Conte has already conquered Italy, and Serie A has one too many problems for the man who feels he's underappreciated and overly criticised despite his work in the past two and a half years. The lack of ambition of certain clubs has also contributed to the demise of a league once considered the very best, a development that has given Conte another reason to depart.

For now, Juventus is where he wants to be, but the question will always linger: For how long will he be content to stay in the peninsula?

Cagliari will be Juve's next test in the league and one that will be somewhat easier to handle considering the departure of Radja Nainggolan, considered to be their best player. Based on what we have seen this season, the club arguably play the least enjoyable style of football in Serie A. Nonetheless, they know how to collect points, with a fairly well-balanced squad that are well-equipped in both creating and defending.

A positive result seems almost a forgone conclusion for the Bianconeri. The only thing that stands between them and a third consecutive title is complacency.