Juve readies for biggest Serie A challenge vs. Roma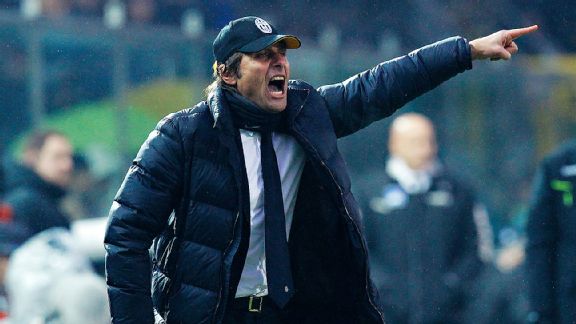 AllsportAntonio Conte's Juve will have to be at their best in the Turin derby.
After nine straight wins and eight consecutive clean sheets, a Juventus victory has become predictable, expected and almost boring to watch. The Italian champions' clear superiority is too evident in Serie A, with no team able to pose a serious challenge. Even Fiorentina's great 4-2 victory came after the Bianconeri dominated for 70 minutes and then psychologically fell apart to allow their opponents to score four in 15 minutes.

- Report: Tevez set for return

However, on Sunday night, Antonio Conte's team will partake in a serious challenge, a genuine contest where no predictions can be made and a defeat is a very real possibility. This clash not only interests the country, but the world as a whole, with over 200 countries expected to tune in -- including the likes of Tajikistan.

The build-up to the match has not disappointed with Francesco Totti stirring up a debate when he proclaimed: "On an individual basis, one against one, we are better than Juve, but they are better as a team." Man for man better than Juve? The comments are understandable but it's difficult to agree.

Juve's midfield alone is comprised of a French youngster worth nearly 55 million euros according to PSG, a combative player in Arturo Vidal who is coveted by Europe's biggest clubs and Andrea Pirlo -- a world-class magician who inspires both Juventus and Italy on a consistent basis.

The beauty of Roma's midfield lies in their perfect balance. Combining the creativity of Miralem Pjanic with the class of Daniele De Rossi and the all round package of Kevin Strootman has led them to victory in countless clashes. Yet the consistency of Juve's individuals is what makes them that bit better.

In attack, one can argue that the Giallorossi boast a wider range of characteristics and many more options. While Juve now have Fernando Llorente to help vary the tactics, Roma have a fast and vertical player in Gervinho, a creative star in Adem Ljajic, a world-class veteran in Francesco Totti and young potential in Mattia Destro. That does not even include the hard working Alessando Florenzi.

Juventus possess the vertical and the creative but perhaps miss that pace that Roma have -- the pace that has allowed Rudi Garcia's men to score five from counter-attacking situations while Juve have managed none.

As a team, Roma are not that far off Juventus. Their chemistry is electric while the manner in which they slice through defences provides entertainment and demonstrates their quality going forward. Their pace allows them to win penalties, their quick movements draw out fouls in dangerous areas leading to set piece goals while their quick counter-attacks and clever passing continue to add to their tally.

However, while one could always depend on an exciting Giallorossi attack, we have rarely witnessed a solid Roman defence in recent years. This season, everything has changed and the capital club finally have the discipline and teamwork necessary to ensure defensive solidity. Whether it is a last minute tackle by Leandro Castan or the intelligence of Mehdi Benatia, their defenders not only defend, but contribute to the attack too.

Benatia has already scored four goals, Douglas Maicon is heralded for his ability to push forward and create goal-scoring opportunities while Dodo has impressed with his capability of initiating counter-attacks by finding Gervinho on the left.

On Sunday night, Serie A's best attack will welcome the league's best defence. Their statistics are frighteningly similar. Both concede few shots on goals, both create several opportunities in attack and both have relied on a wide range of players to score the goals.

Roma will look for ways to stretch the Juventus back-line and expose the spaces for their dribblers to exploit. It is crucial that the midfield drops back when needed to close down the spaces, but it's even more important that the wing-backs get back in time to help their defenders as failure to do so is the reason behind Juve's defensive fragility earlier in the season.

As for Juventus, the onus will be on the attackers to push back deep the Roma backline. While many have predicted the match will be about the battle in midfield, one can argue that it's up to Juve's frontline to secure a victory. Both Llorente and Carlos Tevez will need to push high up the pitch as the key to a Juve victory lies in stretching Roma and creating gaps between the departments. When Garcia's men are allowed to remain compact, they are allowed to demonstrate strength and control.

This will be a game of intelligence. It's not only about converting chances but about making intelligent runs to uncover gaps and create space. That means drawing defenders to the middle to create space on the outside like Milan did with Dodo or taking advantage of Maicon's runs forward to attack with pace.

Whatever the outcome, this game will not determine who will win the league. However, it will allow one to judge how far Roma have come and how well Juve deal with the difficulty of the challenge. May the best team win.