January transfer window ins and out at Juventus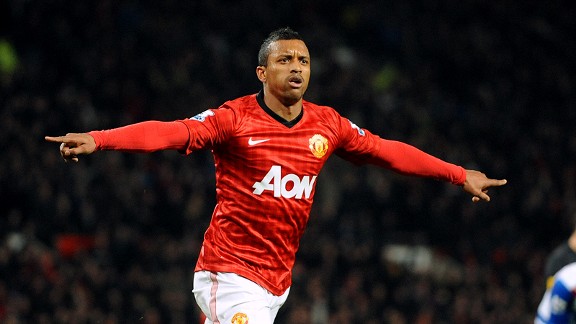 AP Photo/Clint HughesWould Nani represent value for money for Juventus?
Whom should Juventus bring in during the January transfer window, and whom should they ship out?

HIT LIST
All summer, all winter and for much of 2013, Juventus have wanted a winger. The 3-5-2 formation has proved a winning shape for the Bianconeri but there is still a need for that one player capable of providing quality in the wide areas to overcome midfielders and allow for tactical variations.

According to reports that emerged after the Wyscout convention, PSG's Jeremy Menez is a top target for the Juve officials. A player capable of running at defenders to strike fear into opponents, the Frenchman has produced some dazzling displays at PSG. Sadly consistency has always been an issue for the player. Tactically intelligent and capable of creating space for his teammates, he'd be a fine addition as long as he possessed the necessary eagerness to succeed.
Chelsea's Kevin De Bruyne is another target considering how seldom he plays for Jose Mourinho's men. Technically excellent and boasting great vision as well as the ability to dribble past defenders, the player possesses the attributes necessary to make an impact in Serie A. The downside is that he's not the best defensively, which is enough of a reason to turn Antonio Conte off.

Nani is another player who has consistently been linked to the Bianconeri. A winger who was heavily tracked over the summer, injuries and poor form have seen him barely feature for Manchester United yet rumours of a €22 million price tag persist. Boasting a winning mentality and experience at high level, concerns remain over his recent form. Is he really value for money?

EXIT LIST
Conte has already spoken out to say he hopes he won't lose any players in the January transfer market. He was already disappointed at the sales the club had to make over the summer.

However, the departure from the Champions League has complicated matters financially and management will look to identify the players they can offload without disrupting the team's harmony.

In attack, Juventus have one too many players and it seems they will likely dispense with the services of one. Mirko Vucinic would command the biggest fee from the players the club would look to sell and rumours suggest he may be offered to either Manchester United or Tottenham Hotspur in order to facilitate the potential arrivals of either Nani or Erik Lamela.

Sebastian Giovinco, has also been predictably linked with an exit considering the forward's lack of playing time, with Torino touted as a potential destination. His agent, as always, has refuted the rumours but if the player hopes to catch Italy coach Cesare Prandelli's eye then he must do more to play.

The Italian giants also possess too many left-sided players and it's been said that either Federico Peluso or Paolo De Ceglie will be allowed to leave. The former has performed excellently as a substitute and is expected to stay. As for De Ceglie, the youth product has steadily improved but it's time to recognise that he will never be considered a starter and as such should be moved on, either permanently or out on loan.