Looking back at 2013 for Juventus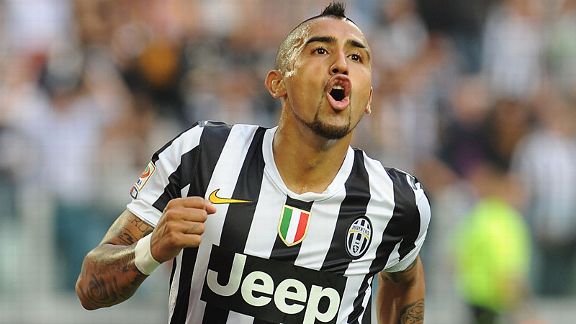 GettyImagesArturo Vidal: Best player of the year for Juventus.
As it is the last day of 2013, it's only fitting to recap the year and mention the players who deserve recognition for what they have contributed to a winning Juventus side, as well as highlighting the work of coach Antonio Conte.

Best player of the year: Arturo Vidal
So many players have helped transform Juventus into a winning team with an outstanding victory rate in 2013, but when it comes to picking just one who continues to awe and impress then there is no other like Vidal.

- Conte still striving to improve

Whether it be his sensational tackles at the back, his impressive ability to press high up the pitch and win back possession or his intelligent runs forward to score, there is little the Chilean midfielder cannot do.

As Juve's top scorer under Conte, Vidal's ability to exploit space and finish compensated for the lack of a true world-class forward last season. This season, despite having won so much already, his energy levels have not waned and the determination to succeed is as strong as it has ever been.

Vidal is the essence of this Juve side and a symbol of the club's philosophy.

Most valuable player: Andrea Pirlo
There was a genuine belief, at one point, that Juve could live without him. However, despite his age (34), Pirlo's class is eternal. Unlocking defences, delivering pinpoint passes and raising the overall level of the game -- without him, the Bianconeri lose their heartbeat.

Cutting his holidays short to train for the upcoming clash against Roma, Pirlo is a winner both on and off the pitch. His remarkable ability to control the tempo and provide the angled deliveries needed to make Juve a side that create chance after chance. The hope is he will continue his journey in black and white well beyond the current season.

Best transfer market arrival: Carlos Tevez
Perhaps he did not perform as well as the fans hoped in the Champions League, but in Serie A, Tevez is a large reason why Juve are simply too good to overcome.

Quickly adapting to calcio, the player has provided the necessary assists and finishes required to hugely improve the side's attacking play. Hard-working and always on hand to exploit space, his mobility and individual skill make the difference for the side that once used to struggle to finish off chances. Considering how little the club paid for his services, Tevez has proved an excellent addition to the side.

It is here that we must give a mention to Conte, the man who won best coach award in the recent Global Soccer Awards. Juventus are the successful winning machine that they are thanks to the work done by a coach who is relentless in his approach.

Determined, astute and concerned only with victory, Conte defines the Juve approach. Domestically, he has conquered all before him and with him on the bench, it's difficult to see how any other Italian team can triumph over the Bianconeri.

When it comes to Europe, it's fair to say both Conte and the side expected more last season and this. Some bizarre decisions were made in last season's campaign and the manner in which Bayern Munich halted Juve raised concerns. Nonetheless, one cannot complain too much considering the Bavarian side went on to lift the trophy.

This season, the Bayern approach -- stifling play with heavy pressing -- is no longer a concern for the Old Lady, who has found a way of overcoming opponents who stop her playing the ball out from the back. With a clear reference point up top, the team has developed tactically even if the arrival of a winger would give the side so many more options.

It is thus disappointing that such a lackadaisical approach was taken in the group matches of this year's Champions League. Hailed for his winning approach, the fact Conte said his squad were competing with Galatasaray for second place immediately set the tone for the European journey. Juventus should not be competing with a Turkish side for second, they should have set out to compete with Real Madrid for first. They are the Italian Champions with a beautiful past and a well-planned future, they are good enough to rival the best and not accept to be considered inferior. Perhaps if that were the approach adopted from the outset, we would have witnessed a more determined Bianconeri side.

Needless to say, there's a Europa League competition to be played and won. Maximum respect and effort should be made to win another trophy considering even a heavily rotated Juve side are managing domestic wins.

Overall, 2013 was an excellent year for the Turin giants, one only hopes 2014 will be even better. Happy New Year.