Analysing Juventus' rebuilt attack
Based on what Juventus have produced in the last two months or so, it's safe to say the team is close to perfect when it comes to competing in Serie A. The fluidity, fluency and intensity of the side have demonstrated that when it comes to Italy, no team is better at securing wins and demolishing teams.

While much of the squad from last year has stayed the same, one area that has been bolstered is the attack. Here at the midway stage, it is fitting to analyse their performances.

Last year, all the media could quote were the number of chances Juve created and squandered. This blog forever complained about the 33 shots taken against Nordsjaelland only for the Bianconeri to manage one goal. The team may have possessed good forwards but none were able to finish consistently for a side of Juve's stature.

The club did well to address the issues upfront in summer by bringing in Fernando Llorente and Carlos Tevez and there's been a marked improvement in terms of efficiency.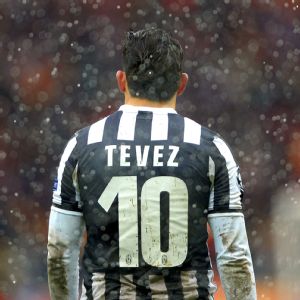 Bulent Kilic/Getty ImagesCarlos Tevez has justified the sales of his shirt since arriving at Juventus.
Tevez has proved an excellent buy. Having arrived to much fanfare, the Argentine was the signing who excited the fans and sold the shirts. Commercially, he was a hit before his feet even touched a ball. On the pitch, he amazed further. Taking to Italian football like a duck to water, he quickly integrated himself and began to show off his skills.

His mobility, ability to uncover space and work with those around him have ensured goals for both the Argentine and his teammates. However, his best quality has undoubtedly been his hard work. Always fighting, running and attempting to score, he is the forward manager Antonio Conte coveted.

Weaknesses? He has a few. Tevez is the perfect player to place up front when a squad is attempting to find its rhythm. His ability to provide that individual moment of magic in addition to his fantastic control provides quality and entertainment. However, placed in a side that is required to be tactically strong and reliant on perfect positioning in certain challenges and he errs.

Tevez excels when offered freedom and disappoints when tactically restrained. In Serie A, he has his head down and runs forward, offering verticality and demonstrating his technical quality. Against better opponents, Juventus have to rely on better tactics and the quality of their teamwork and that is when Tevez can disappoint -- as we saw against Real Madrid when deployed out wide in a 4-3-3 shape. Rather than adapt his game to help the team, he visibly struggled when he could no longer rely on instinctive play and was forced to alter his game. The Spaniards effectively neutralised his threat.

What Conte needed Tevez to do was make the intelligent decisions and make way for the strengths of his teammates. For example, pulling the defenders out wide to allow his teammates behind him to exploit the gap created and make timely runs forward. Stretching the lines was of the utmost importance and in order to win, Tevez had to curb his instinctive play and look at the big picture, providing the intelligence needed to overcome the opponent. Goals would also have been appreciated, but lack of them is not why the forward proved frustrating on certain occasions.

That perhaps explains why several other options were considered before the decision was taken to bring Tevez to Turin. However it's important to note, the criticism is minor as the player has more than proved his worth in the Bianconeri stripes, bringing much joy to those who travel to see him score and assist Juve on their way to victory.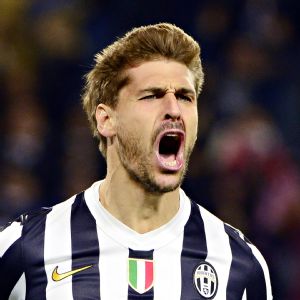 Olivier Morin/AFP/Getty ImagesFernando Llorente is an intimidating figure on the pitch.
Alongside him, Llorente has improved steadily as the season has progressed. Initially there were fears that the player's lack of playing time meant the club considered him a flop. Conte appeared to show little faith in the player who arrived on a free transfer.

However, the truth was that the Spaniard was simply being given the time to adapt his game and understand Conte's patterns. Once he started to preform to expectations in training, the coach offered him more minutes on the pitch and the forward has impressed both by scoring and providing tactical solutions.

He may give possession away too cheaply and his clumsy play can at times prove frustrating, but Llorente has offered his side another option going forward and a reference point to rely on. A team that likes to build play from the back, Juve were always put under pressure when opponents pressed them high up the pitch. Defensively, they would cope but their attack suffered immensely.

With Llorente using his strength to push opponents back, he not only forces the opponent to sit deeper than they may wish, but allows his team the opportunity to benefit from the long-ball approach, especially when they have the accuracy of Leonardo Bonucci and Andrea Pirlo to on which to rely.

His large stature (6 feet 5, 198 pounds) occupies defenders and creates space for the midfielders behind him to exploit while one can always hope a cross will be accurate enough for the tall man to convert. In the Champions League, he offered several moments of joy for fans.

He still has much to improve upon, and under Conte, one hardly doubts his ability to progress. But thus far this season, one has to be impressed with the work being done upfront for Juve.