Juve make it nine wins in a row, Marchisio slots into Pirlo role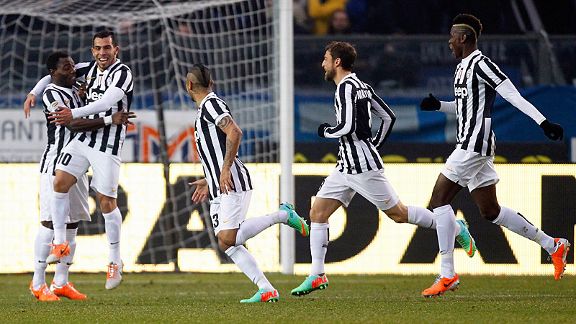 AllsportJuventus celebrate after Carlos Tevez put them in front at Atalanta.
Conceding a goal after so many games made it exciting, at least temporarily, as it looked like Juventus might be facing a challenge. Alas, Atalanta could barely control the superior talent of their opponents and the Bianconeri went on to score three more to finish the match 4-1. Another week and yet another victory for Antonio Conte's men, who look simply unstoppable in the league.

On paper, this looked to be an uneven contest between the two sides. While Juventus can't stop winning, Atalanta haven't won a match since early November. They are a team that struggle to create or score, and going into the match only Genoa had attempted fewer shots on goal than the Orobici. Defensively, they work well together and limit the spaces available to the opponent, even if they tend to concede a few too many shots.

- Juve stay five points clear

Nonetheless, coach Stefano Colantuono has created a good team ethic. His players play with determination and a certain rhythm that has seen them snatch points in big games. Their passing may not be the most accurate, but they take the chances afforded to them and honour the shirt they don.

An easy challenge on paper, it took Juventus only five minutes to demonstrate it was an easy challenge in reality too. A beautiful shot from outside the box by Carlos Tevez gave the away side an excellent start to the game -- that was until Maxi Moralez dealt the Old Lady and their remarkable clean-sheet record a blow by scoring the equaliser only 10 minutes later.

Childhood Juventus fan Giacomo Bonaventura made a beautiful run in the box, evading all Bianconeri defenders in his way to deliver the ball for Moralez to shoot and score. The goal stunned the Old Lady, a team that had forgotten what it felt like to concede a goal in domestic fixtures, and it took them some time to settle back to their dominating ways. However, the home side did well defensively, flooding their box with bodies to severely hinder Juve's intricate play in the final third.

Sadly for the home fans, 45 minutes of good play was all Atalanta could muster as Juventus well and truly dominated, controlled and exhibited their superiority in the second half. Colantuono attempted to provoke a reaction from his side by throwing on more attacking players, but it's difficult to continue to believe in a win when faced with a side that has so many options going forward. Even Arturo Vidal and Fernando Llorente, who played below their usual level, managed a goal each.

Interestingly, Conte opted to play Claudio Marchisio in the regista role, sitting deep and picking out passes. Many journalists, fans and even this blog have wondered who out of Juve's midfielders would be the best placed to take on that role in Andrea Pirlo's absence. Today, questions were answered.

Once again Paul Pogba showed how important he can be to the side when played further forward. This is a man who delights in his ability to keep possession and dribble forward, turn and shoot. Moreover, his athletic stature allows him to get the better of defenders and reach the ball first to score, much like he did with Juve's second goal of the game. Played deep, Conte risks sacrificing the youngster's greatest qualities. Played further forward and the Frenchman excels in raising the team's level of attacking play.

Meanwhile Vidal's consistent determination to win back possession high up the pitch, coupled with his nonstop scoring, means he should always be allowed to push forward. Playing him deeper means losing his defensive capabilities in that final third as well as the most prolific goal scorer under Conte's tutelage.

Marchisio in that "Pirlo" role just might be the perfect solution. The attributes of his teammates aside, Il Principino is one of the most tactically intelligent players within the Juve ranks and his ability to interpret different roles further demonstrates his importance to the side. Whether played out wide on the left, right, deep or just behind the striker, Marchisio can and does make it work to the best of his ability. Evidently this is not his best position yet the Bianconero did well to break up play, keep his passing tidy and look forward.

Unfortunately, this season he has struggled to find the back of the net despite his ability to expose and occupy gaps in the final third. Moreover, there seems to be a reluctance to pass him the ball when he does position himself well in the box. Thus playing him deeper not only makes the most of his tactical intelligence but also allows his more effective teammates the opportunity to express themselves in an attacking sense.

Nine consecutive wins for the Old Lady and only one goal conceded. Regardless of what happens against Roma at the start of the new year, it's obvious Juve are Italy's best team. That is not simply based on results, but on the quality of their play. Few boast that kind of fluidity and the ability to maintain consistency, even when the squad is rotated.