Dominating Serie A as only they know how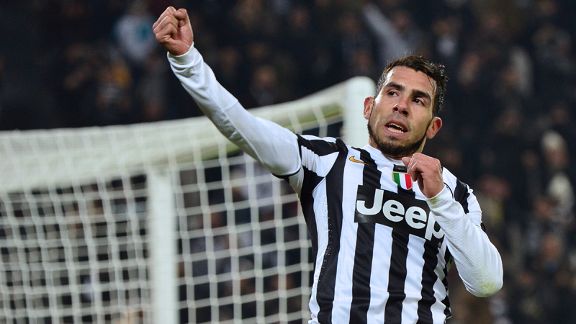 GettyImagesCarlos Tevez celebrates a goal for Juventus against Sassuolo.
It has become almost predictable when it comes to Serie A. Juventus secured yet another win and yet another clean sheet, and to top it all off, they didn't even break out in a sweat. The 4-0 victory over Sassuolo on Sunday goes some way to demonstrating the clear superiority of this Bianconeri side yet leaves a bitter taste in one's mouth. This domestically invincible team will no longer have the opportunity to challenge Europe's best in the Champions League this season.

Not even the changes in midfield were enough to provide Sassuolo with some hope of competing in this match. Andrea Pirlo may be injured, but Paul Pogba delighted in the role on Sunday, improving steadily as he pulled the strings and directed play.

Alongside him, Kwadwo Asamoah reprised his former role in midfield, a position he occupied when at Udinese, and his dynamism and dazzling, penetrative runs proved effective.

Attack-minded coach Eusebio Di Francesco has taught the newly promoted side to always look forward. That led to disastrous defensive displays in the early part of the season, as evidenced by the match against Inter. Since then, Di Francesco has worked on tightening the back line, encouraging more disciplined performances against the bigger sides.

In last week's match against Chievo, Di Francesco lined up his men in a 4-3-3 formation with Simone Zaza, Domenico Berardi and Antonio Floro Flores all up top in the hunt for a goal that never came. However, against the Old Lady, it was made abundantly clear that the onus was on neutralising threats and containing pressure. The away side chose to bolster the midfield and not start Zaza, electing to play a 3-5-1-1 that mirrored Juve's shape.

The problem is that the Neroverdi are a side built to attack, and they struggle when forced to curb their enthusiasm and remain cautious -- especially when the opponent attacks from all angles of the pitch like Juve did. There is a reason Sassuolo have the worst defensive record in Serie A.

With Pogba controlling, Arturo Vidal was on hand to make timely runs forward while Asamoah exhibited his brilliance at driving forward and getting back in time to attend to his defensive duties when his side lost possession. Antonio Conte's team moved fluidly and fluently, their passing accurate, their chemistry electric and their appetite for winning insatiable.

Di Francesco attempted to reinvigorate his players when he asked them to press higher up the pitch in the latter half of the game. The introduction of Zaza injected the side with some vitality; he was hungry and not so overawed by the status of his opponents. However, the changes were too little, too late; Juventus had already scored goals and were happy to just control play.

The match was vital for the development of certain players, and we have already seen a steady improvement in performances from the likes of Mauricio Isla and Federico Peluso. This blog hasn't been too kind to the latter, but his ability to score or provide an important assist in his past few outings for the Bianconeri merits praise for the player who, despite not being seen as a starter, is always ready to perform when called upon by Conte.

Isla has also demonstrated his growth as a player, combining well with his Chilean compatriot Vidal on Sunday. His crossing proved more accurate, his understanding of the patterns of play more visible. But nothing is as appreciated as his assists, key passes and the timely interceptions. It's high time Juventus start enjoying Isla's performances.

However, the game belonged to Carlos Tevez. Criticised for having not scored in the Champions League, he needed a performance like this to lift the mood and quiet the critics. Always on hand to uncover gaps, his predatory nature allowed him to jump on any mistake committed by the opponent and take full advantage. His swift reactions and mobility up top proved essential, and he more than deserved his hat trick -- his first in Serie A.

Yet watching all this predictable brilliance only serves to remind many that when it mattered in Europe, Juve failed to light up the stage. While it's vital to note that the side's procrastinating forced them into a do-or-die situation in Istanbul, they were more than good enough to beat Galatasaray, and the match should never have been played under those conditions.

Until February, only Italy will be allowed to enjoy Juve's overwhelming performances. After that, the less glamorous European sides still alive in the Europa League will be privy to, and perhaps defeated by, Conte's winning machine.