Juventus out of the Champions League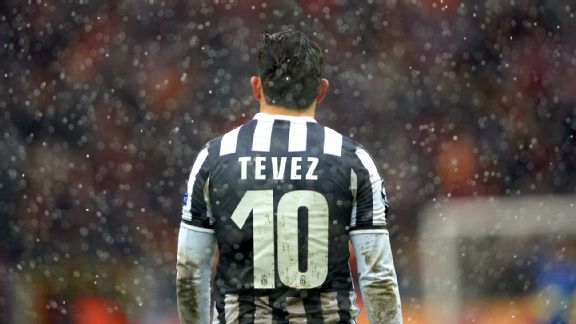 Bulent Kilic/Getty ImagesCarlos Tevez and Juventus' Champions League campaign came to a shocking halt on Wednesday in Turkey.
One can blame the pitch, the hideous decision to play in such circumstances and the weather, but ultimately, leaving qualification until the last minute cost Juventus dearly, on both an economic and a sporting level. Galatasaray defeated the Italians 1-0.

- Rothwell: Three things: Galatasaray-Juventus
- Report: Galatasaray 1-0 Juventus

Essentially this was a game in which Juventus could not exhibit their short passing game or even attempt accurate passes. This was about the long ball over to the top and the hope that someone, somewhere, would make a defensive error.

At halftime, Antonio Conte complained to the referee about the state of the pitch. Didier Drogba replied that however poor the conditions were, it was the same for both teams -- except it wasn't. As the Bianconeri coach explained, Juventus wanted to play football. They wanted to demonstrate their ability to control the midfield in a game where skills, rather than aggression, should have determined the outcome.

UEFA set the bar of tolerance when they allowed the Benfica-Olympiakos game to be played despite the adverse weather conditions that saw the ball refuse to roll. For a sport in which teams are reliant on money made in these competitions, it's a tragedy to allow such important games to be played in such conditions, depriving sides of potential revenue. This is not only a defeat for Juventus, but one for Serie A and their coefficient points.

Up until the Turkish goal, the Bianconeri should be credited for their attempts to contain the pressure and look for a goal. They demonstrated maturity and strength of character as they showed determination in keeping ball and rotating it around as much as was feasibly possible when in Gala's side of the pitch, and while at the back, they held the line well for much of the game.

Despite controlling the game, it was the Turks who created the better chances with Drogba in tow. Gianluigi Buffon performed an excellent save to keep his side level and while Juventus attempted to push forward, looking to still pull off their passing game, inaccuracy got the better of them.

Sadly, Champions League qualification was lost on account of poor defending from the wing-backs. Whether it was Mauricio Isla in the reverse fixture or the fact that the centre-backs were left alone to fend for themselves against Gala's front line, a lesson should be learnt. The strength of Conte's defence relies on the fact there are always players able to run back to block gaps and offer a helping hand, whether in the wide areas or in central midfield.

A beautiful, diagonal long ball allowed Wesley Sneijder to score the goal that sealed qualification for the Turks and knocked Juventus out of the competition.

Conte attempted to rally his troops and encourage them forward by throwing on Sebastian Giovinco and Fabio Quagliarella, but as the Gazzetta dello Sport pointed out, Gala's remarkable time-wasting left Juve too little time to grab an equaliser.

There were unlucky moments that the fans may cling on to, such as the red card for Giorgio Chiellini against Real Madrid, but frankly, the inability to secure wins at home or at least away to Copenhagen sealed Juve's fate, leaving them holding all their eggs in one basket. Italians rarely play unless they have to, and while they usually win under pressure, they do open themselves up to the prospect of being knocked out because of circumstances beyond their control. This result should teach them to pick up points quickly and rid them of this tendency to procrastinate.

Well done to Galatasaray for playing with grit and belief, their great showing in Juve's stadium is what allowed them the opportunity to keep fighting.

Now, more than ever, the Bianconeri must win Serie A and take the Europa League seriously. The final of that match will be played in their own stadium and every big club should chase a trophy. Chelsea hoisted that Cup on their shoulders last season and deserve credit for not turning up their noses at a competition many deem inferior. Juve should follow in their footsteps.