Udinese were tough but it's a sixth consecutive Serie A win for Juve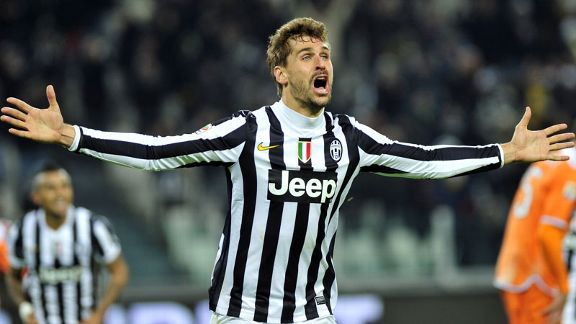 APFernando Llorente scored at the death to clinch all three points for Juve.
There has been only one draw in the last 17 matches contested between these two sides, and Fernando Llorente's header ensured there was another winner on Sunday night. Juventus managed a sixth consecutive win in the league with a 1-0 victory over Udinese.

Records are meant to be broken, and whenever the Bianconeri have won with a 3-1 or 3-2 scoreline, they have gone on to lose or draw their next match under Antonio Conte. Not anymore. Yet one has to feel for Udinese, considering their valiant efforts in defence and the ambition they showed going forward in the second half.

It was clear that Francesco Guidolin's men were intent on soaking up the pressure, close marking their opponents and then counter-attacking with pace when they had the chance to do so in the match. Their energy levels were to be commended whilst their concentration levels rarely dropped as they stayed attentive and quickly closed down the spaces usually afforded to Juve.

Juventus started well and the match proved entertaining in a stadium that boasted a different atmosphere on account of the 12,000 plus children invited to sit and cheer on the side in the Juve stands. Played at a fast pace, the Bianconeri looked alive, that is until they lost Andrea Pirlo to injury. It is matches like these that make one realise just how important Pirlo and Gianluigi Buffon are to the Bianconeri cause.

Without the deep lying midfielder's ability to dictate the tempo, imprecision reigned supreme, his range of passing was sorely missed with the Old Lady struggling to recreate those penetrative passes that might have just pierced a tough Udinese defence.

The home side may have dominated possession and they always looked to push forward but they were largely made to look impotent. Carlo Tevez moved from side to side and Claudio Marchisio delighted with his intelligent runs forward yet that final ball was missing, that clear opportunity rarely created.

On the other side, Udinese had their chances but were halted by the magic of Buffon. Leonardo Bonucci's woeful error allowed Antonio Di Natale a great opportunity to open the scoring but the mighty Juve goalkeeper was there, still standing and brilliantly stopped the intended chip.

In the second half, Guidolin's men returned showing greater ambition to go for goal and Buffon performed miracles again as he stopped Bruno Fernandes attempt and Di Natale's follow-up. Without him in goal, Juventus may well have lost this game. Alert, focused and intimidating, the goalkeeper has now kept a clean sheet in six consecutive Serie A games to laugh in the face of those who dared to criticise his performances earlier in the season.

Physically and mentally fatigued after that must win match against Copenhagen midweek, it was evident Juve were suffering to keep up with the energetic performance of their opponents. The goal looked like it would never arrive and the Friuli team did well to contain the home side's pressure. However, Conte's men did well to believe until the final whistle.

Llorente was the man to finally give Juventus the winner they needed to help them open a three point gap over second-placed Roma by heading in the only goal of the game moments before the final whistle. The Spaniard has now managed a goal in each of Juve's three last Serie A games to demonstrate the manner in which he has grown into the squad. However, this was far from a perfect performance for the forward, who struggled to hold on to possession. His link up play is often beautiful to watch but he was usually to blame for giving the ball away so cheaply after striving so hard to intercept the Udinese passes.

The late Llorente goal broke the heart of every Udinese fan. It was cruel considering how hard the side fought for a point. Yet despite the energy and the quick tempo, Guidolin's men struggled to really provide their attackers with those much-needed incisive passes and the support required to mount serious attacks going forward. Oh how they miss the likes of Mauricio Isla, Gokhan Inler and Alexis Sanchez -- players capable of creating and penetrating and affording Di Natale all the passes and opportunities he requires to strike, score and guide his team to the top positions.

As for Conte, he's right in saying that he was lucky and not talented when opting to take Paolo De Ceglie off for Fabio Quagliarella. However, gambling for the victory shows courage and belief in the strengths of his players and for that he must be commended. It is wonderful to see a side play for a win as opposed to settling for a draw.

The strategy paid off and Juve can now celebrate yet another win and their position at the top of the table.