Flying on the wings of confidence against Siena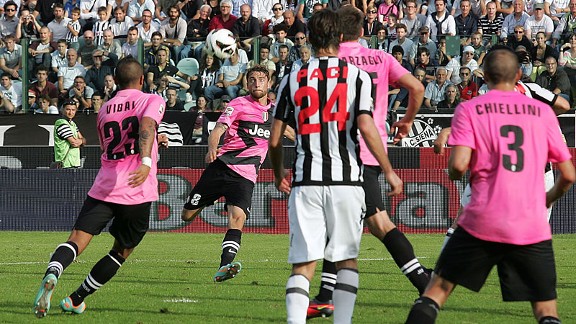 GettyImages Claudio Marchisio scores Juventus' second goal

Flying on the wings of faith, Juventus may not be romping in the manner we all imagined they would yet their belief and confidence is frightening and the reason behind their domestic invincibility.

Massimo Carrera told Sky reporters that last year a match like this would have finished earlier meaning the result would have been secured before the 85th minute due to the nastiness his team possessed. This Juve by comparison seems less beautiful to watch, less angry and less energetic. Having said that, this correspondent disagrees with the such comments.

Against Siena, Juventus continued to believe in the win, pushed forward and eventually found the luck to grab all three points. Watching the Bianconeri from the comfort of your own sofa is not what it used to be like. There is less suffering, more belief that somehow and somewhere along the line, the Old Lady would manage to dig deep and find the goal to secure another win. Some call it luck but you have to be good to be lucky. Last year, this game would have ended in another draw, this year these draws have turned into wins – that displays the levels of maturity Juventus have reached.

However, the Bianconeri this season some less defensively secure and rescued only by their opponents' inability to convert their chances. Had Siena actually finished off the few chances they created, Juve would have walked away with a loss. Yet if we were to analyse the statistics, the Old Lady is doing better this year. Last year she conceded five goals and scored 11 in her first seven league games. In the first seven matches of this season, Juve have only conceded four and managed to score 17 despite everyone accusing them of performing below expectations.

The defence may be clinging on but the midfield is not producing the goods it once did. There is less grit, less rhythm and less running. Last season against Siena, the Old Lady produced 30 tackles in one game and 29 in the subsequent fixture. Sunday's match saw Juve produce only 14 – less than half what they usually manage. Moreover, the number of interceptions has deceased too. Averaging 20 interceptions or over in their games against Siena last year, they intercepted the ball 16 times on Sunday night.

Siena's goal was the result of poor defending. Paolo De Ceglie who had performed admirably well in the offensive side of the game failed to stop Angelo from delivering a delicious cross to Emanuele Calaio who was not picked up by either Andrea Barzagli or Stefan Lichtsteiner when he scored his team's equaliser.

Some have blamed Juve's defensive struggles on the formation. The 3-5-2 formation allows a side to be more direct in approach and it opens up more avenues to score as Juve can claim numerical superiority when they push so many bodies up. However, it is a shape that this correspondent has explained time and time again, expends a lot of energy and demands exemplary levels of fitness to manage. Having played this shape in all games so far this season, the Bianconeri look exhausted and appear defensively fragile as it requires constant running to avoid numerical inferiority at the back.

With Juve playing every three days or so, it is time to think of ways of managing their energy levels and limiting the running especially for those such as Arturo Vidal who looks a shadow of himself.

At the end of the Siena match, Juventus converted to the 4-3-3 formation they regularly deployed last season in a bid to score the winner and it worked. Throwing in an extra forward overwhelmed Siena. With so many forwards to mark in the box, Claudio Marchisio managed to escape unmarked to score his first delightful goal of the season and snatch all three points.

Much to Serse Cosmi's annoyance and despite his disagreement, Juventus really did have his side pinned back. The diagrams of the players' positions showed a Juve side that spent most of their time in their opponents' half with the centre-backs sitting as high as by the centre-circle. The home side by comparison were shown to be settling in deep positions with their forwards deployed just above the halfway line. Yet despite this, Siena looked terrifying every time they poured forward.

Juventus struggled and they disappointed but their faith means they still are a cut above the rest.