Vidal's hat trick helps Juve earn 1st CL win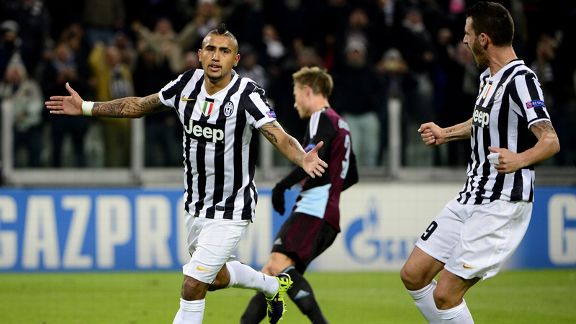 GettyImagesArturo Vidal gave Juventus the lead against Copenhagen in the Champions League.
Experience, character and determination are the key ingredients to achieving a big win in difficult circumstances. When it comes to pressurised situations, no one quite handles them as well as the Italians. The need to prevail drives them, stokes their fire within and forces them into fulfilling their potential. It was difficult but the objective was achieved Wednesday at Juventus Stadium -- Juventus defeated Copenhagen, 3-1.

Gazzetta dello Sport immediately called it the Vidal show. And it was just that. Arturo Vidal, it was thought, would be rested to avoid a possible yellow card that would see him miss the decisive match against Galatasaray. However, Antonio Conte, a coach who always lives in the now, opted to field his combatant and the result was a devastating one for the Danes.

Whether deployed as a centre-back against Livorno, a job he performed so admirably well, or asked to attack, managing a hat trick Wednesday, there is little the King cannot do and do well.


However, to describe the Champions League win as a perfect team performance would be to indulge in hyperbole. Deployed in their usual 3-5-2, Juve were effective and intelligent enough to collect all three points as they dominated proceedings the entirety of the match. However, as a club that boasts perfectionists both within and from afar, there are still errors that can be avoided and manoeuvres that ought to be improved.

A silly hand ball by Lars Jacobson led to a penalty. Until that point, Copenhagen and their organised defence made it difficult for the Old Lady to find a way through. The best opportunities for the Bianconeri came by virtue of Andrea Pirlo's masterful work from midfield. His speed of thought and accurate execution created problems for Copenhagen on numerous occasions.

However, Carlos Tevez proved a little stale, Paul Pogba a little tired whilst Kwadwo Asamoahs runs forward were pleasing to watch but rarely effective when it came to creating opportunities. Imprecision was another problem for the Bianconeri, needlessly losing possession when they fought so hard to recover it. Nonetheless, Vidal scored the penalty and Juventus were in the lead.

A goal down, Stale Solbakken's men returned from the half-time break with renewed energy and a more determined performance. They pressed higher up the pitch in hopes of impeding the way the Italians play the ball from the back and took care in keeping possession.

Utilising their strengths, they made Conte's men suffer. Juve's handling of set pieces proved terrifying to watch. Too many scrambles in the box afforded Copenhagen opportunities they should not have been allowed. Slow to respond, the Bianconeri panicked in various occasions while the Danes rushed to exploit, their speedy reactions proving dangerous.

However, replays suggest that the goal Olof Mellberg scored for the away side, came by virtue of a foul throw.

Nonetheless, the character Juve showed after conceding was impressive. They pushed more aggressively, the tempo quickened and Fernando Llorente proved inspirational upfront, tirelessly holding up the ball and picking out teammates in hopes of piercing through the tough Danish defence. Practically always with his back to goal, he was strong enough to keep the Danes at bay as he looked to turn and strike or latch on to accurate crosses to score.

His performances continue to improve and one only expects him to get even better. Meanwhile, it was lovely for fans to see Mirko Vucinic back on the pitch. He was afforded a few minutes against Livorno and allowed to play a bit role again Wednesday. Yet he barely needed any time to show off his masterful control of the ball and the creative edge he offers in the final third.

Another penalty conceded by the visitors and one can argue that Mellberg was lucky not to have been sent off for stopping a clear goal-scoring opportunity. Nonetheless, Juve scored the second before Vidal grabbed a third only two minutes later to make him the most effective player of Conte's tenure at Juventus.

The Old Lady achieved her objective. Demonstrating superior technique and experience to handle these situations, they were the better team on the night and finally managed their first European win of the season.

With Real Madrid doing their part by defeating Galatasaray, 4-1, (highlights suggest it ought to have been more) Juventus now only need a point in Istanbul to seal qualification into the next round. It should have been easier for the Italian champions, but better late than never.