Juve must overcome the beauty of Davide Nicola's teachings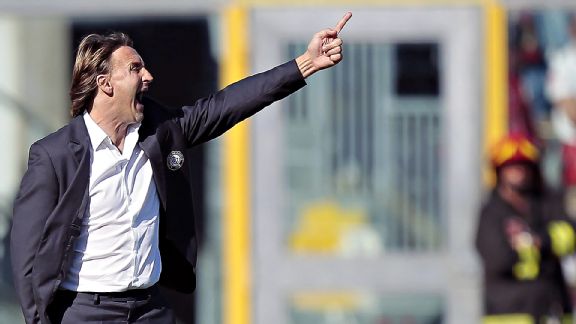 Gabriele Maltinti/Getty ImagesCharismatic Livorno boss Davide Nicola will try to guide his side to a historic win against Juventus.
It's been 71 years since Livorno beat Juventus in Serie A, a 3-2 final in 1942. Despite the injuries, the suspensions and the many absences, the Old Lady will be hoping to extend that record in the match against Davide Nicola's side on Sunday.

- Report: Bremen and Juve hold talks

The newly promoted side managed their promotion to the top flight largely due to their interesting blend of young talent and vital experience. While we can discuss tactics, strategies and formations, and we undoubtedly will, it's important to note that much of Livorno's success can be attributed to one man -- Davide Nicola.

A tactician who started his coaching career at Lumezzane, the same club where Mario Balotelli started out his playing career, Nicola's ability to psychologically inspire his players helped him create a side that simply won't give up, despite their inferior levels of talent and experience. He deploys eleven men desperate to fight and to avoid disappointment. It is their mental strength and willingness to conquer all that saw seen them pick up the necessary points to win promotion last season.

A fan of Juve boss Antonio Conte, Nicola admitted that "as a Coach, Conte is absolutely excellent. We all want to be at the same level as him." That is not simply because, in his view, Juve play with such fluidity, but because they face their challenges with enthusiasm. It is this mental fortitude and Conte's ability to motivate the squad that the current Livorno boss finds most appealing.

A pragmatic man, Nicola focuses on teaching his students how best to cope with real-life situations, improving their capacity to make the right decision when the time comes in a match. By telling them what they ought to be looking for and how their body should respond in any given situation, he limits the level of pressure a player feels during a game.

Training sessions are hard and the team is asked to focus on the attack, but remain cautious defensively. Defensive moves are practiced incessantly so that players are aware of their duties the moment they lose possession. Aware that keeping the ball is a difficult requirement in Serie A, Nicola focuses most of his training sessions on teaching his players how to move when they are without the ball, the defensive positions they must adopt and how to win back possession.

While it's tedious and difficult to learn all these teachings, the tactician is aware that he must keep the training sessions fresh and fun with speeches always delivered in a colourful manner. He wants his boys to enjoy themselves. How? "On our nights off, we all go out to eat pizza together," explains the tactician who says he loves nothing more than watching his players laugh and joke together.

On the field, Livorno were expected to play 3-4-1-2 with greater frequency this season but have opted to rely on the 3-5-2. They may struggle to keep the ball but they are effective at winning back possession.

Renowned for their stamina and willingness to double up on their opponents, they boast a certain balance in their style of play and can be very tactically intelligent and fluid.

Yet of course, they possess many flaws to their games and will need to be especially alert should they hope to contain Juve's attacking threat. With a somewhat fragile back-line and a weakness in dealing with anything in the air, they can be easily overcome. However, the Bianconeri would do well to stay focused for the entirety of the match against a side that does its best to please their tough coach.

As for Juventus, they always seem to perform well under pressure. Suffering an emergency situation at the back, it seemed Conte would opt for a three man back-line consisting of Martin Caceres on the right, Giorgio Chiellini in the middle and Federico Peluso on the left. However, according to Sky Sports reports on Friday, the tactician was seen testing midfielder Arturo Vidal in defence. Could he be chosen to play alongside Caceres and Chiellini at the back?

If so, then the midfield will be comprised of Simone Padoin on the right, Kwadwo Asamoah on the left and a central trio consisting of Claudio Marchisio, Andrea Pirlo and Paul Pogba. As for the attack, Carlos Tevez will take his place and will most likely be accompanied by Fabio Quagliarella.

A win is necessary on Sunday and the three points are as important as those picked up against Napoli. A confidence boost will be exactly what Conte's men will be looking for before their Champions League game against Copenhagen midweek. Time to maintain the winning streak.