Courageous Juve grab a point against Real Madrid
Tantalising anticipation rarely delivers a satisfying result, but when Juventus hosted Real Madrid in the heaving Juventus Stadium, spectators were rewarded with a thrilling game that provoked every emotion. A journey of highs and lows finally ended in a fair 2-2 result as both teams exhibited their strengths.

- Report: Juventus 2-2 Real Madrid

Noting the brilliance of Iker Casillas goes some way in explaining the strength of the Old Lady in the first 45 minutes of the match. Juventus opted to play a compact game with a high centre of gravity. There was little space between the lines and coupled with heavy pressing, the Italians simply made it difficult for their opponents to get out of their own half.

Patient and vicious when recovering possession, Andrea Pirlo was allowed the opportunity to direct the game and Juventus took control. Inaccuracies were evident as they have been throughout the season, but the intensity of their performance merited admiration.

It was abundantly clear that while the Spanish giants boasted an envious attack, they lacked the ability to defend as a unit. Prone to conceding and disorganisation, it was evident that when enough pressure was applied, an error would occur and the Spaniards would end up conceding a penalty for the third consecutive game. Arturo Vidal stepped up and despite the tension and the goalkeeper's magnificent saves prior to that moment, the Chilean expertly converted his opportunity to give his side the lead.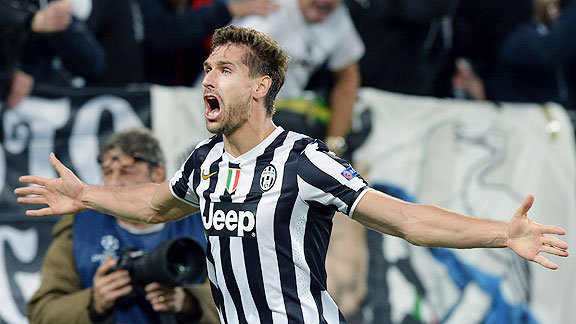 Claudio Villa/Getty ImagesFernando Llorente's header helped Juventus earn a hard-fought point versus Real Madrid.
Juventus deserved to be on the front foot and ought to have led by more. The organisation of the team was their one true weapon against an expensively assembled side. Each player looked for their opportunity to exploit the space afforded to them. When Carlos Tevez cut in, Kwadwo Asamoah pushed up on the wing. When a striker dropped deep, a midfielder pushed high. It was a cohesive performance and the side excelled in adopting a clear and organised 4-5-1 shape when possession was lost.

Tevez continued to drop deep much to the annoyance of Antonio Conte while Claudio Marchisio's intelligent runs into the box caused problems for the suffering Real Madrid back-line. However, the outstanding player of the first half had to be Paul Pogba. Physically young and yet blessed with a veteran's brain, his movements were well thought out while his roaming ability proved vital. At times, he adopted a high position on the pitch, even higher than Tevez, but tended to drop back if Vidal had pushed forward. It is that intelligence coupled with his sheer athleticism and the ability to keep the ball that allowed Juve to continuously seek out goal-scoring opportunities.

What Conte's men needed to do was spread the play that bit more. With Real Madrid forwards unwilling to help plug the holes in the wide areas, the Italians would have benefitted more had they had a more penetrative player available on the wings.

Against Real Madrid, attack was Juve's best form of defence and the only way to succeed was to continue forcing the Spaniards to defend.

Unfortunately, energetic performances can only last so long. Pressing, harrying and remaining concentrated is a task few clubs can manage when they are playing every three days. Bianconeri legs tired and Real Madrid knew their chances would arrive.

Intensity dropped in the second half and Juve all but vanished in the first 15 minutes. Blessed with pace and intelligence, credit must be given to Carlo Ancelotti's men for playing a vertical game to punish their opponents. It became about snatching back possession, imposing their strength and running with speed. Beautiful shots and a Juventus error allowed them to score twice in the second half.

Martin Caceres, who had demonstrated real intensity, erred when he allowed the away side an avenue going forward. When mistakes are made against a team as talented as the Los Blancos, it is inevitable they will exploit them to score.

After that, Ancelotti's men controlled the game but were once again let down by their woeful defending as young Raphael Varane, at fault for conceding the penalty in the first half, allowed Fernando Llorente to slip past and head in the equaliser. The stadium erupted and euphoria swept the crowd.

Sadly, that was all Juventus could muster in what was an energy-expending game. At times, one has to accept the point on offer and a 2-2 draw was the right result. However, the impressive performance put in tonight demonstrates that Juventus can take on fellow big boys and not suffer under the pressure. Tonight their mentality and lack of fear pushed them forward.

If they manage such intense and clever performances in their remaining two fixtures, they will qualify to the knockout stages. Remaining humble, motivated and concentrated is the way forward for the Italian giants.