Parma finally defeated away from home in a less than thrilling match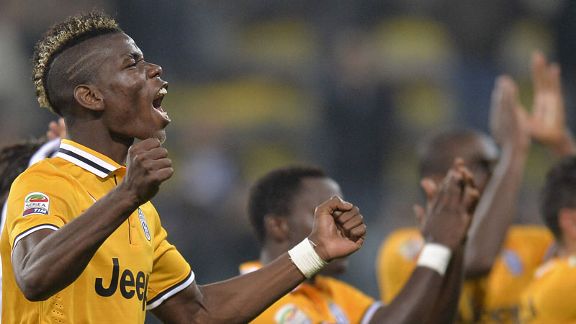 AssociatedPaul Pogba celebrates following Juventus' win against Parma in Serie A.
Antonio Conte's Juventus finally managed a win in Parma's home. It was an important victory to keep pace with the likes of Roma and Napoli but it was a game bereft of excitement and thrill. Juve managed one goal to seal the three points and turn their attention to the task at hand in Europe, a clash with Real Madrid.

Parma have always been a difficult side to beat and they are especially more motivated when facing the big boys. For a side that had conceded the third highest amount of goals in Serie A, Roberto Donadoni's men did an impressive job at the back as they closed down the channels and made it practically impossible for the Old Lady to penetrate their defensive walls.

The Bianconeri played a tedious and predictable game. Without Andrea Pirlo available to provide some exciting passes, Arturo Vidal played in the middle flanked by Claudio Marchisio and Paul Pogba. It was a match made for creative wings and yet both struggled to impose their strength in the wide areas. The only way Juve thought they could get past Parma was by releasing shots from outside the area in the hope that one of them would end up in the box.

Effectively, by playing such an athletic and energetic midfield, Juve ought to have raised the tempo and imposed their physicality to trouble the Gialloblu. With such little space to manoeuvre, as Parma impressed with the compactness of their defensive game, there was a need for speed, for quick movements to drag defenders away and catch players off guard. Yet instead, Juventus looked slow and thoroughly unsure of what could be done to score whilst the home side sat back and watched.

Even more frustrating was the sloppy play. Donadoni's men are effective in snatching back possession but the Old Lady, apparently superior in terms of skill, allowed themselves to lose possession with ease.

Despite some interesting moments in the first half when it looked like Carlos Tevez and Sebastian Giovinco were working well together, the truth of the matter is that both were below par. The Argentine may be tired of consistently being depended upon to create magic and at times he even managed something special but it was Seba who proved the most frustrating as nearly every half chance created ended up with the forward shooting straight at the goalkeeper.

This was meant to be the Atomic Ant's opportunity to exhibit his skill and lay down the marker but instead, his appearance only served to remind his critics of his soft physique and poor finish. His diminutive stature made it unlikely that he could affect play when in the centre as every good ball delivered to him, especially early in the second half, was dealt with by the Parma defenders who boasted height and stature.

After half time, Juventus showed immediate ambition. Goalscoring opportunities were being created straight away but Parma held on and in fact created the most interesting opportunity of the game when a little after the 50th minute, Jonathan Biabiany's pace wreaked havoc before Amauri missed the goal entirely.

That chance galvanised the home side who up until that point, had allowed Juventus to dominate proceedings. However, once again, it was Tevez that was being looked at inspire the side to victory.

Pirlo had to come on and Conte made the change. It was a game that raised some concerns over the performance of Claudio Marchisio. The player proved excellent in the match against Catania and as a champion, he is one who can always be relied upon for his intelligence and the balance he offers the side. But against Parma, he regressed. In fact Catania was, perhaps, the only real time Marchisio's ability shone through since recovering from his injury. Conte assured journalists that the reason he was taken off was because of the upcoming clash against Real Madrid but during the game it seemed the coach opted for the substitution due to the player's ineffectiveness.

With Pirlo on, it didn't take long before the front two were changed as Giovinco and Tevez made way for Fabio Quagliarella and Fernando Llorente. The ex-Udinese man required only two minutes before he made his presence felt with a sensational strike from distance that hit the crossbar. With Pogba perfectly placed to net from the rebound, Conte's men finally managed to grab the points that have eluded them in this particular fixture in the Stadio Ennio Tardini.

Speed and strength -- it was what was needed to bring down the home side and it is what the away side should have demonstrated for the duration of the game.

Three points secured and it is time to think of what it will take to ensure their first win in Europe this season. Madrid must be defeated on Tuesday night.