Another win and another clean sheet for Juventus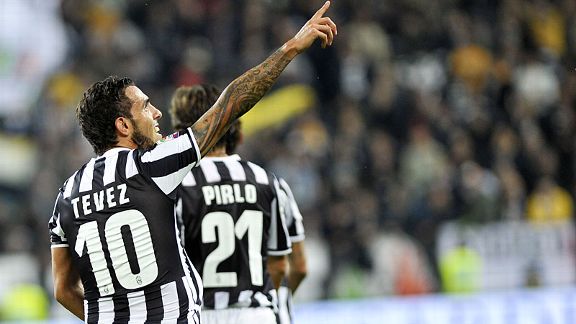 GettyImagesCarlos Tevez celebrates after bagging Juve's fourth goal in their rout of Catania.
Two clean sheets in a row. It was what Juventus needed and what Antonio Conte wanted. A comprehensive 4-0 victory over Catania not only signals the beauty of Juve's game but it sends a clear signal to rivals: it's never over until the Old Lady sings.

Over in Florence in the match between Fiorentina and Napoli, the fans held up a banner that read "Gomez not Tevez". But while their German striker sat to watch his side lose, somewhat controversially, the man they didn't want led his team to a spectacular victory. It's Tevez not Gomez... nor any other forward for that matter.

The Argentine behaved like a leader and with a passionate performance and tremendous skill guided his side forward -- partaking in most passages of good play Juventus created. Accuracy was perhaps his only problem on the night but his dogged determination, willingness to drop deep to collect the ball and then source goal scoring opportunities is the reason why he's the "top player" the fans have wanted and dreamt of all summer long. Whatever reservations one may have had on the player's mentality have been firmly put to bed -- Carlos Tevez wants a win at all costs.

Despite the magnificent result and the great opening few minutes, this was perhaps a less determined Juve. Asked about the difference in the level of intensity, Conte replied wisely, explaining that having played four games in 12 days, it's important to be mature and conserve energy.

Running at 200km per hour is the definition of Juve but they must also know when to push and when to take a breath. However, whilst it's clever to avoid expending too much energy against opponents capable of surrender, it's also important Juventus rid themselves of the sloppy play and silly mistakes committed, especially earlier on in the game.

Rather than take advantage of what looked like a shaky defence at times, Catania looked incapable of producing an inspired reaction. When Rolando Maran was shown the door, it was hoped his replacement Luigi De Canio would shock the team back to life -- something he hasn't been able to do yet. Barring the hard work of Gonzalo Bergessio and Keko (in the first half), few players actually fought for points. The defence produced a plethora of mistakes, the wide men rarely troubled Juve's wing-backs -- who are more than capable of succumbing to pressure -- whilst their attackers' capability to drift in and out of the game proved frustrating.

It's inconceivable to think that this was the same side that had previously improved upon the number of points collected in the league year by year. Collecting 48 under Vincenzo Montella, they managed 56 points under Maran last season. Now they're occupying a relegation spot.

Catania showed glimpses of what they can do, but psychologically they never believed in a point, let alone a win. Three matches played against the Sicilian side have resulted in three home wins for the Bianconeri. De Canio attempted to incite a positive reaction from his side when he decided to bring on Lucas Castro but whilst Bruno Petkovic and Sergio Almiron attempted to threaten Juve early in the second half, it was simply an easier option to surrender to the Old Lady's superiority.

The difficulties of the Sicilian side gave Conte the perfect opportunity to test out different players and few did as well as Paolo De Ceglie. A product of the Bianconeri youth system, the player's ability to deliver an accurate cross was a breath of fresh air for the side that has been forced to tolerate imprecision from the wide areas. Paying attention to his defensive duty, his work rate and ability to whiz forward reminded the coach that in De Ceglie, he possesses a fine alternative to Kwadwo Asamoah. If only Fernando Llorente did better to capitalise on the crosses delivered.

The Spaniard wasn't at his best but his partnership with Tevez is steadily improving as evidenced by Juve's third goal. On the upside, Juventus can instead count on another youth team product who has impressed in his recent outings. Sebastian Giovinco's forward runs threatened Real Madrid in the Champions League. His perfect finish against Milan justified Conte's decision to opt for quick feet instead of a tall head whilst tonight he once again proved his talent for pushing forward and overcoming defenders.

On form both physically and psychologically, Seba can offer the side a quality no other can in this forward line. Whilst it seemed the Juve jersey burdened him with excessive pressure, the desire to prove himself has provoked stunning performances. The question is, can he continue it? Despite the fans' disinterest in the player, Conte has always believed in the pint-sized forward and he may well be an intriguing figure to select in the upcoming match against Parma -- the player's former club.

Another win and a clean sheet against Roberto Donadoni's men would make it a perfect week for the Champions of Italy.