Juventus back to winning ways against Genoa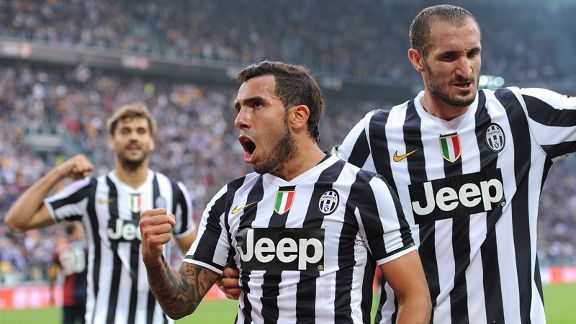 GettyImagesCarlos Tevez celebrates after doubling Juve's lead.
After suffering two consecutive defeats, there was only one thing Juventus had to do: secure a resounding victory. They did just that against Genoa, running out 2-0 winners. Displaying hunger, intensity and an overwhelming attacking style of play that has won them two titles under Antonio Conte, the Champions of Italy proved why they are still the most feared team in Serie A.

Against Real Madrid they were unlucky, but against Genoa, Juventus merited the victory and perhaps ought to have won by a larger margin. Kwadwo Asamoah proved immense; Carlitos Tevez scored a golazo, Arturo Vidal provided relentless energy and even Mauricio Isla looked good as he displayed tactical intelligence.

At times, defeats are a blessing in disguise and for the mighty Old Lady, they have helped her recover that hunger for a win that has intimidated her many opponents. From the opening whistle Juventus pushed and fought for an early goal. Slow to shoot, chances were wasted and crossbars were hit but Genoa's Mattia Perin deserves a medal for the number of magnificent saves he was forced to make to keep his side in the game.

Yet despite the courage of the men in black and white, it took a penalty to break the deadlock, one that arrived despite the fact the foul appeared to have been committed outside the box. Vidal converted in a manner only he knows how.

Genoa, it appeared, arrived to Turin with the idea of soaking up the pressure before counter-attacking with pace. Deployed in a 4-4-1-1 shape, they were often found defending with five at the back in a 5-4-1 formation. Yet despite the number of bodies, their lack of organisation made them vulnerable at the back and they were forced to deal with a proud Juve side desperate to get back to winning ways.

Only few men in football could manage the rare moment of beauty that led to Juve's second goal. Tevez dribbled past a defender to manage an angled drive at goal. Another moment of brilliance from a man who arrived for so little money and with many wondering if he had the work ethic required to succeed in a Conte led team. However, the Argentine's quality coupled with his hard work have won over his many critics and firmly secured his place in the hearts of the fans.

In the second half, Juventus somewhat eased off. They displayed maturity and intelligence to control the game even if their desperation no longer saw them push forward with ferocity. However, Genoa failed to capitalise and simply accepted their inferiority as evidenced by their failure to react, preferring to preserve their energy for future matches.

Defensively, the home side celebrated a mini success in that they managed their second clean sheet of the season. The wing-backs proved tactically more intelligent and quickly adopted their positions when the side lost possession. If Andrea Barzagli was forward, Isla ran back to cover and Asamoah proved excellent, in both stages of the game. However, what is interesting is how little the team rely on Isla in the march forward. Few teammates opted to include him in their offensive play, usually preferring to deliver the ball to the left to depend on Asamoah's skill. In due time it is hoped Isla will earn his teammates' trust with better performances from the wide areas.

Despite 70 minutes of great football against Fiorentina and a strong performance against Real Madrid, Juventus have been subjected to two consecutive defeats. Their win against Genoa was fully deserved and showed that when the pressure is on, the Bianconeri have pride and a desire to compete in every challenge.

For a squad that are always expected to perform, expectations can at times be too high; the reason being that we know how good Conte's team can be when they perform to the best of their ability. With renewed motivation and an increase in intensity, Juve are still the team to beat in Serie A, even if Roma are breaking records with incredible wins this season.