Juventus meltdown results in a Fiorentina comeback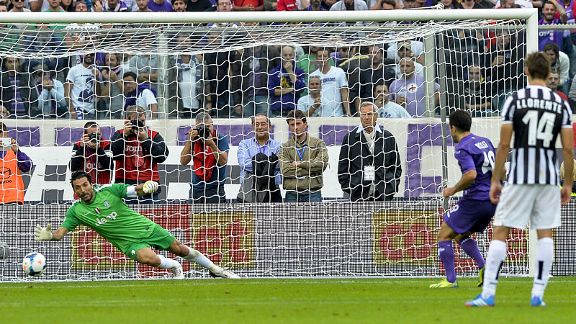 GettyImagesGiuseppe Rossi scores from the spot to bring Fiorentina back into the game.
An unbelievable match, an unpredictable result. For the first time in 15 years, Fiorentina won a home match against Juventus. For the first time in his coaching career, Vincenzo Montella defeated an Antonio Conte-led side. For the first time ever, Conte's Juve conceded four goals in a game to lose 4-2 away against the Viola.

Juventus are wounded. Never has a side famed for its mental fortitude and ability to close out games collapsed so tragically during a match. Going 2-0 up in the first half, the Bianconeri did well to penetrate effectively and get past Fiorentina's pressing game. However, so capable of individual errors this season, Juventus fell apart after Gianluigi Buffon's mistake and lost their ability to stand firm and defend.

It's now 10 goals conceded in eight games for a team that let in only 20 goals in their first season under Conte.

Looking at the first half, Fiorentina may have outpassed Juve as they continued to rotate the ball but lacked a Plan B in attack. Aware that they had only Giuseppe Rossi up top, their play had to be patient and focused around through-balls and intricate play.

Pressing high up the pitch, the plan was to disturb Juve's rhythm and win the ball back in advanced positions to facilitate their journey to goal. However, Juve's defence stood firm while the Viola's movement seemed utterly blunt. With the midfield congested and both defences looking solid, the only way either side was going to score was if there was an individual error or from a dead-ball situation.

That error came as a silly challenge on Carlos Tevez resulted in a penalty for the Old Lady that was converted by the Argentine. Juventus were 1-0 up and happy. The second goal came only three minutes later, when Paul Pogba exploited a defensive mistake to score and lift the away crowd. Montella's men were well on their way to yet another loss at home to Juve.

The second half started in much the same way. The Old Lady was in control while the Viola struggled to create any threatening chances. There were opportunities for the Bianconeri to add to their tally, whether it was from an Andrea Pirlo free kick or Claudio Marchisio's timely runs forward. Norberto Neto was working hard to keep his team in the game and pulled off some good saves.

Meanwhile, Fiorentina needed a change, and it came when Montella opted to take off Alberto Aquilani and bring on Joaquin to allow for more attacking play. A challenge from Kwadwo Asamoah resulted in a penalty for the home side, and Rossi scored to make it 2-1.

Juventus held on. They continued to seek chances, and a determined Giorgio Chiellini came close to scoring from a header. The Viola were struggling to be consistent with their forward thrusts until Rossi took a shot that beat Buffon for the equaliser.

Once again, it's that easy for this Juventus side to concede. Another individual error, by the captain on this occasion, gifted Fiorentina the leveler, and the Stadio Artemio Franchi was rocking.

The Old Lady immediately fell apart and lost all ability to defend with discipline and intelligence. Asamoah in particular had a torrid time, while the entire defence was being shifted around. With Joaquin completely unmarked, the home side netted another to stun the Bianconeri. Three goals in 12 minutes.

Conte's men simply could not handle the pace of their opponents, and defensive organisation went out the door. You can blame individuals and some may even blame the coach, but this was down to a pure psychological breakdown. The team that thought this would be an easy win after Fiorentina's early bluntness lost its focus, adopted a nonchalant attitude and surrendered to panic and madness to gift the Tuscans the win they have dreamed of for 15 years.

Up until the madness, Juve had defended well. What they cannot fight off effectively this season is that tendency to surrender to complacency. Conte has said it dozens of times: It's difficult to win three titles in a row and especially difficult considering the level of competition this season.

This defeat had to come. This defeat may well be a blessing in disguise. Such psychological breakdowns can never be tolerated for a club that practically walked to the league title last season. The mental fortitude must return, the hunger has to be keenly felt, and there needs to be more of a fight to maintain accuracy and solidity.

Roma demonstrated the impact a healthy mind can have on a result, and it's up to the Bianconeri to show they want to win and will do everything to do so. Glory is there for the taking.