After 15 years, can Fiorentina manage a home win against Juve?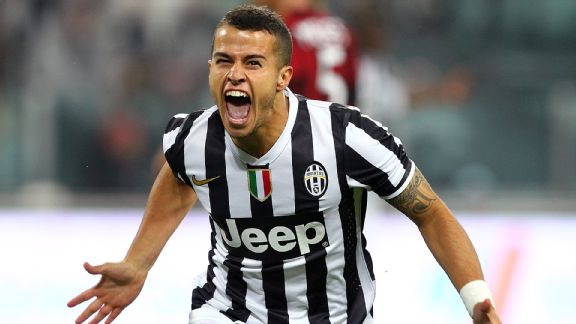 Marco Luzzani/Getty ImagesSebastian Giovinco should start for Juventus.
Not since December 1998 has Fiorentina managed a home win against Juventus and Vincenzo Montella has never won as a coach against an Antonio Conte led side. History favours the Old Lady, but on Sunday afternoon, the Tuscans are desperate to turn the tables around and record a win to punish their mighty rivals.

Question marks surround the formation Montella will play on Sunday. Whilst he usually favours a 3-5-2 formation, there is every reason to believe he will change to a 4-3-2-1 against the Bianconeri. Reports suggest the coach was so enamoured with his side's attacking play against Genoa that he's willing to repeat the strategy against Juve by playing Borja Valero higher up the pitch. The Spaniard can not only provide creativity but he's fully capable of scoring and is a difficult man to defend against.

The downside of playing a 4-3-2-1 is that Manuel Pasqual and Juan Cuadrado have to drop deeper and play as full-backs. With less of a licence to push forward and threaten, relegating Cuadrado to a defensive role would benefit a Juve side that is somewhat worried of the impact the player can make in the attacking phase of the game.

Juve's backline may be rich with experience but they are currently suffering and committing individual errors. Pitted against the talent and speed of Cuadrado and they will suffer. He loves nothing more than to create numerical superiority, cut in into dangerous areas and unleash a determined effort into the net. Played higher up the pitch and he can be instrumental for Montella's men, burden him with an overload of defensive duties and Fiorentina may well dull his light.

Speaking of Juve's defensive woes, Conte has insisted that they are looking to tighten things up at the back and that one expects vulnerabilities when the side are so eager to create goal-scoring opportunities. Tightening things up will be a little harder to do without Arturo Vidal in the side.

The Chilean arrived back late to Turin and was not on the same flight as fellow compatriot, Mauricio Isla. His return coincided with the strikes in Italy and thus the midfielder was further delayed and missed training, only arriving on Friday evening. Conte is hardly impressed and the player is set to be fined, although the coach will first seek clarification and an explanation. Despite being included in the squad list, it seems highly unlikely the payer will start and will probably be forced to watch on from the bench.

Paul Pogba is likely to take his place in the team whilst Simone Padoin will play Stephan Lichtsteiner's role. Vidal's absence will be felt considering the penetrative runs the player makes and the pressing game that helps his side win back possession in advantageous areas.

Meanwhile up top it seems Sebastian Giovinco is preferred and will start alongside Carlos Tevez. Fernando Llorente, it has been reported, will be saved for the match against Real Madrid midweek. Little Seba has always been highly criticised by the fans who have watched the player struggle with the hefty weight and the pressure that comes with the Juve shirt.

Conte has and continues to be a big fan of the player whose quick feet and mobility can prove to be overwhelming on occasion. Against a side that can be easily flustered when under pressure, Giovinco might be the right choice.

With an array of talent available in each side, maturity will play a key role in this clash. Juventus have had some nervy moments at the end of some of their games this season but they have largely proved capable of securing a result and fighting hard until the last moments in a match.

Fiorentina have instead dropped points due to their inability to close out games. Last minutes equalisers from Cagliari and Parma saw the Viola side miss out on wins and collect only two points from a possible six. This particular habit of theirs may well make the difference when we consider the fact the Bianconeri have picked up 10 points from trailing situations thus far in the league -- the highest of any side has managed in Serie A.

It is set to be a full house in Florence, where 40,000 Fiorentina fans are expected to watch the match with approximately 2,500 travelling from Turin to support the champions of Italy. Interestingly, for the first time in the Stadio Artemio Franchi, the barriers that separate the pitch from the stands where the fans sit in will be removed. Described as "a huge sign of civilization", Florence wants to celebrate this great rivalry and special match by exhibiting good behaviour and the trust they have in their own fans to honour the occasion. It will undoubtedly be a great spectacle.