A change in formation for Real Madrid match?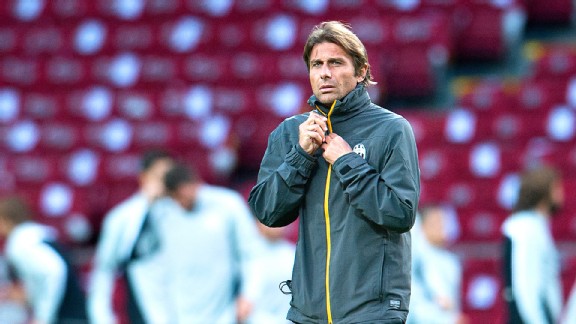 Jens Noergaard Larsen/Getty ImagesAntonio Conte might try a 3-5-1-1 against Real Madrid.
It's been all about the Azzurri these past few days, except for intermittent reports on the potential of a Paul Pogba exit form Juventus. Bianconeri president Andrea Agnelli gifted the tabloids a story to last them for days when he admitted that the poor quality of Serie A and the league's inability to keep certain players may well force clubs to accept big offers for their star players.

However, Juventus are more concerned with the tough upcoming fixtures they are set to face. Fiorentina are determined to beat Juve at the weekend, but the Old Lady cares more about her match against Real Madrid. Formations have been discussed and it seems Antonio Conte is toying with the idea of playing a 3-5-1-1 shape in hopes of suffocating Madrid and their penetrative runs forward.

Carlo Ancelotti's side have struggled of late, especially on the domestic front. Defensively they are close to shambolic, having conceded nine goals in eight games while they are struggling to compensate for the loss of Xabi Alonso in midfield. Losses against Atletico Madrid have demoralised a side that felt they would challenge for the title from the get-go, while poor performances against newly promoted side Elche and the last-minute win against Levante have put the side under immense pressure.

Under Jose Mourinho, Madrid were once described as a one-trick pony that played that trick incredibly well -- they counterattacked in sensational fashion. Blessed with pace and accurate players on the ball, they only needed a few moments in possession to rip the opposition apart. In their last matches against Barcelona, they perfected their tactics and often won. Soaking up the pressure, they waited and waited until the likes of Cristiano Ronaldo or Angel Di Maria could use their direct style of play to run, dribble and overwhelm the Catalan side.

The downside of their one trick is that eventually they became predictable. Spanish sides quickly learned that if they gave Madrid possession of the ball, Los Blancos would struggle to do much with it.

Upon realising the problem, Ancelotti has come in and insisted upon teaching his team to play both with and without possession. The Italian wants his side to take the initiative, use the skill of his intelligent players and devise ways in which they can penetrate tough defences. Evidently, it takes time to perfect the tactics, and the team is currently struggling to find its rhythm.

Their biggest weakness lies in defence. While it's easy to point out certain individual errors, the main problem is the fact that the team have failed to defend as a unit.

For a side like Madrid, it's imperative they defend from the top. Much like Napoli, they need their strikers to push the centre-backs and place them under pressure to win back possession in advantageous positions. Gonzalo Higuain, as we have seen during his time in Napoli, is excellent at doing that, but with Karim Benzema up top for Los Blancos, he's failing to do the necessary defensive work.

When possession is lost, the attacking midfielders should move to the sides and close the gaps to limit the space available for the opponent. However, there is a current lack of discipline with regard to the positioning of certain players, especially in midfield.

Squad rotation has hardly helped the squad adapt to these new tactics. The loss of Alonso has been keenly felt, as he's a leader in midfield, who not only helps secure the defence but also contributes to the overall side's attacking play. Ancelotti has yet to decide on who make up best starting XI, with midfielders and defenders consistently rotated.

They are a side that can be overcome in their present state, and it's interesting that Conte is thinking of deploying a 3-5-1-1 shape. It is thought that an overloaded midfield would strengthen the Italians' defensive play as well as providing alternatives in attack. However, most importantly, it will suffocate a Madrid side that rely on direct play.

By increasing the number of midfielders, the thought is that Juve can use all four central midfielders to constantly press for the ball. Elche made life difficult for Madrid when they continuously halted their efforts to play the ball out from the back. If Claudio Marchisio plays closer to the top, Conte is guaranteed a hard worker who will offer a defensive quality up front as well as make timely runs forward when the opportunity arises.

Moreover, this Madrid side are narrower than usual, as players are not as efficient on the wings as we've seen in previous years. Left-back Marcelo is capable of stretching play, but judging from their games this season, if Juve close down the spaces through the middle, they are more inclined to avoid a Madrid goal.

A 3-5-1-1 is a suitable option considering Madrid's problems. However, it remains to be seen what Conte will decide upon next week.