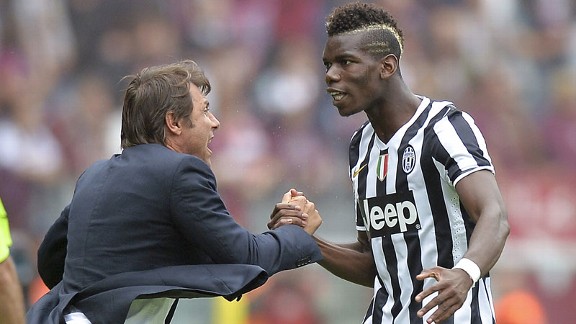 GettyImagesCould Paul Pogba (R) be a right-side option for Juventus coach Antonio Conte?
"Doesn't it seem strange to have a Sunday without Juventus?" asked the official club's Twitter account. It does seem bizarre to pass a weekend without a match to keep the masses entertained. However, off-pitch matters never cease to make the headlines and the latest discussion surrounds the position of right wing-back.

Next weekend, Juventus will travel to face Fiorentina in a high-pressure match. Vincenzo Montella has already said he would happily play a far less aesthetically pleasing style of football if it means a win and a chance to make the fans happy. The Viola supporters view Juve as a great rival and a team they despise greatly. A win would be celebrated gleefully and Montella would do all that he can to ensure pleasure.

Juventus are somewhat struggling with injuries, especially in that wide right position. Stephan Lichtsteiner is still recovering from his problems and it is thought Antonio Conte would rather rest him in view of the Champions League clash against Real Madrid than force his return against Fiorentina. Meanwhile, Mauricio Isla picked up an injury in his left thigh in the World Cup qualifier against Colombia and will need to be assessed. With Martin Caceres still in need of time to recover fully, who will Conte play on that important Sunday afternoon?

• Pogba plays down talk of exit

Simone Padoin hardly impressed in the match against Milan, but as this blog has suggested before, why not allow Paul Pogba the opportunity to show off his skills on the right? His technique and attacking ability are certainly better exploited when the youngster is played through the middle. However, in moments like this, necessity really is the mother of invention.

What Conte has insisted upon for some time now is a winger capable of creating numerical superiority with penetrative runs down the flank. Pogba, with his talent for holding on to the ball and intelligent thinking, will certainly create uncomfortable situations for the opposition if he is played in the wide area. More than that, his tireless running and stamina make him a good option on the flanks, considering his ability to both contribute in attack as well as secure the defence.

Of course, he's less able to exhibit his real talents and it seems somewhat wasteful for that position to be made his on a regular basis, but with Claudio Marchisio still assured of a place in midfield, why not play Pogba as a winger?

The Bianconeri have already benefited from the player's ability to stretch out the opponent's back-line while his pinpoint crosses have been a delight for a team so rarely accustomed to accuracy in the wide areas. It may be a stopgap solution but right now, it might be the only way to improve the manner in which the Bianconeri attack.

With most of their attacking passages of play going through the centre, Juve are more predictable this season and have less variety going forward. It is at this time that alternatives become important for their game to open up different options on the pitch. With an additional player available, one who capable of overwhelming the opponents, there will be more gaps for the likes of Marchisio or Arturo Vidal to exploit with their timely runs into the box.

With all four on the pitch, opponents will struggle to cut off the creativity within the side and the alternatives going forward should prove effective.

It is up to Conte to make the decision and many still believe he will opt for Padoin on the right in the match against Montella's men. It will be interesting to see if he continues the experiment he started against Milan.