Tactical battle of wits between two old foes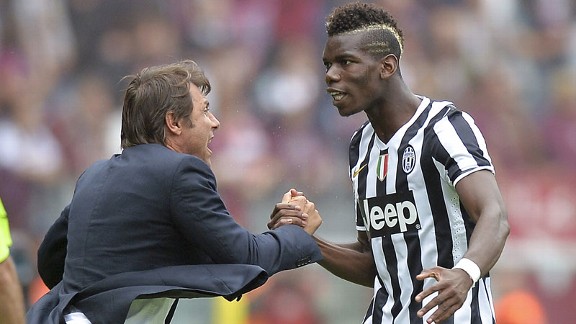 AllsportAntonio Conte. with one of his match-winners, Paul Pogba.
Between them Juventus and AC Milan have won the last three Scudetti in Italy. The two coaches -- Antonio Conte and Massimiliano Allegri -- have achieved remarkable feats with small clubs outside of Serie A and the giants of the top-flight and the two squads are both capable of the remarkable and the frustrating.

The Rossoneri take on the Bianconeri in Turin on Sunday evening in what should be a tactical battle of wits between two old foes. Whilst the Juventus are considered the domestic heroes of Italy, Milan have always been the country's greatest representatives in Europe.

Yet they are both experiencing a delicate moment as of late. This Juve lacks that purposeful edge and unpredictability to their game and Milan have seemingly lost their identity, playing a game more focused around neutralising threats than imposing their own style of play.

Paul: Milan will require near-perfect display
Horncastle: Pirlo's predicament at Juventus


With only eight points collected from six games, the Rossoneri are still trying to find their feet -- something we expect from Allegri led sides. Only when in charge of Sassuolo, in Serie C1 at the time, did the man from Livorno manage a perfect start to the campaign. The following year, when in charge of Cagliari, Allegri picked up four straight defeats.

In the first four games of each season, one has come to expect at least one defeat when Allegri is in charge. Points are always hard to collect initially for the tactician, who takes his time to find the right tactics and balance to win the games. So far this season, he has already tried out three different formations and suffered two defeats.

Meanwhile, Conte stays faithful to his tactics and has clear ideas from the start on how his side should be deployed. What his team lack in cohesion at the start of their seasons, they make up with determination. Pre-seasons are focused on building stamina and teaching desired patterns of play.

So what is the difference between Allegri and Conte? "Conte is more obsessed with tactics and a great motivator but Allegri has more of a relationship with his players and seeks dialogue," Alessandro Matri, the striker who has played under both men, told Gazette dello Sport.

Conte is indeed a man who loves nothing more than to light the fire under his players and bully an intense performance out of each member of his squad. He is vivacious, incredibly demanding and easily disappointed. No man in the club has a bigger personality than the Juventus coach.

Yet despite the undefeated tag, his squad are not quite clicking. Gianluigi Buffon is now capable of misjudging situations – a weakness he never shown before; Arturo Vidal seems inconsistent while Claudio Marchisio is sorely missed in midfield.

What was beautiful about the Old Lady was her fast runs and timely insertions from midfield. Mobility was one of the Bianconeri's greatest assets, as was the solid defence, perfectly secured by the hard-working midfield. Yet now their attack offers less variety, their methods easily predicted and neutralised and their players capable of individual errors.

Milan are surely concocting a strategy to contain the Bianconeri pressure. This season, they have relied on playing a patient and cautious game at the start of their matches up until they notice the opposition tiring. It is then, when space is more easily relinquished, that the Rossoneri impose their strength and steal vital points.

Maturity will be key. If Juve can remain concentrated for the full 90 minutes, plus stoppage time, they will frustrate their opponents and achieve the win.

Defensively, both sides are suffering. Whilst both Buffon and those three centre-backs have suffered moments of madness to concede some odd goals this season, Milan are frightful when asked to defend a corner. The Rossoneri have conceded six headed goals so far this season as the side struggle to portray understanding in the box. Confused as to what they are meant to do and who they are supposed to mark, this is one area Juve must exploit.

It is therefore important that Fernando Llorente plays some minutes to target the Milanese weaknesses, but according to reports, Conte will opt to start Carlos Tevez alongside Fabio Quagliarella. The latter has come in for some criticism from the fans, who argue that the team play with a man down when he's on the field. However, he is the only one to have understood how to exploit Gala's deficiencies in the Champions League – playing between the lines and operating in the large gap between the Turks' midfield and defensive lines. He was therefore the one who continuously slipped under the radar and not marked as closely, scored Juve's second goal.

Marchisio will also return to the side and Stephan Lichtsteiner, who suffered an injury, will be rested, allowing Simone Padoin to take his place instead of the woeful Mauricio Isla.

It will be tactical and it will be tough but let's hope the battle will also be entertaining on Sunday evening.