What can Juve expect from Roberto Mancini's Galatasaray?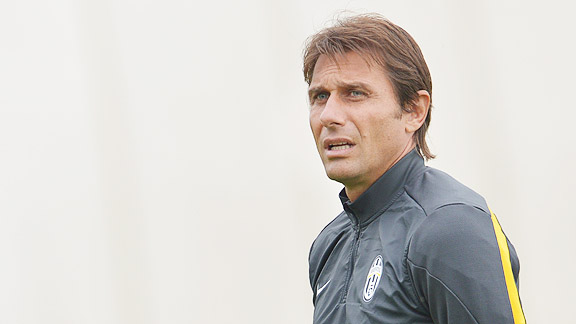 Giuseppe Cacace/AFP/Getty ImagesAfter an opening matchday draw at Copenhagen, Antonio Conte's Juventus will be out for all three points versus a new-look Galatasaray.
Juventus have hardly set Serie A alight with a swashbuckling style of football and a plethora of goals. The feeling is that they have been coasting along, much like they did at the start of last season. Favourable decisions have somewhat lifted the burden, but now it's time to prove themselves in Europe against a side they feel will rival them for second place in the group.

Under Fatih Terim, Galatasaray were an attacking force to be reckoned with. They could always score; the problem was they would always concede in Europe. In their last 11 Champions League matches, including all CL matches played last season and in this term, the Turkish side have let in 20 goals. They have kept one clean sheet, albeit an impressive one against Manchester United.

Against Real Madrid, as one Italian newspaper put it, the team from Istanbul received six slaps. Hard to argue. While their attack was fluid, the midfield -- and most notably Felipe Melo -- failed in securing the defence. The Brazilian was at fault for at least one of the goals and his clear desire to attack rather than undertake the boring duty of halting Madrid cost the Turkish side dearly.

- Five things Mancini must do at Gala
- Conte cautious over Mancini's Gala

Remarkably, the team boast the best defence is Turkey. Last season they only conceded 35, and despite their current tenth place position in the league, they have let in only four goals this term. The problem now is they simply can't win, drawing their last four games.

This may have to do with Terim's approach to football. A man who relies on squeezing out the last droplet of motivation that might hibernate in a player, it seemed the players had nothing more to give him. His side have always turned their back to caution, preferring to exercise a more entertaining brand of football that sets the spirit alive. Yet, this precise lack of caution makes them vulnerable, even if their spirited manner has resulted in some winning performances in recent years.

This is where Roberto Mancini comes in. Order needs to be restored. Players must learn their position, work in unison and help one another to achieve results. Management hope that a change in voice might resurrect the competitive edge within the side.

The Italian is hardly the most successful coach in Europe. If Terim wasn't cautious enough, then Mancini may be too far the other way. Taking over the Turkish giants who are struggling to create chances, they get a coach who can inspire them, who will introduce the notion of calm and who will play with clear ideas. Will they be as hungry as they always seemed under Terim? That is a question only time can answer.

Clearly, Juventus were hoping to play Terim's Gala, if only because theirs was a style of play one could watch, study and then try countering. Under Mancini, no one quite knows what they will be up against. There's not much time to implement the Italian's ideas and he will have to rely on certain tried and tested tactics, but there's a belief the defence won't be as fragile as it was for Real Madrid and the team will look to contain the threat Juve carry.

The one thing the Bianconeri hope for is a team that plays their own game. It was something Galatasaray were renowned for doing. Having been pitted against unashamedly defensive sides in Serie A -- ones whose sole aim was to simply try and halt Juve's rhythm -- the Bianconeri are looking for a game wherein the players can express themselves.

Considering the poor result in Copenhagen, it's vital Juventus score some goals and clinical finishing is of the utmost importance. Thankfully, it seems Carlos Tevez will start, despite the ankle injury he suffered in the derby against Torino. Alongside him, it's likely Conte will opt for Mirko Vucinic, while it looks like Paul Pogba is preferred over Claudio Marchisio in midfield.

In defence, the three stalwarts will reunite together and will attempt to control Didier Drogba's threat. It will be difficult to achieve a win, but it's time the Old Lady played with pride and impossible intensity to achieve the win they are most certainly capable of obtaining.