Hardly dazzling, but it's job done for Juventus in the Derby della Mole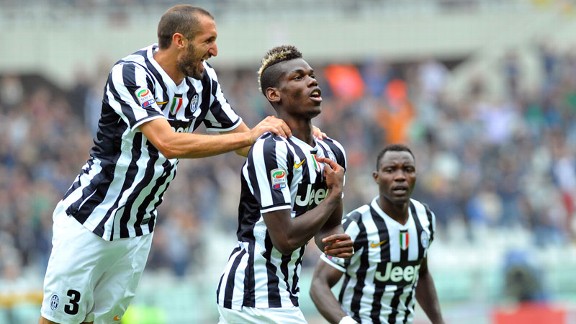 AssociatedPaul Pogba scored for Juventus against Torino.
It's been 11 years since Torino have scored a goal against Juventus, and the hurt continued with Sunday's Derby della Mole. Meanwhile, Juventus finally scored first in a match and held on to secure victory to keep up with the rest of the contenders in Serie A. Yet despite the superior quality of their play, all Italy can focus on is the controversial manner in which Juventus have won another game: with an offside goal.

As seems to be the norm when playing the Bianconeri, Torino, like Chievo Verona before them, played a defensive game. Sitting deep, congesting the area and closing down the space, their aim for the game was to stop Juventus from playing through the middle.

The Old Lady, in response, remained patient. Circulating the ball from side to side until she felt comfortable enough to play through the spaces, but it was proving difficult to penetrate the Granata defence.

- Juventus continue strong start

Such a patient game only serves to make Andrea Pirlo's absence more keenly felt. There was little creativity and lots of imprecise passes forward, and the tempo was poorly controlled. Paul Pogba may be capable of doing it all in midfield, but he seemed wasted when deployed so deep with the attack sorely missing his pace and timely insertions at the top.

Interestingly, last season, Juventus had two versions of themselves depending on which of the duo they opted to play. When Pirlo was on the pitch, Juventus dominated proceedings, rotated the ball and patiently waited for excellent passes to unlock defences. When Pogba was deployed instead, the Old Lady played a quicker game where acceleration was key, intensity was heightened and the game was based around overwhelming the opposition.

Against Torino, Juventus played a Pirlo game without the player there to actually influence proceedings, when they ought to have played a quicker and more intense game. This only served to highlight the perfection of Torino manager Giampiero Ventura's game plan, as Il Toro succeeded in stifling Juve's attack, halting the intricate passing in the middle and forcing Juve wide. Crosses into the box were hardly a problem for the home side when there, in the middle for Juve, was little Sebastian Giovinco.

Giovinco, for all his tenacity and eagerness to impress, suffers with the Juve shirt. Whilst we must acknowledge the many fouls he suffered that should have been punished, he is a player lacking in strength. It remains an easy task to snatch the ball away from him, and he's easily overwhelmed. His clever movements and at times good positioning should be complimented, but when his shots are always aimed at the goalkeeper (much like last season), he quickly reminds his critics of his many deficiencies as a forward.

Of course, one must also feel for the player, as Juve's game in the first half was slow and revolved around crosses and long balls. With a quicker game, Gio would have broken free from his markers, and with short and low passes, he could have made more of an impact. That sort of game played by the Old Lady required the presence of Juve's other forwards, namely a certain Fernando Llorente.

In the second half, Juventus returned with greater motivation and looked determined to push through to get a result. And so, they did. A perfect delivery into the box saw Carlos Tevez hit the crossbar before Pogba scored. Replays show Tevez was clearly offside and the goal should not have counted, yet once again Juventus won a game in a controversial manner -- even if they deserved to be in the lead.

Torino, rather than opening up to have a go at scoring themselves, remained faithful to their tough defensive game for much of the second half, really looking threatening in only the final minutes of the match. Silly fouls and individual errors denied them of any real opportunity at goal, but their courageous game came too little, too late.

Tevez was once again the Bianconeri's outstanding performer. His mobility, ability to play between the lines and strength in shielding the ball make all the difference for Antonio Conte's men, as does the team's ability to maintain possession when closing out the match.

This may not be a dazzling Juve, but it's one that's doing the job for now, especially when considering the heavy schedule. Galatasaray are next.