Two tactical maestros, one city, one formation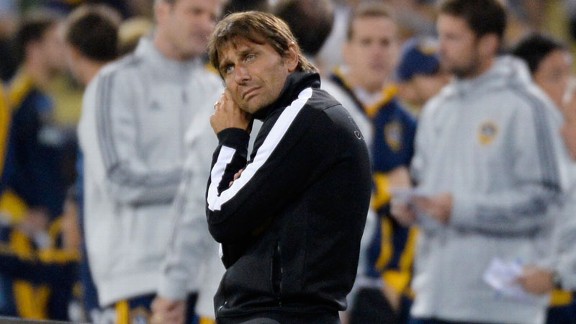 GettyImagesAntonio Conte faces Giampiero Ventura -- a man who is very much considered his tactical predecessor.
Recent history has hardly been kind to Torino. Having not won against their Turin rivals since 1995, they are desperate to make an impression this season and in Giampiero Ventura, they certainly have a tactician capable of springing a surprise. He is, after all, the man who inspired Antonio Conte.

Both tacticians have achieved success with the 4-2-4 shape, both have tinkered with different formations and tactics and both have now settled for a 3-5-2 module.

Ventura, ever the revolutionary tactician, has decided to deploy a different shape on the pitch this season. Whilst he opted for a 4-2-4 formation for much of last year, towards the end of the season, we saw Ventura tinker quite a bit.

In the match against Juventus in April, we witnessed him mirroring Conte's formation, playing a 3-5-1-1 shape whilst the next match against Milan saw Torino switch to a 5-3-2 formation. It was that 5-3-2 formation deployed against the Rossoneri that was used again and again, until the end of the season, occasionally changing it to a 3-5-2 depending on the opposition's style of play.

Over the summer, Ventura's decision to toy with this new shape caused commotion in the peninsula, as it seemed the tactician was far too fond of a four-man back-line to ever buy into the latest Serie A fad. However, the coach argued that the change in form was simply pragmatic considering the qualities of the squad he now boasts. Not only, his admirers wrote, did it give the side greater mobility in attack but it has also solidified the defence. As such, it was a sensible decision and Torino have played a 3-5-2 formation in all their Serie A games this season.

The wing-backs now sit higher up the pitch and are encouraged to attack as long as they pay attention to their defensive duties. Danilo D'Ambrosio has especially benefited from the opportunity to contribute more towards the attacking passages of play and has already scored two goals this season. So impressive are his performances that there's been talk that he may well form part of Cesare Prandelli's Azzurri in the future -- that is if he continues to impress on the field.

Interestingly, although D'Ambrosio tends to adopt a deeper position on the field than one expects (sitting just behind the halfway line), he has proved more incisive when attacking than Matteo Darmian who sits on the right flank and adopts a much higher position. Whilst Darmian may not be as adept at scoring goals, he certainly knows how to push forward, with most of Toro's attacking passages of play coming from that right flank.

Up front, the Granata boast an unlikely partnership in Ciro Immobile and Alessio Cerci. There were fears the duo wouldn't work well together and there were certainly signals that justified these fears early on. However, against Milan, the two showed a growing understanding with Immobile delivering the assist, a perfect through ball, for Cerci to convert. The latter has now scored five goals in five games, gaining consistency and proving to be Torino's most feared player.

Fast breaks are what we can expect from Ventura's side. They are adept at absorbing pressure before pushing with pace, having already scored two from counter-attacking situations. They are dangerous from set-pieces and clinical with their finish.

Defensively, they are surprisingly not the biggest tackling side, in fact they perform fewer tackles than any other Serie A side yet they rarely concede shots. That's not to say they cannot be overcome but considering Juve's history of squandering goal scoring opportunities, it will be another tough test.

Andrea Pirlo is likely to be rested for the derby so that he will be fit for the home game against Galatasaray midweek, whilst it seems Claudio Marchisio, Paul Pogba and Arturo Vidal will start. In defence, ex-Torino defender Angelo Ogbonna will have to watch the action from the bench as Conte prepares to reinstall Juve's most effective trio at the back.

Up front, questions remain. Carlos Tevez is predicted to start but it seems no journalist agrees on who will partner him. Sebastian Giovinco may prove useful in a derby whilst Fabio Quagliarella seems to be in great form. Fernando Llorente proved impressive against Verona and motivated against Chievo so may offered another start but Mirko Vucinic is ready to come back. So who will it be?

A fascinating match between two tactical maestros, the Derby della Mole is always a special game but with these two coaches in charge, one hopes it will be delectable.