Llorente on score sheet but Juve still misfiring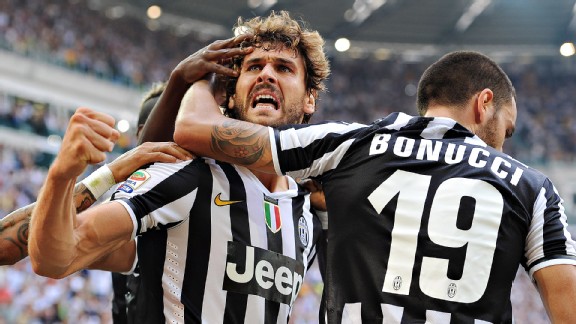 Valerio Pennicino/Getty ImagesFernando Llorente, left, enjoys the cheers after scoring the winner for Juventus.
When Verona took the lead on Sunday, it seemed to be yet another cursed game for Juventus. By the 35th minute, the home side had already taken 12 shots, yet it was the away side that opened the scoring. But A brilliant finish from Carlos Tevez levelled the score before fan favourite Fernando Llorente headed in the winner to walk away with all three points in a 2-1 victory.

The stats prove Juventus, despite the top-quality strikers brought in, are still having issues finishing. Thirty-five shots on goal, 15 on target yet only two goals scored. The Old Lady dominated possession, boasted complete control and had Verona defending deep, yet a combination of bad luck and weak shots stopped the Turin giants from imposing a complete rout.

Juventus' problem Sunday was their insatiable appetite for going through the middle when attacking. Verona flooded the box and Juve were attempting to intricately pass to one another or dribble past several defenders in the area. They could beat one or perhaps two defenders, but more than that and the opponent succeeded in stealing the ball and clearing effectively.

Much like Copenhagen last Tuesday, Verona defended centrally and with Llorente consistently keeping his place in the middle, it was difficult for the Turin giants to overcome Verona's tight defence.

Unlike the match against the Danes, the Old Lady didn't attempt so many crosses into the box, preferring one-twos and intricacy. The perfect cross delivered into the penalty area by Arturo Vidal was perfectly headed in by the Spanish striker Llorente.

This was always going to be a tough match for the newly promoted side. Despite past successes in Serie A, Verona have never won at a league game at Juventus -- all their successes against Juve have come at home. The one time they won Old Lady's house was in a Coppa Italia game in 1936. History was not on their side.

Interestingly, Andrea Mandorlini changed formations to challenge Juve. Having played a 4-3-3 in every match this season, he deployed a 3-5-1-1 with full-back Fabrizio Cacciatore playing higher up the pitch. The hope was that they counteract Juve's tough midfield and neutralise Andrea Pirlo's theat -- which they did. except they failed to close down Leonardo Bonucci whenever he pushed forward to deliver his long passes forward.

Mandorlini's men seemed to rely on the long=ball approach for the most part. Attempting 50 long passes, most of the play was dogged by imprecision, and possession was lost almost as quickly as it was retrieved. However, Verona proved solid at the back and worked immensely hard to shut down the Bianconeri's scoring opportunities.

Verona's performance and the manner in which they took opportunities offered suggest they could well avoid relegation. Defensively stubborn and strong when attacking, there's every chance they will remain in the top flight.

For Juventus, this was a day to celebrate Llorente's first competitive start for the Bianconeri and his goal. But the real gem within Antonio Conte's attacking set-up was Tevez. His individual ability, perfect control and brilliant finish for the equaliser deserved worldwide applause.

Moreover, he's creative, consistently looking to expose space and proved to be Juve's most threatening player. He made the difference and has more than won the hearts of both the club and fans.

After two consecutive draws, Juve are thrilled with the home win to restore confidence and help maintain their position within the table, yet their problems from last season are yet to be resolved.

Finishing off scoring opportunities is still an issue, while defensively Juve are capable of lapses in concentration, woefully neglecting to watch out for Fabrizio Cacciatore as he scored the opening goal -- totally unmarked. They still create oh-so-many chances, and at least both strikers were the ones Sunday. But they must improve their finishing going forward when the likes of Inter are managing seven goals in a single game -- albeit against Sassuolo.