Verona up next as Juve try to forget Euro disappointment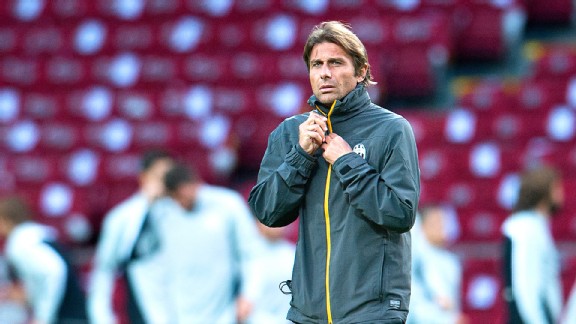 Jens Noergaard Larsen/Getty ImagesAntonio Conte might try a 3-5-1-1 against Real Madrid.
As the world continues theorise as to why it seems Antonio Conte will not play Fernando Llorente, the coach has been busying himself with the upcoming Serie A clash against Hellas Verona. The European result on Tuesday evening will have to be forgotten, while the Spanish striker will hopefully make his way onto the pitch at some point. For now, Verona is a worry.

- Report: Conte frustrated by Copenhagen draw

Newly promoted sides, Jose Mourinho once warned, can be the most difficult opponents simply because they're desperate to prove themselves. Verona is not simply just another promoted side looking to avoid relegation; they boast history, a legacy and legions of fans who have followed their exploits despite some tough times in the lower leagues.

Perhaps more than most, based on their high number of fans, dedication to sporting success and rich history, they deserve to be and remain a top flight club, and under Andrea Mandorlini they have a good chance of achieving their objectives this season.

While Sassuolo depended on their great attacking talent and Livorno turned to the skill of their brilliant coach, Verona managed promotion because of their cautious manner, balanced displays and excellent organisation. Deployed in a 4-3-3 formation, they're renowned for their relentless pressing and constant running.

Based on their first three games of the season, the side have averaged 37% possession. They don't care about having the ball but prefer to react to a side. Once possession is won, they are quick to launch an attack, playing short passes and exploiting the wide areas.

Their defence is strong and it is very much the reason for their promotion back to the top-flight, but perhaps their best quality lies in their competitive spirit. Mandorlini has brought back the warrior mentality and Verona will play until the dying moments. Boasting the stamina and determination to do so, they have already defeated one Serie A giant in Milan and will be looking to do the same when they go to the Juventus Stadium for their first ever time.

Mandorlini is not exactly the sweetest of tacticians while questions remain over a small portion of their fans who are considered to be racist. Giving a presentation before the start of a new season, Mandorlini, in front of fans, was alleged to have started singing a discriminatory song against Southern Italians and supposedly loves nothing more than to provoke reactions.

Beating Juve would surely be a coup, especially a Bianconeri side that is somewhat down and tired after a disappointing result against Copenhagen in the Champions League. Without Luca Toni, the away side will suffer, but in Daniele Cacia, they have a terrific goal-scorer who once upon a time caught the attention of Juve's scouts. Having attended the Gabetto di Torino school, his youth was spent with Piacenza. His scoring ability and predatory nature in the box saw him gain Juve's attention, but poor luck with injuries saw him spend one year on the sidelines which hindered his growth and ultimately saw the Old Lady turn her attention elsewhere.

On Sunday afternoon, Serie B's top scorer from last season will be keen to make a point to the Turin giants who dropped their interest in him. The belief of those around him saw him eventually continue his career and he certainly marvelled for Verona last season.

However, he is far from being the side's only threat. Jorginho, who sits in front of the defence, is not only tactically intelligent, always positioning himself well, but he also excels in the creative side of things. He provided the assist for his side's 2-0 victory against Sassuolo and boasts the kind of individual ability Verona have come to greatly appreciate.

Despite the many hidden dangers that exist within this match, it's clear Juventus are the favourites. Thankfully, it seems Claudio Marchisio is fit enough to start the match on the bench while Mirko Vucinic may well line-up alongside Carlos Tevez in attack. Llorente will be, as he always is, on the bench.

If Juventus show their desire and prove efficient then they should pick up all three points, especially as Verona do not travel well. However, if fear is smelt, the away side will attack and can be dangerous when the eyes of the world are on them.