Deja-vu performance in Copenhagen for Juventus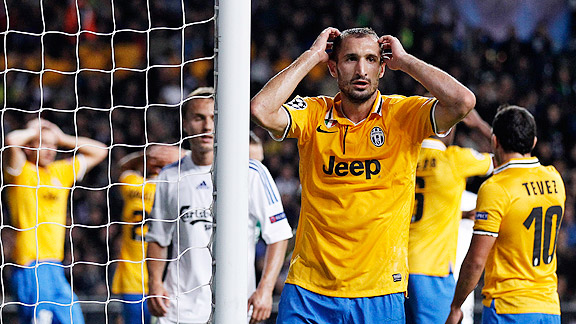 AP Photo/ Jens DreslingTuesday proved to be another frustrating Danish evening for Giorgio Chiellini and Juventus.
It was a case of deja-vu in Copenhagen yet again as goalkeeping heroics and squandered opportunities ensured Juventus only managed a point in the opening match of their Champions League season.

- Report: Inspired Wiland denies Juve

Last year, you could say Nordsjaelland's Jesper Hansen was out to impress against Juventus because he was a fan of the Old Lady. He desperately hoped to get recognised so that maybe, just maybe, he would fulfil his dream and replace Gianluigi Buffon when the captain retired. However, tonight's Danish hero was Johan Wiland, who performed even better, making 11 outstanding saves to halt Juventus and stun the Italians.

Copenhagen have been somewhat tragic in the Superliga this season. No wins at home, three defeats and four draws, their only success came against Viborg away. They have conceded more goals than they have scored and have already sacked and replaced their coach. Considered weak defensively and physically incapable, no one imagined they could seriously challenge the champions of Italy.

However, Stale Solbakken got his tactics spot on, producing a performance that stunned the opponents and dazzled the home fans.

Playing a narrow defence, Copenhagen were compact, stayed tight and were quick to close down space. They allowed the Italians to dominate the wide areas, aware of their own ability to defend against crosses into the box. Blessed with height and physically imposing players, they ensured that not one of the opponents' 49 crosses was met with an accurate header.

In midfield, the home side were careful not to allow the Bianconeri too much control while players sacrificed themselves for the cause -- they desperately sought a result. Organised and efficient, they perhaps deserved to score the opening goal of the game as Juventus struggled to defend effectively.

The Bianconeri were imprecise, failed to make the usual high number of interceptions and were predictably wasteful in front of goal. Long balls over the top were often preferred to slow construction of attacks while high crosses were attempted as opposed to low passes on the ground. Whatever they tried, Copenhagen halted.

The second half saw a marginally more intelligent Juve. Passes into the box were now low so attempts could actually be made to score and Fabio Quagliarella soon managed an equaliser. This was quickly followed up by a plethora of shots at goal that were all in vain as Copenhagen held on for dear life.

As was written in the article straight after the Derby d'Italia, Juventus still have problems in the final third. With Federico Peluso and Stephan Lichtsteiner tired, Conte chose to replace them with like for like players -- an understandable decision, but why not gamble and go out with all three forwards?

More importantly, why not give Fernando Llorente a chance on the pitch when one header from him could have well sealed the deal. With so many crosses into the box, surely he would have made some sort of impact? While Juventus had started the second half attempting more low passes into the box, they swiftly went back to crossing high and perhaps it seemed Giovinco's arrival on to the pitch was a way or reminding them to get back to low balls and fast footwork.

Indeed when Conte was questioned on his decision to leave the former Bilbao forward on the bench, he swiftly explained: "Against a side with players who are strong in the air but slow, it would be stupid to play with tall forwards. Tevez, Quagliarella and Giovinco gave them the most problems, as they are shorter and quick."

Giovinco certainly made life difficult for the opponents with his excellent ball control and fast movements but he couldn't do enough to manage the win.

Strikers aside, the real problem with Juventus tonight was the lack of a quality winger, a player like Fiorentina's Juan Cuadrado, who can impose his pace and class to create numerical superiority and deliver the ball into the middle for his onrushing teammates. The lack of said player was discussed in further detail in a previous article. Lichtsteiner, as great as his dogged determination and relentless running can be, is simply not capable of offering what Conte needs on the flanks and Copenhagen were more than aware of that.

Yet regardless of the problems, Juventus managed more shots on goal than any other side in Europe on the night and were perhaps unlucky to come up against a goalkeeper on his most perfect of nights. One can only hope the Old Lady will be more clinical in her next group game, but for now, it's back to focusing on domestic duties.