Derby d'Italia defining mental fortitude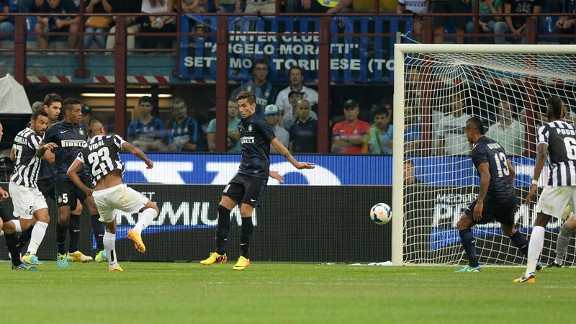 GettyImagesArturo Vidal scores Juventus' equaliser to give his side a share of the spoils.
It was physical, it was competitive, but most of all, the Derby d'Italia was entertaining. Similar formations but differing styles; Inter and Juventus looked on their way to finishing the game in a goalless draw, so little was there between the two sides. However, two goals in two minutes provoked wide spread gasps and mounting excitement as both teams pushed forward to clinch all three points, but in the end were forced to share the spoils ensuring a fair result.

No matter how swiftly Inter have come to grips with Walter Mazzarri's tactics, there's no greater test than pitting them against a well-oiled machine like Juventus to see how much they still need to develop. Despite their pace and power on the counter-attack and their gritty play that ensured clear, organised lines for much of the time, they lacked composure, struggled to keep possession and misread obvious situations.

- Wilson: Inter show grit and creativity
- Report: Inter Milan 1-1 Juventus

Juventus, by contrast, exhibited fluidity and clear chemistry. Comfortable in possession, their attacking passages of play were well constructed while their defensive lines were well organised. Antonio Conte was determined to ensure his squad stayed narrow, tight and positioned well to stop Mazzarri's men from exploiting space.

Inter, despite demonstrating some good defending on their part, allowed the likes of Andrea Pirlo too much space to operate. Never closed down early, the playmaker picked out some superb passes to truly threaten his former team. With so many holes to exploit through the centre of Inter, Juventus seemed determined to push forward intelligently, forcing their opponents into some last ditch attempts to keep a clean sheet.

In the second half, the Nerazzurri had regrouped and the game seemed to open up a tad. Spaces were not so quickly closed down and the ball was swiftly passing from one side to another. Inter now looked much more comfortable while it seemed the Old Lady relaxed in a rhythm somewhat, allowing her opponent to grow stronger and more capable of destruction.

Despite some clever manoeuvres, the second half showed Juve are still vulnerable to a lack of oomph in the final third. Limited to some tame shots, certain wrong decisions or poor handling saw them squander some good opportunities to take the lead.

Ricardo Alvarez, for his part, deserves a special mention. The player who proved so calm and composed for Velez Sarsfield once again demonstrated his worth under Mazzarri's tutelage. Robbing the ball off Juventus, every time he was involved, the Nerazzurri looked more threatening. With Giorgio Chiellini unable to stop him, Alvarez grabbed hold of possession and delivered the perfect weighted pass for Mauro Icardi to finish like he knows how against Juventus. A sublime passage of play, Inter scored the opening goal and Alvarez has confirmed his ability once again.

This is where experience and maturity count and Inter's celebrations took their toll as only two minutes later Juventus had equalised after Kwadwo Asamoah proved his determination and stubbornness to keep hold of the ball only for Arturo Vidal to grab and score. The Bianconeri may now have the strikers they wanted all of last season, but it seems no one can stop the midfielder from scoring -- outscoring each and every Juve forward.

Football is not always fair and some results can prove to be truly shocking, but on this occasion, there was no fairer scoreline than a 1-1 draw. Both teams exploited their strengths: Juventus with their composed play and perfect midfield, and Inter with their strength and power. Both sides fought until the end with contagious determination and both squads did the most they could with the little energy they had left over after the international week.

For Juventus, the manner in which they demonstrated pride to secure a draw will make them confident going into the Champions League match against Copenhagen this coming Tuesday night, even if it seems there are still a few problems to iron out in attack.