Inter Milan-Juventus: Derby d'Italia preview
There's nothing like the prospect of watching another Derby d'Italia to initiate conspiracy chat, tabloid fodder and scandalous rumours. 'Moral victory' against 31 Scudetti 'won on the pitch', it's difficult to imagine a match between Inter and Juventus not resulting in unwanted chatter and off-the-pitch nonsense.

- Report: Juve out for revenge in Derby d'Italia
- Wilson: Derby d'Italia: youth vs. experience

Both teams boast a glorious past, both teams have won an abundance of trophies and both sides are vying for success in tomorrow's top of the table clash. It's XI vs. XI; Walter Mazzarri vs. Antonio Conte and Inter vs. Juventus.

The Nerazzurri, unlike last season, boast courage and conviction. Mazzarri, while still insisting on playing a three-man defence, has created a compact team unit that love nothing more than to exhibit their pace, strength and quick manoeuvres. Defensively solid, this Inter side have conceded zero goals in their opening two games and are well-equipped to soak up the pressure before inflicting their pace to counter-effect in devastating fashion.

Their skilled backline combines experience, raw strength, technical skill and an explosive nature. While in attack, there is much to fear due to the likes of Rodrigo Palacio and Ricky Alvarez.

While the former is blessed with dynamism and intelligence, sourcing and exploiting space at will, the latter has begun to perform to expectations. Displaying the confidence that catapulted him to notoriety when playing at Velez Sarsfield, he is soaking up the pressure and spitting out dazzling performances.

As for Mazzarri, he has been credited with removing fear within this Inter side. Accused of insecurity and besieged by fear last season, Mazzarri has worked on instilling confidence and transmitting a winning mentality -- getting the best out players such as Jonathan and Alvarez once labelled as 'disappointments'.

However, is Mazzarri good enough to manage a rebirth within the side? Conte, they said, took a Juve side that had finished in seventh place twice to a trophy. Despite the remarkable impact the Old Lady's tactician made, he did not do it alone. One cannot forget the well-assembled squad he had at his disposal who all but boasted the right attitude within. Important talent were scouted and brought in while psychologically, care was taken to create a balanced and hungry group of people that were ripe for success.

Mazzarri cannot achieve success alone and needs the support of the Inter board to ensure a change of fortunes. Combining youthful skill and wise experience, Inter have a good squad at hand. Whether or not they are good enough remains to be seen and can only be judged at the end of the season.

Playing at home, the Nerazzurri will be a tough team to overcome when deployed in their now usual 3-5-1-1 formation. However, nothing is impossible, especially not for a side as well equipped as Juventus. For one thing, the Nerazzurri have already shown their potential for struggle when forced to be proactive as opposed to reactive -- much like Mazzarri's Napoli -- but they have managed to keep possession well in their recent games.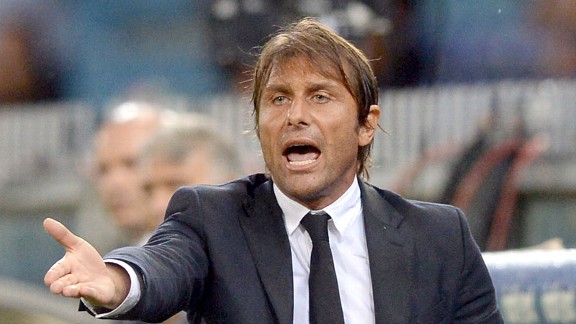 Claudio Villa/Getty ImagesJuventus manager Antonio Conte's side face a massive early test in the Derby d'Italia versus Inter Milan.
Another weakness lies in their ability to overcome organised defences. Despite the level of footballing intelligence at the top, should Juventus keep tight lines and restrict space, then Inter's forwards will struggle to penetrate. This is the type of game which demands the absolute best of Juve's midfield to hinder Inter's play and facilitate their own dangerous ability to attack. However, the duel may well be decided on the wings where both sides will look to dominate.

No side in Italy is better than Juventus when it comes to possessing the ball but Inter are dangerous and desperate to prove themselves, averaging the second highest amount of shots at goal per game in the league. Gianluigi Buffon must remain alert and focused for the entirety of the match while Inter will attempt to disturb the Bianconeri's passing rhythm.

For the Old Lady, Conte is still waiting to assess Andrea Barzagli and Mirko Vucinic but according to the latest report, they should be available to start tomorrow's match.

A European challenge may be awaiting them on Tuesday evening against Copenhagen in the Champions League, but right now, league dominance is the only thing on their mind.