Answering your questions on Juventus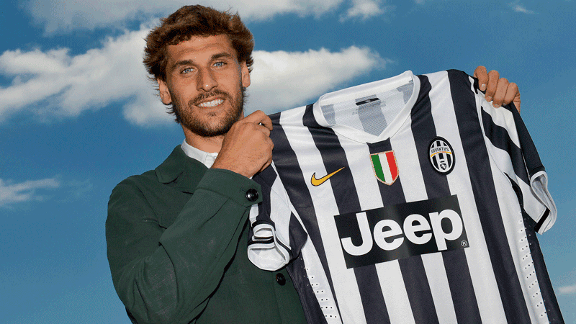 APFernando Llorente is looking forward to playing with Carlos Tevez
There are always questions we want to ask and blogs that are written that seem to never answer them so I have asked you to submit your questions on Juventus and have picked out the more popular or interesting ones to answer. Thank you for submitting them!

1) How long before you reckon Llorente gets back up to his full level? Will they start him and Tevez up front when he is? Submitted by Matt -- @mappsy91

The Fernando Llorente has been a common question and a consistently covered topic on Italian media. Having not played with any consistency for a year, it's normal the Spaniard is taking a while to settle in.

Arriving at Turin, the player was in excellent condition and has trained hard to integrate himself within both the sporting culture and the social side of Juventus football club. The problem is that he's a player Antonio Conte admires but not one that necessarily fits within his system of play easily. The Coach tends to appreciate a certain type of player – one closer to the Carlos Tevez mould. Llorente is a different and requires a certain type of football in order to accentuate his many strengths.

Now this is the part where it must be clarified that Llorente is not your regular battering ram who stands at the top of the pitch waiting to head the ball in. He's skilled with his feet and renowned for his link-up play and as well as scoring, he also likes to partake in the construction of attacking passages of play. His unique nature in that he combines characteristics of different forwards further complicates the situation as at his best, he can prove to be a beast but if misused then he's simply mediocre.

Conte is aware that Llorente needs to be handled with the utmost care and played in a manner that will highlight his qualities as well as maintain the team's collective and fluid play and it will all come together in due time.

In many ways, the former Athletic Bilbao striker is Conte's weapon when considering the natural evolution of Juve's tactics and will be more valuable for the team once Champions League football kicks in. The Coach is desperate to avoid predictable play and with the Spaniard on the pitch, Conte can achieve just that.

2) Why were there no offers for Giovinco in the summer/do you think it's telling of Giovinco's ability that there were no offers. Submitted by Charlie Rowing @charlierowing

Sebastian Giovinco did garner interest from foreign clubs including Atletico Madrid according to various reports. As for the latter part, I'm fairly sure no one made an offer on Robin Van Persie – is that telling of his ability? Certain players are considered unsellable and Juventus have made it very clear they are unwilling to let go of Seba.

When the time came to get rid of forwards deemed surplus to requirements, agents were asked to only look for clubs for Alessandro Matri and Fabio Quagliarella. Giovinco, it was made clear, was not for sale.

Infuriating at times, his creative ability and constant movement impresses Conte who considers him important to have in the squad if not crucial to the Bianconeri game.

3) Antonio Conte hasn't renewed again. How long do you think he, Vidal and Pogba are going to stay at Juventus? Talal Al Munayes @Talal_almunayes

My response is pure conjecture. Conte has a contract until June 2015. However, he had that contract last season and in May there were fears he might not continue. The tactician has always said that the idea of lasting as long as Sir Alex Ferguson did on Manchester United's bench is boring. He is ambitious and determined and would enjoy another experience. If Juventus continue to challenge him and there are trophies still to be won, then he is likely to stay. That is, as long as the club prove they are as ambitious as he is and support him fully.

I think the real question is, how long will Fabio Paratici stay considering past interest shown from clubs such as Chelsea, Liverpool and Tottenham. If he leaves for another club (foreign only), it's likely he will do all he can to convince Conte to leave with him.

Arturo Vidal is very comfortable and happy with life at Juventus, predominately due to the serious footballing project and the drive of Conte. He has confirmed his intent to stay and is about to sign a contract renewal that may well see him stay at Juve until June 2018. If he continues at this level, foreign clubs will always be interested, as they have been this summer, but it's doubtful he'll leave anytime soon. He's very settled in Italy.

As for Paul Pogba -- your guess is as good as mine. Great interest has been shown in the player from the likes of Real Madrid and of course, Arsenal. Juventus will struggle to keep a player intent on being the best in the world, even if he's content with the current Bianconeri sporting project and their ambitions for the future. However with Mino Raiola as his agent, its highly unlikely he won't be pushed into making a move to another club. According to reports, Raiola is already demanding the Old Lady quadruple Pogba's salary.

4) Who do you think will be Pirlo heir in Juve midfield this season? With 60 games to be played, I don't see him playing every one. Submitted by Fernando Valdez P @Fernandov20

It's likely Pirlo will be played less often this season as Conte attempts to evolve the team's tactics. Last year, Pirlo's performances, at times, slowed down the tempo of the game when Juventus needed to quicken things up in certain matches. Depending on the opponents and with respect to the rules of squad rotation, it's possible he will be benched for a more dynamic and athletic looking midfield against certain opponents.

Pogba, as Conte stated recently, is the player most adept at fulfilling Pirlo's role even if he offers different qualities. In the long term future, Juventus are still identifying their next target but have yet to give up on Marco Verratti who they are in constant contact with, if only for friendly reasons.