Hot encounter awaits U.S. in Panama
PANAMA CITY, Panama -- Hot, humid and sticky.

Sounds like a typical, standard summer's day back home for me during the offseason in South Florida. But little did I know Panama had decided to put on its best impression of life on the equator in October to welcome myself and my United States teammates as we play our host in our final World Cup qualifier.

Despite the "warm" conditions, this has been an amazing trip for our team and myself personally. And it all started in the "Show Me State" of Missouri when I arrived from England in preparation for our match against Jamaica.

It's like I told ESPN reporter Roger Bennett in a recent interview. I absolutely love getting the chance to come home and play for my country. As you get older, you gain even more appreciation for getting the opportunity to represent the U.S. on the field of play. I still get excited the same way I did the first time I was called in to camp, never taking an appearance for granted and always remaining humbled by the honor.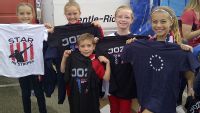 My fans show their colours ahead of the US-Jamaica match.
So, having the opportunity to play in front of our passionate, tremendously supportive fans on Friday at Sporting Park in Kansas City, Kan., was another day I won't soon forget. It took us a little while to get going, but we were happy we could pull out a hard-earned 2-0 win against Jamaica and clinch the top spot in the Hexagonal.

Personally, it was a special match for me. I was able to wear my custom adidas boots that paid tribute to Kirk Urso, my old friend and former youth teammate. And the fact I was able to score our second goal of the match in a pair of boots I will never wear again made it even more memorable.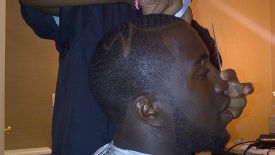 I got a haircut in my hotel room the night before the Jamaica clash.
I also got to see my father and brother, who both attended the match, so it was great to have them both in town. I even got a fresh haircut the night before the match with my teammate Alejandro Bedoya. It might sound funny, but locating a good barber is difficult sometimes. But my guy from Hollywood Cuttz in Kansas City was awesome and gave me another reason to love the city even more.

And maybe it was good luck as well getting a pregame haircut. I scored and Alejandro had an assist. You never know!?

Our match on Tuesday is going to be a tough battle with Panama. While our spot has been firmly secured for our trip to next year's World Cup, our counterpart is still trying to punch its ticket to Brazil. That said, we expect to face a determined, energetic Panama team pursuing the same goal we have -- three points and a victory.

I head back to England on Wednesday and can't wait to join my Sunderland teammates. I'm also looking forward to meeting our new manager, Gus Poyet, and playing for him. It was great to hear from our manager when I was in Kansas City and I'm extremely excited about what lies ahead for our team and the entire organization.

Until next time, I wish all my readers and fans the best.