Disallowed goals are part of the game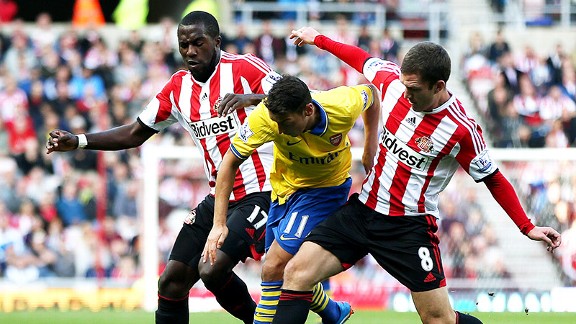 Ian MacNicol/AFP/Getty ImagesAltidore and Sunderland fought hard vs. Arsenal but Jozy's disallowed goal arguably swung the game. All part of the game.
SUNDERLAND, England -- Good morning, everyone. I just sat down for a little breakfast as I start my day and decided to break out the laptop to work on my latest blog entry.

I might as well start things off by addressing what everyone else has been discussing following Saturday's tough loss against Arsenal at the Stadium of Light. Yes, that would be the goal that wasn't a goal.

Honestly, there isn't much more that I can say that I've already said since the match. It was a situation where Arsenal defender Bacary Sagna and I were battling for the ball, I was able to fight him off, gain possession and finish the scoring opportunity. Unfortunately, the official didn't allow play to continue.

Of course, not getting my first Premier League goal of the season and helping my team pull even with Arsenal at the time was disappointing. But sometimes those things happen. It's part of the game. I've been in similar situations where I and/or my team have been the benefactor.

Unfortunately, that was one of those times a particular ruling didn't work in my team's favor. As a firm believer that all things even out in the long run, I am sure a similar situation will work in our favor at some point during the campaign. Until then, I will keep working hard and remain confident in myself, knowing the goals will come.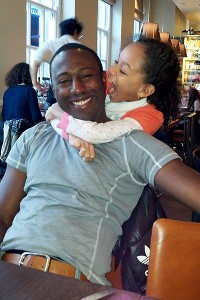 Courtesy of Jozy AltidoreJozy's older brother, Janak, and niece Aaliyah visited and took in the extraordinary sights of the Great North Run.

Moving on, I did get to witness something pretty amazing this past weekend. My mother, who was visiting from Florida with my brother, Janak, and my niece, Aaliyah, and I got up early Sunday and decided to go watch the BUPA Great North Run.

Being new to the region, I had never heard of the race but was immediately blown away by the mass of people partaking in it. The road race is actually the second-largest half marathon in the world, with somewhere in the neighborhood of 54,000 people competing in the annual event in the northeast of England.

That's like selling out a match at the Stadium of Light and having 5,000 others stuck outside not being able to get in the venue. Basically, what I'm trying to say is that's a whole lot of people! To say what my mom and I were able to witness was cool would be an understatement. It was beyond impressive to see firsthand so many people from around the world competing in such a massive race.

On that note, it's time for me to sign off and get ready for a training session in preparation for Saturday's match on the road at West Bromwich Albion. Obviously, our goal for this match is the same one we carry into every contest -- get a win and three points. So hopefully we're able to put together a strong performance and accomplish the task in front of us.

Until next week, my friends ...